"Coaching is the process of healing your mind. When you heal the mind, you transform your life."Richard Seaman,
Lead life coach and instructor at Southwest Institute of Healing Arts (SWIHA).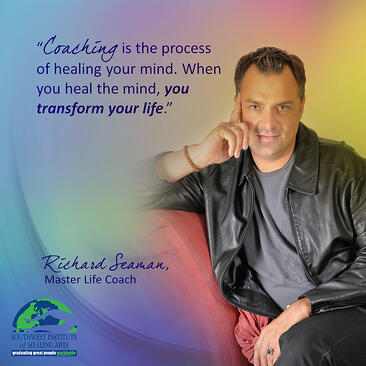 Whether it's life coaching, spiritual coaching or business coaching, the process of helping an individual recognize and bring out the best in themselves is a truly transformational process for both the coach and the client. While acting coaches, voice coaches and athletic coaches have been around for many years, life coaching is a relative newcomer in the field.
Kathleen Simonds, a life coach, hypnotherapist, teacher and graduate of SWIHA became a life coach after moving from California to Arizona. The former English teacher was already known for her expertise in the hypnotherapy field and became excited about the prospect of becoming a personal coach.
"I learned about SWIHA and went to the campus and leafed through the catalogue," said Simonds. "I was like a kid in a candy store. All the classes seemed intriguing, but I was definitely drawn to the Transformational Life Coach program because it was local and reasonably priced." The school offers both on campus and online classes. She enrolled in the on campus program successfully received her certification. "It is one of many things I do, but I found the training has helped me streamline other aspects of my practice, such as my intake process. Working as a Transformational Life Coach has been very rewarding."
In addition to life coaching, Simonds provides spiritual, academic and relationship coaching in her practice, as well as hypnotherapy. She said SWIHA's training in teaching students how to use questions to help clients unlock their inner wisdom is the key to the program's success.
"I have a lot of men and women who come to me when they are in a transitional part of their lives, or perhaps they are floundering to find their life purpose... We are taught that the answer is within each client. We don't tell them what to do. We learn how to ask insightful and focused questions that help the individual deepen their awareness."Kathleen Simonds
Life Coaches are trained to progress their client's lives forward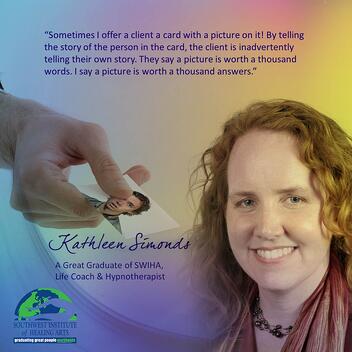 Individuals seek out a personal coach for many reasons. Many feel stuck in their lives and can't figure out how to move forward. Others feel they are working in a career that is not satisfying, but don't know what else to do. Even the most intelligent or financially successful person lacks objectivity when it comes to his or her life. Friends or family members may want to help, but do not know where to start.
However, with comprehensive training, life coaches learn how to use questioning, exploring, reporting and consistent commitment to move their client forward. For example, through mindful questioning Simonds coached a gentleman who was trying to find his life purpose. He recently retired and wasn't sure what to do with the rest of his life.
"While we were working together, he mentioned he had been in an addiction recovery program in the past. It was a dark time in his life, but he was able to change for the better. With this memory coming to the surface, he had an epiphany. His life purpose was to work with people who were trying to overcome their addictions. Now he has his own healing practice. When I last saw him he was 'on fire' now that he was working at his passion."
---
Life Coaching as a Career
As gratifying as a life coach can be, it begs the question of whether one can make a living in the profession. According to an article on Forbes.com from 2013, coaches just starting out can earn about $100 an hour, and those who coach executives can make anywhere from $400 to $500 an hour. Many work one-on-one with clients, but often life coaches are hired by large companies to train sales staff or motivate employees.
SWIHA's program includes: Life Coaching – Foundation, a 20 hour course, Life Coaching Core- Strategies, Techniques and Implementation, an 80 hour course, and Life Coaching- Advanced Coaching Skills, a 20 hour course. The program is also offered online.
The comprehensive 100 hour Life Coaching program covers all the core competencies as outlined by both the International Coach Federation (ICF) and the International Association of Coaching (IAC).*
In addition to helping individuals find their life purpose (a common issue, especially among young people and mid-career professionals) the SWIHA website lists a few areas of concern where a life coach can help an individual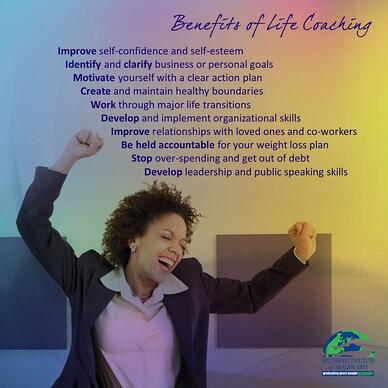 Improve self-confidence and self-esteem
Identify and clarify business or personal goals
Motivate yourself with a clear action plan
Create and maintain healthy boundaries
Work through major life transitions
Develop and implement organizational skills
Improve relationships with loved ones and co-workers
Be held accountable for your weight loss plan
Stop over-spending and get out of debt
Develop leadership and public speaking skills
The Transformational Life Coach program provides a great educational foundation, but just like their clients, life coaches learn, grow and bring new tools to their practice. SWIHA encourages students to use all their skills, including their creativity and intuition. Such was the case with Simonds. Sometimes theTempe life coach literally has a card up her sleeve when it comes to helping her clients delve deeper into the problem solving process. When the client is willing, she pulls out a deck of tarot cards and has them select one.
"I don't tell the future or interpret the card. I simply have the client look at it, and I ask her to tell me a story about it.
It is a right-brained approach to problem solving, and it doesn't matter if the client knows anything about tarot or not. Whatever a client sees in the card is a reflection of himself and his situation. By telling the story of the person in the card, the client is inadvertently telling his own story and finding a way out of confusion. They say a picture is worth a thousand words. I say a picture is worth a thousand answers."Kathleen Simonds
*SWIHA is not affiliated with the ICF and IAC. Please contact these organizations for information on their optional certification.