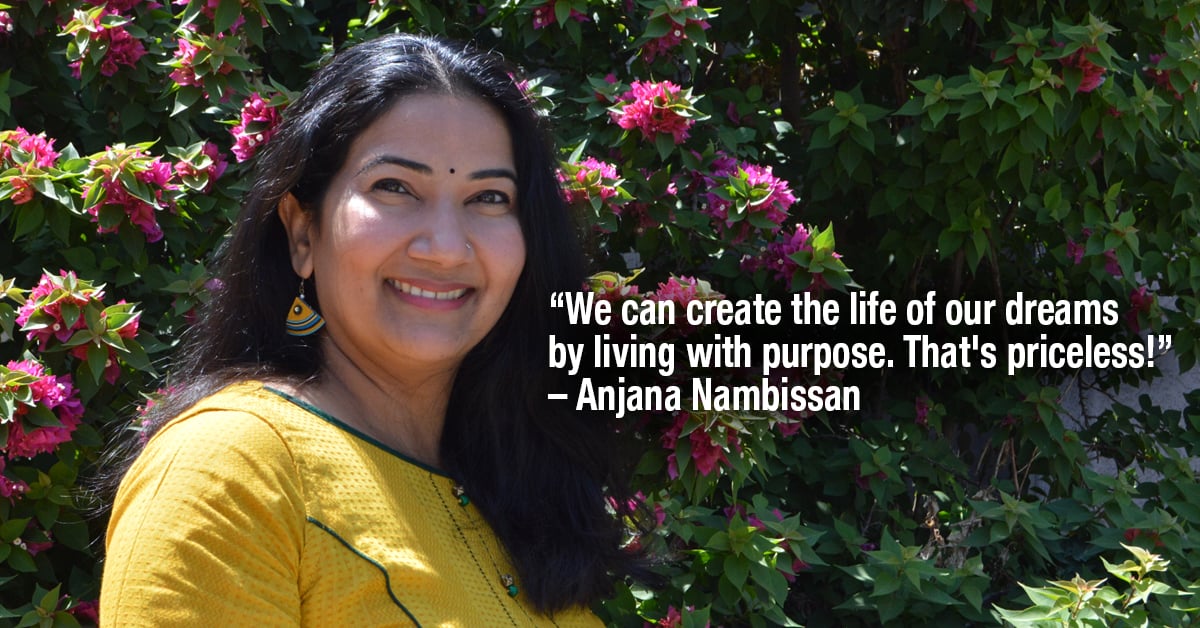 Life Coach and SWIHA graduate, Anjana Nambissan, is passionate about helping others heal. It was a turning point in her life when she realized that self-love is the supreme quality one can aim for. Being kind, gentle, and giving tender care to the self is so important in leading a happy, peaceful life. From that moment on, she knew she had to take that message forward and help others who were struggling. She enrolled in a life coaching program and became certified. Now, she dedicates her time to helping others find the same peace and happiness that she found through self-love.
Anjana guides her clients to gain clarity on their thoughts and find their inner power to change reality. Through her own self-healing journey, Anjana has learned how to navigate the challenges of life and is now on a mission to help as many people as possible. She is a firm believer that everyone has the ability to heal themselves, and she is dedicated to helping her clients reach their full potential. By sharing her story and her knowledge, she hopes to make a difference in the lives of others with her business, Daffodils Bloom.
Today, she talks with us about her journey, in honor of 'Be On Purpose' month!
What was your life like before SWIHA? What led you to SWIHA and to your particular program of study? Why are you passionate about this modality?
I was a software developer by profession and felt very depressed with life. My own, dear life coach guided me through for years and, as I started feeling better; I felt the need to serve others the same way. This led me to the SWIHA Life Coaching program. I'm able to create magic in people's lives!
How does intention/mindfulness show up in your life?
Every interaction with my husband and kids is an opportunity for me to be mindful.
What did your life look like when you weren't living with intention?:
Life would start happening to me instead of happening for me. I would fall in to a pattern of calling myself a victim to all of the circumstances in my life.
What goals did you have the past year and how did living with intention help you reach them?
Creating my Life Coaching business was my goal. At the end of last year, I registered my LLC, opened my business bank account, and created my website. I then got to work and started creating workshops on self-love, relationships, and parenting.
What advice do you have for those wanting to live with intention and mindfulness?
I lived as a victim for the longest time. Living with intention and mindfulness is only something that I've done for the last few years. From this experience, I would highly encourage every single one to start living with intention and purpose. When that happens, we start seeing every circumstance and person in life as opportunities to learn and grow. We can create the life of our dreams by living with purpose. That's priceless!
Is there anything else you want to add about 'living on-purpose'?
I'm finding my purpose in serving people by healing their inner wounds and showing them the possibility of living their life purpose. I also have the added intention to serve kids to grow up to be emotionally healthy beings!