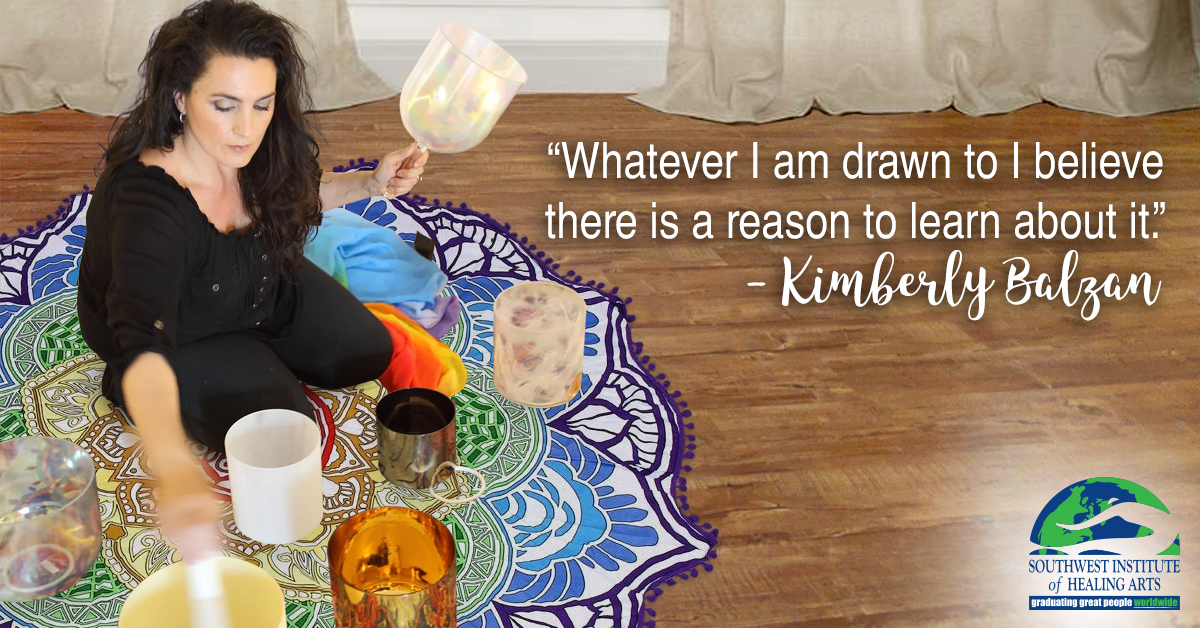 Before her time at SWIHA, Kimberly Balzan found her life at a standstill. She was going through the motions but not moving forward, fearful of life and what change may bring.
"I felt like I had no direction," she describes, "I just happened to be at a friends Melissa Corter who was leading this meditation called Yoga Nidra. I honestly had never heard of it and didn't know what we were going to do. Well, when it was over I sat up and thought 'That was the coolest thing I have ever experienced'. When I got in my car, I said to myself out loud: 'I am going to learn this and teach it!' I knew at that moment something incredible had happened."

"Whatever I am drawn to, I believe there is a reason to learn about it," she believes. The next morning, Kimberly followed her invitation and embarked on her new path of Yoga Nidra training at Southwest Institute of Healing Arts!
"Once I walked in and felt the energy of the place, it blew my mind," Kimberly tells us, "It is a school, and also it feels like a home that you are so welcomed at. All of my classes and trainings were great and, to this day, I still think of my experience there. I tell people about it all the time. I always get a call back from who I refer to SWIHA and they are so grateful. I have seen them change their lives and start a new career!"
As Kimberly built her toolbox to serve future clients, she also formed a great appreciation for her instructors: "Kamini Desai changed my life. That lady is an amazing human being. In Yoga Nidra class, even with many people in it, Kamini still connected on such a special level with each and everyone of us. Will Zecco, was also a very positive force. He pushed me in a kind way!"
Today, Kimberly's life is always in motion! She has been back to SWIHA to expand her healing knowledge, taking Holistic Nutrition classes and Life Coaching courses.

"I am doing so many things that I love," she says, "Big events, traveling, training others to work with sound and meditation. I just recorded my first CD and I am an author! I am attaining everything I have wanted to do. Even with baby steps, it's ok. I have learned it may not be immediate. In time, with action, it will come to be."
Kimberly now operates a beautiful mediation and sound studio in Scottsdale, Arizona. She offers Yoga Nidra, Reiki, and mentoring sessions which incorporate the healing power of singing bowls and other instruments. She also helps people shift their mindset around food and educates them about nutrition through coaching and cooking classes at the Virginia Piper Cancer Center in Scottsdale.
To those being invited down a unique path for their lives, Kimberly has this encouragement: "If you feel like you are different and you need a different way of learning and teaching, this is the place. If you feel you are searching for something and you just don't know what it is, you will find it at SWIHA."