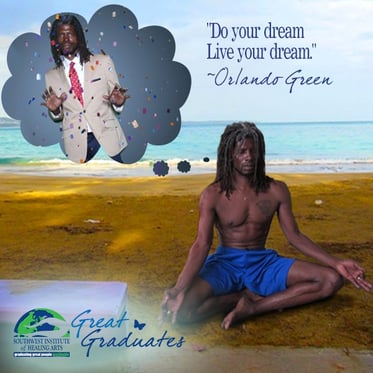 Orlando Green was employed as a Student Advisor at Southwest Institute of Healing Arts (SWIHA) when he completed his Yoga Teacher Training (200-hour level) and Life Coaching Program. He considers himself a continuing student having also completed the Hatha Gong program with Duane Armitage. His move to Puerto Rico has put his work towards becoming a Yoga Therapist on hold. However, his life has not been on hold, for even a minute, since arriving on the tropic paradise!
When asked about his favorite class while studying at SWIHA, Orlando shared that his favorite class was not actually in his Yoga Teacher Training program, rather in SWIHA's Spirit of Yoga (SOY) studio: "My first step into SOY was on a Saturday Intro to Yoga class taught by Aradhana Armitage. I had been very reluctant to do yoga due to my back injury – yet after some urging from several colleagues at SWIHA that included a 'double dare ya' – I attended Aradhana's class. She was very aware of my limitations and made me feel welcome in spite of what I perceived as limitations. After the first four weeks of yoga, I returned for an additional four weeks—and then I was hooked. I began my Yoga Teacher Training shortly thereafter."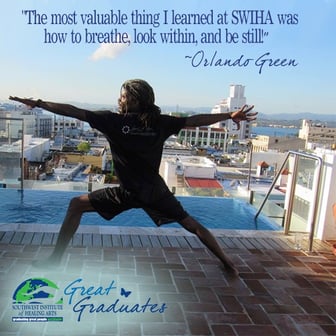 As Orlando continued his studies, he began to fully understand the yogic saying of 'when the student is ready the teacher will appear.' He recalls that many significant teachers did appear, including KC Miller, Richard Seaman, Astara Robinson, Michelle Dante, Will Zecco, Duane Armitage, Mary Bruce, Izzy Word, Earle Dusky, and Tara Celya, to name just few because he happily admits that his list goes on and on. "This is because the environment throughout SWIHA promoted learning about holistic healing and personal transformation. All of the faculty and staff I encountered were enthusiastic about sharing knowledge -- whether in a classroom, at the monthly Gifts and Graces event, in the campus bookstore, or just walking down the halls."
Orlando's passion for yoga developed as he began to notice the healing aspects of the practice, first-hand. Not only did he experience a physical release from the pain he had in his spine from degenerating discs, he also began to notice that there was noticeable improvement in the mental and spiritual aspects of his life, which allowed him to heal from the grief of divorce, separation, and the isolation from his children. "The transformative nature of a consistent yoga practice continues to heal me and, at the same time, fuel my passion. Change is inevitable and constant; it's up to me to make it positive from the Now and into the Forward. Sharing this with others and seeing the healing take place in them, is why I remain passionate about what I do."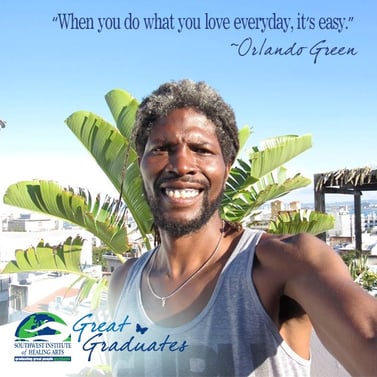 Now Forward Enterprises is Orlando's business name, which includes his yoga coaching business, Now Forward Yoga and his life coaching business, Now Forward Coaching. He also has a burgeoning photography business that has grown out of a lifelong love of taking pictures. He coaches people on how to live a longer life, while loving themselves and others around them. "My slogan is: Coaching Life - Love - Longevity!"
The inspiration to start his own business happened during an Entrepreneurial Support course which, at the time, was taught by KC Miller, the founder of SWIHA! "I knew someday I would gain the courage to actually step out of my routine and into my truth. I was inspired to bring my practice to Puerto Rico because it seemed like the island was calling me to come and heal myself and anyone I would encounter. That may sound a little weird to some, yet the soul of the island called me and I felt a connection and a need that we needed to heal together: me and the Island of Puerto Rico!"
Orlando now works and lives in San Juan, Puerto Rico. He works out of several locations: he has a small room inside a building which is blocks away from one of the most beautiful beaches in San Juan which he tries to visit at every opportunity. Then he's only a few miles from the gorgeous boutique hotel, in Old San Juan, called La Terazza de San Juan and, of course, he tries to make it to the beach at every opportunity. In addition, Orlando works with a small yoga school called IYTA -- International Yoga Teachers' Association, which has independent affiliates in Brazil, Puerto Rico (PR), and Spain. The IYTA aims to promote the physical, mental, emotional, and spiritual benefits of yoga. "I am currently in negotiations to permanently use the space in my building, so #staytunedpr for that."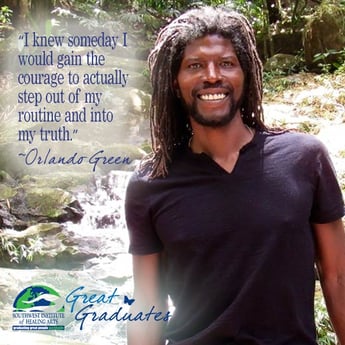 Orlando currently offers Life Coaching and Yoga Coaching -- often combining the two! He teaches regular yoga classes in a studio setting and also private classes. He is excited to be offering workshops on various topics relating to yoga movement, yoga philosophy, and nutrition and how they can each contribute to a longer, more content life. He says his clients will experience his teachings and classes as: "Gentle. Loving. Healing." His clients come from all areas. They come to him when they have made the conscious choice to be better for the most important person in their lives, themselves. Websites, social media, print media, and word of mouth have been the main ways that Orlando's clients discover him.
The most challenging part of growing his business was the language difference he is experiencing in Puerto Rico. Also, maintaining an earning standard for the business is another challenge that remains with him as an entrepreneur. "I am frequently tempted to offer free healing, however I simply remind myself of the good that I am doing and in order to keep doing good – and I do need to eat – so I've gotten pretty good at humbly accepting compensation for what I do! I do trust my abilities! And, with my confidence in my abilities, clients are more at ease with me. After trust, the easiest part is simply doing it. When you do what you love every day, it's easy."
Orlando's message to other new SWIHA grads who hope to follow in his footsteps is: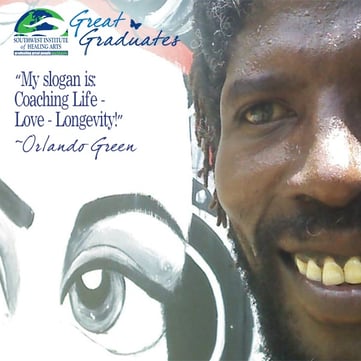 "Do your dream. Live your dream. Read everything you can about your focus, AND read everything you can about anything related to natural healing. Sometimes your clients' healing experience can be exponentially better just by connecting a dot from one modality to a dot from a seemingly unrelated modality. I always recall what Elmas Vincent (another SWIHA instructor who came into my life at just the right time) said, 'Read five books on any topic and take the best of what others have written and make it your own.'"
Like many other students and staff before him, Orlando admits that once you are a SWIHA student, you are always a SWIHA student! He feels that the most important thing he learned through is program is how to breathe, look within, and be still.
He describes his healing arts education as a remarkably transforming process. "Life's self-imposed challenges were contributing to a state of dysfunction in my head and heart, and it was affecting everything around me. My education in the classroom, and as an admissions employee at SWIHA, will forever be attributed to altering my future in the most positive way. I love everything about this school and I will always have the fondest thoughts about the establishment and staff -- especially KC -- her enthusiasm and encouragement inspired me daily."
And maybe most importantly, he lets us in on a secret he's witnessed through his students and clients: "We can all age with a little bit of grace when we have intentional breath and movement in our lives, along with a whole lot of love and kindness for ourselves, most importantly, and then each other, too."
Keep in touch with Orlando online!
Websites: nowforwardyoga.com, nowforwardcoaching.com, nowforward.net
Social Media:
Instagram - orlandogogo, Twitter - @nowforwardyoga, FB - derekorlandogreen
---
About the Author, Kerry Burki
~
SWIHA Success Center Blogger
Kerry Burki is Editor of the newly launched KERRY Magazine ~ a magazine that uses real women as models, supports small businesses, encourages you to feel beautiful as you are right now and even has a printable worksheet to help you go after your dreams! She been teaching yoga since 2004, currently teaches yoga + meditation at a local assisted-living facility near her home in Scottsdale, Arizona. Kerry has written two ebooks about self-care (one for everyday and one for creatives) and she has just joined the SWIHA Success Center Team part-time as a blogger, consultant and creator!