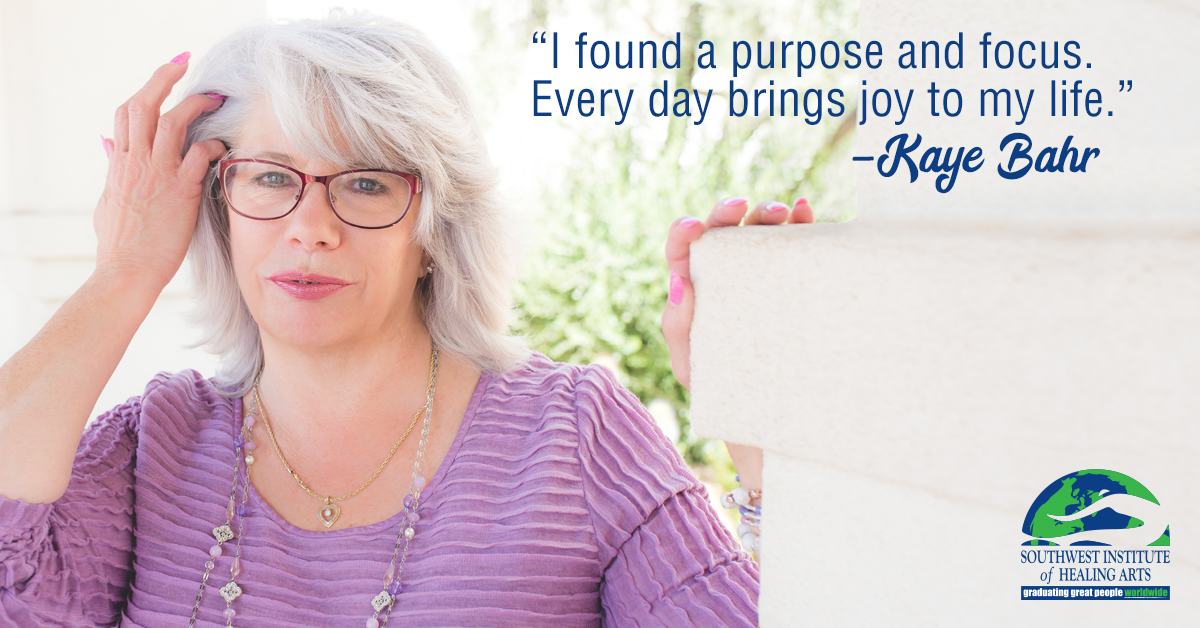 "After having a hypnotherapy session from a student in the clinic, I knew that SWIHA was the place for me," Kaye Bahr tells us, "After my session, I felt such a great relief from the stress and anxiety I was experiencing and I wanted to provide a similar experience for others. My very first session put me on a path to a new career."
Kaye made a brave leap from her fifteen-year role as an elementary school teacher to enroll in the Mind-Body Wellness Practitioner program and pursue a path as a Clinical Hypnotherapist. She began her business Aspect Wellness, where she is a Performance Coach who works mainly with female business owners looking to grow their businesses, and yet finding that there is something holding them back.
"I utilize my coaching skills combined with hypnotherapy, reiki, or tapping to help them release what is keeping them stuck in their negative beliefs or habits. Sometimes this requires the client to release past hurts, trauma, abuse, or fears to create the life they want to create," she explains.

"At the beginning of the session, I love to ask the question 'What brings you in today?' The answer seldom has to do with the actual reason they are sitting in front of me," Kaye divulges, "Many times when the client is telling me their story, I ask the divine why is this person here, and then I will hear the answer and know how to proceed with the session."
Kaye finds fulfillment in being a Life Coach, and states that her favorite part is that she gets to be an observer to her client's transformation and growth: "I get to be there with them when they experience their 'ah-ha' moments, and when they are going through their own 'knotholes; difficult and challenging times."

"I remember my own Life Coaching teacher said, 'If you aren't uncomfortable going through this process, then you're not moving forward.'," she recalls fondly, "Being a performance coach and clinical hypnotherapist has enriched my own life beyond what I had imagined when I started my journey. I found a purpose and focus. Every day brings joy to my life. I wake up now saying 'I get to go to work today' and not 'I have to'.
We invite you to visit www.guidanceoncall.com

to receive your Initial Complimentary, Virtual, Coaching Session for the month of January, "Life Coaching Month."