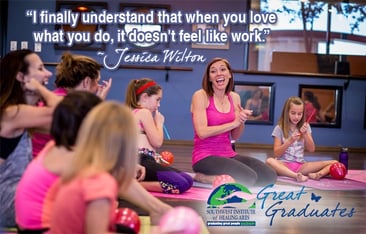 Prior to SWIHA, Jessica Wilton worked a full-time job in the environmental planning and permitting industry. She was a consultant and frequently worked outside of business hours to meet deadlines and provide the necessary support to obtain federal, state, and local permits for energy generation and transmission projects. She met a lot of great people and was pleased to have helped obtain these permits for a variety of solar and wind generation projects. However, she felt like something was missing. She was good at her job, yet wasn't passionate about it and felt like she should be doing something different. She also wanted to spend more time with her family and raising her two children. About three years ago, her husband took a job that required him to be gone for more than half of each month. A year later, she was overwhelmed with two young children, a traveling husband, and a demanding full-time job. "I came to the realization that it was time for me to make a change. Both my husband and I wanted one of us to be more present in our kids' daily lives, and it was my turn."
When one door closes another one opens.
When she quit working full time, her childrens' daycare announced that they were about to begin offering yoga classes. She immediately contacted the owner and asked how she could become a part of the program to teach yoga to kids. As a result, she began practicing yoga with preschoolers. "Based on my love of and enthusiasm for yoga, my husband encouraged me to participate in a teacher training. I researched schools and determined that Southwest Institute of Healing Arts (SWIHA) was the right option for me. I toured the campus, Spirit of Yoga (SOY). After I brought my kids and participated in an open house at SOY, I knew that it was the right choice. Everyone was so inviting and encouraging – there was such a great vibe. When I came into my first YTT class (Yoga Teacher Training) and heard Laura McKinzie say, 'You are right where you need to be,' it was like a huge weight was lifted off of my shoulders, and I knew she was right."
Jessica enrolled and graduated from the 200-hour Yoga Teacher Training program. During her time at SWIHA/Spirit of Yoga, Jessica said that some of the most valuable lessons taught to her were to feel, believe, and trust. The first yoga class she took was over 5 years ago. She went to the same studio and experienced the same class structure, over and over. Then, she decided to try another yoga studio. "I was amazed that my experience was so different and that developed my appreciation on a much deeper level."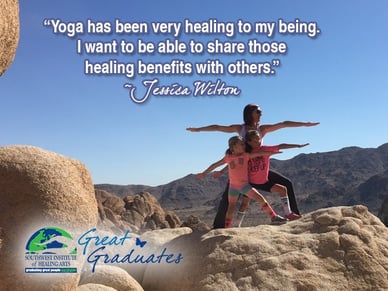 Jessica's passion for yoga has grown since she experienced the physical, mental, and emotional changes that occur when she regularly visits the mat. "Yoga has been very healing to my being. I want to be able to share those healing benefits with others. I see the possibilities for children who are granted exposure to yoga at younger ages, and the possibilities for teenagers to experience the benefits of yoga during such a challenging time of growth. I also see yoga as an opportunity to connect families – a way to spend time together. In an age so dependent on electronic devices and seemingly becoming more sedentary, yoga allows us to turn off those distractions, set them aside, and be present with the people that matter the most to us, including ourselves. Yoga is a time for self-reflection and I see it as an opportunity to strengthen the family bond while stretching our bodies and finding movement."
After graduating, Jessica is now teaching yoga to children, families, and adults. When she teaches children's yoga, she incorporates a lot of play and offers a friendly, easy-going atmosphere. "I want kids to feel comfortable and free to express themselves. I encourage the kids to practice with kindness, respect, and awareness towards themselves and others." She incorporates a variety of methods to keep kids engaged as they practice poses, breathing, and meditation activities.
Jessica describes her family classes as very similar to her kids' classes. "My hope is to remind adults that it's okay to have fun and invite that inner child out to play. It's an opportunity for the adults to let go of the 'parent' role and engage in a fun, healthy activity with their kids. It allows the kids another opportunity to interact (play) with their parents in a fun way." During the family classes, she encourages everyone to recognize the class as a community and they get to know one another. Some classes focus on the individual (knowing that your community is right there to support you) and others incorporate more partner activities. Jessica says that it just depends on how everyone shows up! "My adult classes are, well, adult classes – intended to honor the space for each individual that is present."
As we learn to 'hold space', we are invited into more spaces . . .
Currently, Jessica is teaching at Let's Grow Studio and Sumits Yoga Chandler. Previously, she taught yoga in a handful of preschools in the southeast valley and when the opportunities arise, she enjoys teaching yoga-themed birthday parties, Girl Scout troops, church groups, in high school PE classes, and other special events. She is available to teach children's yoga, family yoga, and adult yoga. She is also available for private yoga sessions and special events.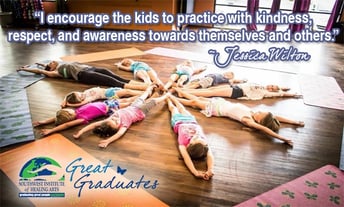 While her focus has been primarily on kids and families, her clients include anyone who wants to practice yoga. "I teach a kids class at the same time as the adults, in order to introduce the kids to yoga while the parents are in class." At another studio, clients attend the family classes.
Word of mouth and Facebook has helped Jessica grow her business, as well as her website and business cards. She also loves painting and creating custom canvases and murals. Several years ago, she set up a website for her artwork, but she has expanded it to include information about when and where she teaches yoga, her certifications and affiliations, and additional offerings. "I am passionate about yoga and art – I have realized that these things bring me an immense sense of peace, contentedness, and gratitude. I also see yoga as a form of art." In addition, the people she met through her training program offer an incredible support system and opportunity network. She has learned of many teaching opportunities through friends from her training program. She is still working on defining her business and deciding how she wants to share her passions. She loves the idea of owning her own space one day, so she can share her knowledge and classes with her community.
Yoga is a form of art . . .
Jessica expresses gratitude for her education and says that it is reassuring knowing that she is offers quality service inspired by the experience and knowledge imparted on her during her training at Spirit of Yoga. This is especially true when she is practicing yoga with families: yoga is a great way to connect and share yoga philosophy (to practice kindness, patience, and compassion). "Laura McKinzie and India B are amazing teachers. They teach with a great deal of care and compassion. They create a safe space to explore personal experience. During my training, I discovered that I really connect with the first two limbs of yoga, the yamas (relationship/interaction with others and the external environment) and niyamas (relationship/interaction with the self or internal environment). I enjoyed the exploration of these terms to gain additional perspectives and ways of viewing these relationship principles."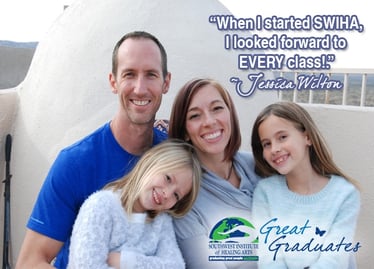 SWIHA also impacted Jessica's life in many ways. She shared that it improved her self-confidence and gave her a deeper understanding of her yoga practice. The experience further ignited her passion for yoga. "Before I went to SWIHA, my family did not enjoy 'Sunday Jessica'. I became glum on Sundays because I dreaded going back to the grind on Mondays. My mood would increasingly sour as the day went on. When I made the change and stopped working full time, it eased my Sunday attitude, yet it still wasn't great. When I started SWIHA, 'Sunday Jessica' became awesome! I looked forward to EVERY class! Sundays became fun because I was so excited for Mondays (a first for me). I was even excited to do my homework! (I have always been a good student, however, this was the first time I looked forward to doing my homework!) The icing on the cake was that practicing yoga so frequently had additional health, mental, and emotional benefits. I finally understand that when you love what you do, it doesn't feel like work."
Jessica wants to encourage current students and fellow graduates who might want to follow in her footsteps to, "Have fun! Be open to a variety of possibilities; you never know where opening that door might take you. Enjoy what you do and let your personality shine with everyone you meet! Often you don't know how much you are having an impact on those around you. Share your gifts with integrity and lead the life that you are proud to share with others. When your heart is in it, the rewards are exponential. Best of luck in all you do!"
You can get in touch with Jessica and check out her upcoming classes on her website
---
About the Author, Kerry Burki
~ SWIHA Success Center Blogger
Kerry Burki is Editor of the newly launched KERRY Magazine ~ a magazine that uses real women as models, supports small businesses, encourages you to feel beautiful as you are right now and even has a printable worksheet to help you go after your dreams! She been teaching yoga since 2004, currently teaches yoga + meditation at a local assisted-living facility near her home in Scottsdale, Arizona. Kerry has written two ebooks about self-care (one for everyday and one for creatives) and she has just joined the SWIHA Success Center Team part-time as a blogger, consultant and creator!