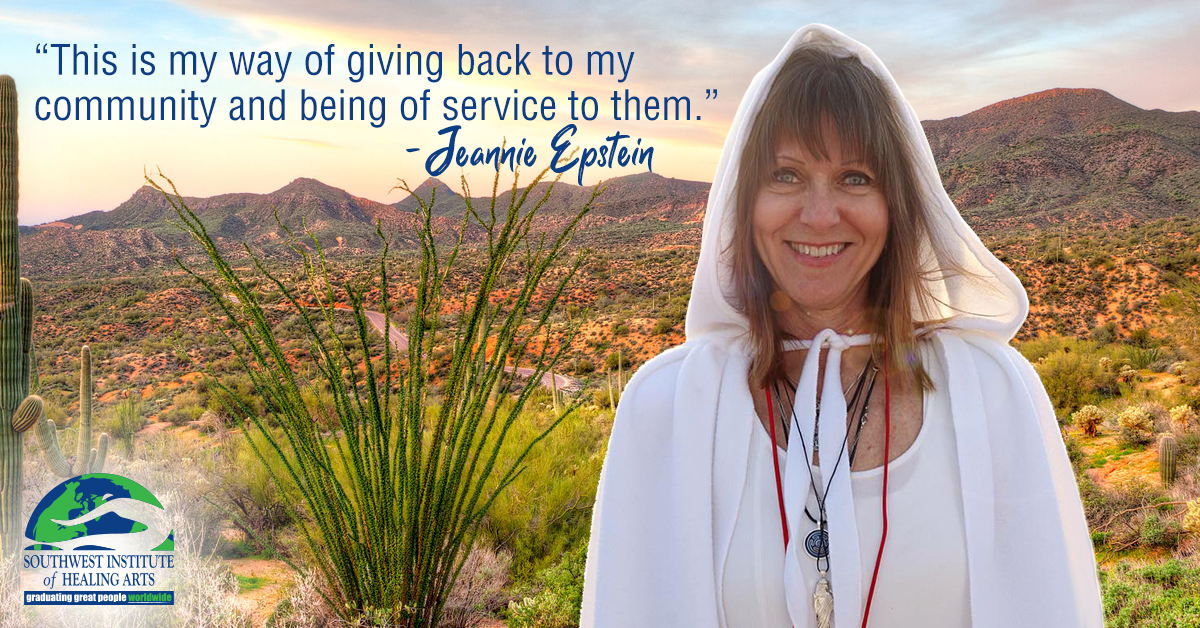 "Life Coaching is empowering people to find and live their dreams," says Jeannie Epstein, a Life Coach and Hypnotherapist, "It is helping people to find their truth and taking that truth and creating a plan so that they can fully embrace all that they are capable of being."
She chose Southwest Institute of Healing Arts for her education on a recommendation from a friend who had previously graduated from the Life Coaching program: "After doing research of Life Coaching programs online, I found SWIHA to be what I wanted," she tells us, "I was so impressed with the programs and the instructors. When I spoke with SWIHA on the phone, they were helpful and nice. I really enjoyed the conversations and the information I was given. Where other programs seemed more like pyramid schemes or didn't seem to have any heart, SWIHA was warm and welcoming. I knew it was the right place for me and I haven't regretted it since I started last year. Not only have I learned so much from the classes and educators, but the other students have been a pleasure to collaborate with. I keep in contact with a few of them even after the class has ended."
Jeannie is currently an elementary school teacher using her skills for supplementary income, though she has plans to build her business further: "I want it to be fairly well set up before I decide to leave teaching," she explains, "This gives me a solid paycheck until I am ready to move into the next chapter of my career. I am a person who likes to be prepared and this gives me an opportunity to have all my ducks in a row before making a big change from a sixteen-year career in education to something completely new and different."
She describes her coaching style as compassionate and honest, asking probing questions, while still being sensitive to the struggle the person is going through.
"I like to cut to the chase a bit, with a softer edge to it," she says, "Some of the tools that I like are the SMART goals, Reframing ANTS and the Values survey. I always find it fun when I do the values survey to see how people respond to their answers and how they ascertain what is important to them. It isn't always what they think it will be when they weigh one value against another."
Her favorite aspect of Life Coaching is that is fufills her natural desire to help people: "I know the journey I went on to get where I am now and appreciate all who guided me through. This is my way of giving back to my community and being of service to them."
We invite you to visit www.guidanceoncall.com

to receive your Initial Complimentary, Virtual, Coaching Session for the month of January, "Life Coaching Month."