Welcome to Social Media 101! Where we will dive into Social Media Marketing and how to do it right for your holistic business needs. Social media marketing is a value-creating process. It involves identifying opportunities for leveraging social interactivity among consumers in social media environments with fast-paced flows of information.
Social media is ever-changing and changing fast! You have to keep up in order to reap all the benefits it offers. There are many advantages and disadvantages to social media in marketing, so read more to become a social media disrupter in your industry!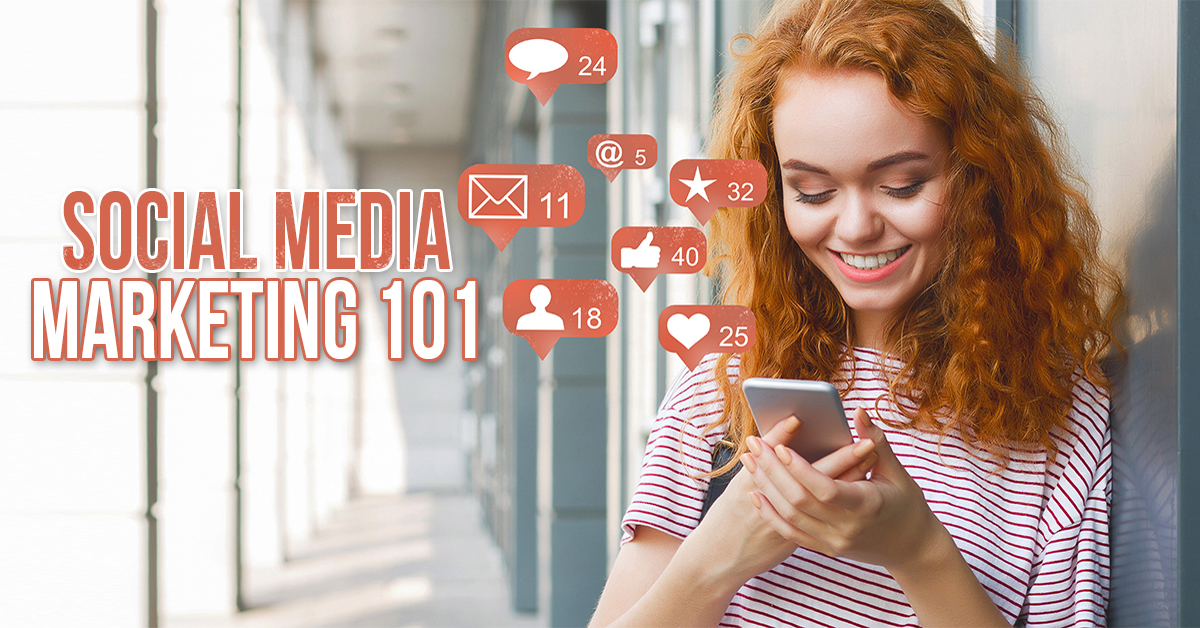 There are now 4.2 billion active social media users - that's almost double the amount of users there were just five years ago. On average, these users spend about 2.25 hours on social channels every single day. These 2.25 hours provide business entrepreneurs like you to: build brand awareness, develop customer relationships, and even make sales directly within social platforms. Most social tools and platforms are available at no cost, however, your time and efforts are still a large investment into your business.
Making a plan
It's easy to get lost and overwhelmed with all the channels of social media. The best way to get organized is to start with a plan. Without a plan, you have no clear goal, and there is no way to know if you are getting a return on your investment. Take the time to create a social media marketing plan upfront. This may include building a content calendar (planning when to post, on what platforms, what time of day, etc.) researching competitors in your field and seeing what they are doing/posting, and setting up SMART goals and objectives that will create metrics that will have a real impact on your business. Below is an example of a content calendar that schedules what time posts are being posted, when, themes, and more.

Types of Content
There are different types of content: Macro Content and Micro Content. Macro content is best thought of as long-form content. This is the type of content that will take you a little longer to produce. For example: podcasts, IGTV, videos, campaigns and more. This type of content usually has an ongoing purpose or value exchange for your followers. On the other hand, Micro Content is short-form, time relevant content. This can include social media posts, stories, reels, or even a short blog post. Anything that is a quick share or "in the moment" post. It is usually recommended that you post Micro-Content more frequently than Macro-Content. For example, on Instagram - posting at least one feed post a day and several stories a day (for your micro-content) and then posting one reel/IGTV per week (for your macro-content). As mentioned before, you may need to find a balance with what works for you and your business followers, and the algorithm to favor your posts and receive the best engagement you can.
Which platforms are right for you?
Next, you may want to decide which platforms are right for you. Each platform has different users, audiences, and aesthetics that work well for that specific platform. For example, Facebook tends to have an older audience than Tik Tok or Instagram, and certain posts/videos may make sense on one platform, and not the other. However, don't be afraid to experiment with what you post. With all the algorithms out there, you have to find what works for you and your business. So don't be afraid if one day your post doesn't get good engagement, your post tomorrow may blow up! Below is a great infographic that breaks down how to pick which platform is right for you and what you want. Each platform has a different use and purpose - think about who is your target audience? What kind of content would they want to consume? What are your competitors doing? Choosing your platforms does not need to be an all or nothing approach. You can utilize various platforms to reach different audiences and meet business goals.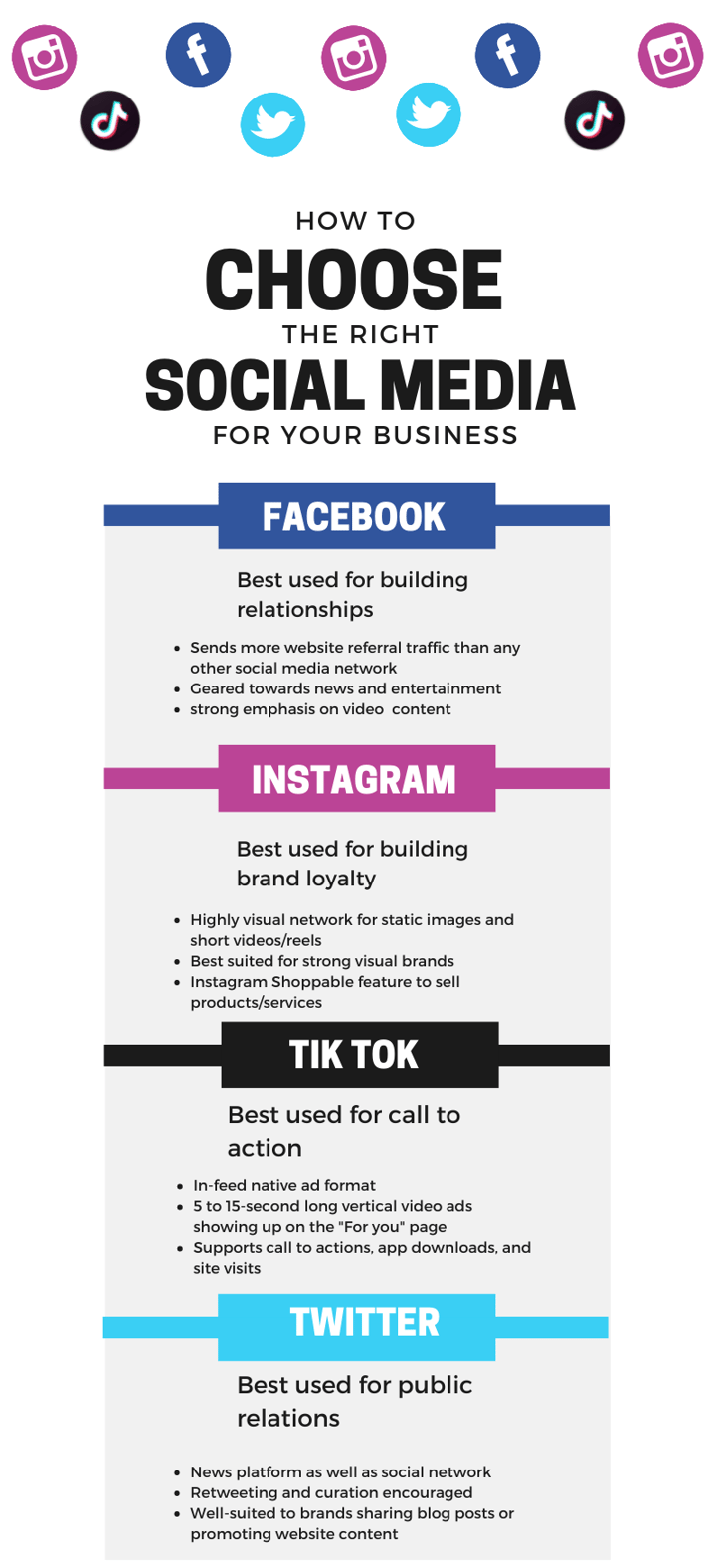 Infographic created by Jade Marvin
Building relationships
The benefit of using social media marketing for small businesses is that you can communicate directly with your customers and followers. This enables you to build relationships that lead to brand loyalty - putting your business and brand at the top of that consumer's mind. When your target customer is thinking about what they need, you want them to automatically think of your business first to meet their needs. Needs - this is very important to understand. Your business must fulfill the needs of your target market, and you have to be able to market that solution to them efficiently. When your customer sees your marketing, and it fits their needs, they will buy in.
More than 44% of internet users use social networks to research brands. Part of that discovery is getting to know who you are as a brand, and what your brand stands for. When you engage back with your customers by replying to comments, questions, stories, tags - you are building trust and loyalty to your brand. This can lead to more of your followers to share and like your content, giving you free exposure. Who doesn't want that!
Focus on quality over quantity
Yes, following up to date social trends is very important to stay relevant and at top of mind for your consumer, and even to stay competitive against others in your field. One social trend that is growing currently that will work in your favor is 'authenticity'. People want to follow brands they think are authentic and really mean what they post. Yes, there are aesthetics and things that look really pleasing to the eye, yet if your followers don't believe you, you will lose their trust. Post content that you enjoy and connect with. Really put in effort into creating content that you are proud of and that serves a purpose into explaining what your brand stands for.
With all the channels on social media, it can become very overwhelming. It is better to focus on just a few channels that you can really put your attention and focus on and perform really well in, than to spread yourself thin and post low quality content. Remember, your social posts offer value. If all you do is pitch and sell things, there's little motivation for people to follow you. Social marketing is about forming relationships, so make sure to balance business with authenticity. Be human. Be honest. Be engaging.
Tools!
There are many free and paid tools you can utilize to help create content that is professional looking and really easy to create. Social tools can really make your life easier when it comes to creating content, connecting with followers and increasing brand awareness/loyalty. As you find what works for you, expand your efforts and your audience. These tools can be customizable for you and your business needs.
Here are some very helpful tools:
● Canva (great for content creation)
● VSCO (photo editing)
● FaceTune (photo editing)
● Hashtagify (search for popular hashtags)
● Linktree (allows for more than one link in bio on Instagram- customizable pages that lead to several services or products you provide)
● Shopping on Instagram (allows in app purchases)
● Feed Preview (allows you to plan out and see how your IG feed will look like)
● Analytics (when having a business page on FB or Instagram, review analytics of posts to see what works and what doesn't)
● Messenger (great way to connect with consumers and answer questions on respective platforms)
In conclusion, social media can become very overwhelming at first, just give it time and you will see it brings so many benefits to you and your business. In this day and age, social media is a must for your business portfolio. Make sure to find what works for you and what doesn't. Social media is ever changing - and so should your outlook and strategies for social media. What works today may not work tomorrow. It may seem silly to you to invest so much time and effort on social media, yet it really is an effective way to market your holistic business. There is so much more to learn in social media marketing, and it's a process of continual education. Since social media never stops, you should never stop learning, developing and changing!
If you need ongoing support, here at SWIHA we have Our Success Center, where coaches can help support you and build these plans to promote your business on social media and more. Our Success Center is an online & on campus entrepreneurial and job placement support outlet, dedicated to supporting students and graduates of SWIHA as they build success with their new skills! We provide up-to-date resources designed to educate, motivate, and inspire professionals, whether they are stepping into a new career or furthering the evolution of their existing career. Our coaches are here to assist students and graduates in building a holistic business from the ground up by providing quality knowledge, tools, and coaching along the way!
We are ready to help you define what your success looks like, and provide the building blocks to reach it! Together, let's begin to manifest the SWIHA motto of 'Touching Lives, Healing Bodies, & Freeing Souls. Whether you are an on-campus or online graduate or student, "Your Success is Our Success!" We are here to support your needs.
Sources:
www.curata.com
https://blog.hootsuite.com/social-media-tips-for-small-business-owners/