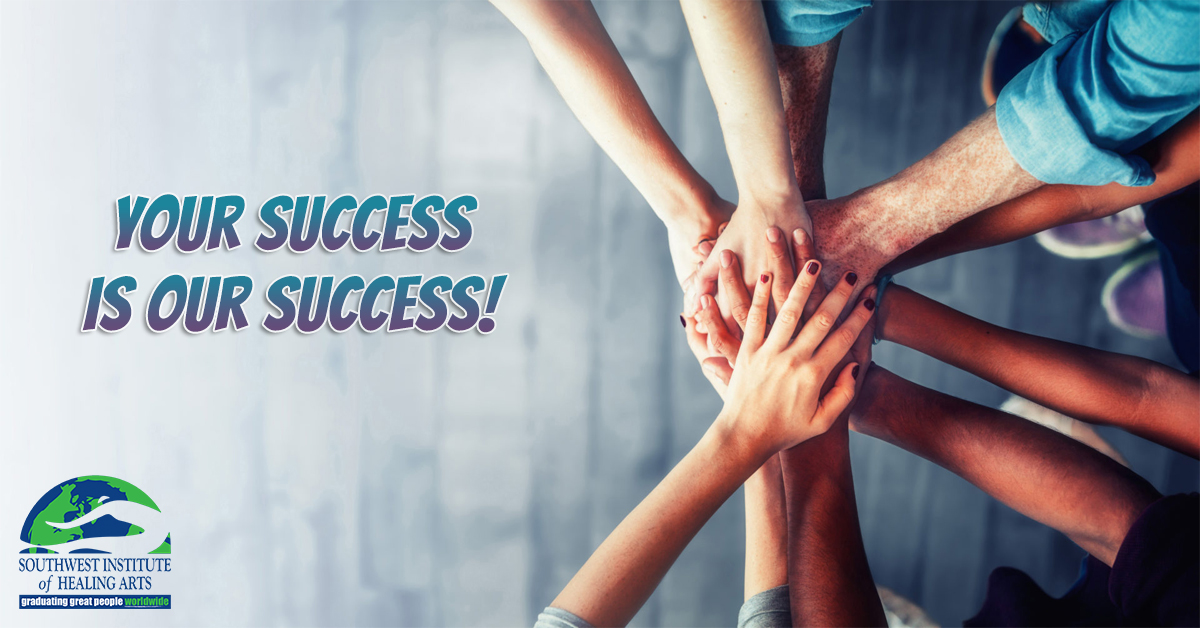 Do you dream of pursuing your passion for mind-body-spirit wellness and turning it into a profitable opportunity? At Southwest Institute of Healing Arts, we not only teach holistic modalities such as yoga, life coaching, herbalism and hypnotherapy -- we graduate entrepreneurs! We are ready to help you define what your success looks like, and provide you with the building blocks to reach it.
What Does "Entrepreneurship" Look Like?
The word "entrepreneur" is polarizing; some are excited and energized by the thought, while others may hesitate at the seemingly arduous journey to get there. We have seen the full spectrum of emotions while embarking on one's calling and have plenty of experience to support you -- over twenty-five years, to be exact! Our graduates do amazing things, and we encourage you to read their stories in other blog posts.
Simply put, an entrepreneur is someone who builds a business from their own unique vision. What that looks like is highly individualistic! We have seen graduates and students create a practice for supplemental income, write courses and books for sale, record audio recordings for personal use, open online and in-person retail spaces, and, most importantly, do work that they are passionate about.
At Southwest Institute of Healing Arts, you are surrounded by successful entrepreneurs who have put their heart and soul into their businesses. Your instructors will teach from their personal entrepreneurship journey from a place of honesty so that you will understand both the successes and the struggles.
Entrepreneurial and Placement Support
Our Success Center is dedicated to all students and graduates of Southwest Institute of Healing Arts, SWIHA Online, Southwest Institute of Natural Aesthetics and Spirit Of Yoga. You are fully supported beyond graduation by the Placement Division for those seeking employment and the Entrepreneurial Division for those seeking to build their own business. We support your success by providing current resources designed to educate, motivate, and inspire professionals stepping into a new career and those furthering the evolution of their existing career.
Our Success Center and its supporting coaches assist our Online and On Campus students and graduates with things such as:
Website Building
Networking
Marketing and Advertising
Resume and Portfolio Development
Job listings, Career fairs and events
Volunteer Opportunities
Room Rental Information and Equipment sales
Insurance and Licensing Information
Business or Spiritual Motivation
It is our honor to support you as you build a holistic business from the ground up, providing you all the knowledge, tools and coaching you could possibly need along the way. You can get to know who'll be on your team by clicking here.
We Provide You With Beneficial Partnerships
Southwest Institute of Healing Arts has also joined forces with San Francisco based DaoCloud, the largest and fastest network of vetted wellness professionals, to bring awareness to holistic health! With SWIHA educating future wellness professionals in healing modalities, this partnership allows those professionals to build their practice and clientele through DaoCloud's community network. SWIHA Alumni will benefit from a six-month complimentary practitioner account on DaoCloud!
Additionally, SWIHA has built relationships with wellness employers from all over, including spas, major massage chains, yoga studios, holistic retail spaces, herbalists, life coaches, naturopaths and many more. We also host networking opportunities, webinars and a Facebook group for SWIHA graduates to support each other in building their business!
How Do I Begin to Build My Vision?
We ask all prospective students to reflect on one specific question: "What are your gifts and graces?" Contemplate the abilities, experience and strengths that you have that may contribute to your ideal life. Keep in mind that your skills need not be strictly from your professional life – list skills developed in your personal life as well! Your business may be founded on a combination of skills from all your walks of life.
You don't need to see the finish line at this moment -- you only need to take the first step! Our Admissions Coaches can help you identify the best program and class schedule for you based on your passion points and how you desire to help others. You can reach them by calling (888) 504-9106 or emailing info@swiha.edu.
A Message from our Founder, KC Miller