Life is known to throw a few curve balls here and there. We can sometimes get swept up from underneath our feet, both literally and figuratively. Our world is then shifted upside down and the need for guidance, clarity and compassion is on our radar. Where to start? Invest in yourself.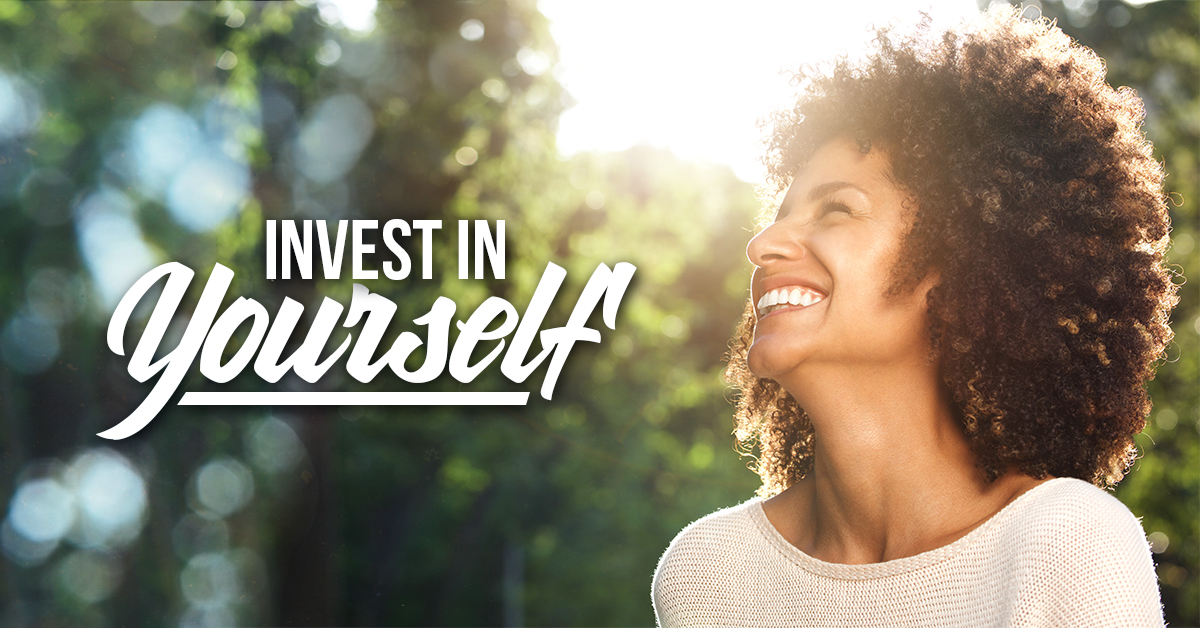 Taking care of yourself, both mentally and physically should be a top priority, and is an essential ingredient to living a long and happy life. Investing in yourself sends a powerful message to yourself and the world around you. The message is that you value yourself enough to give the time, space and energy needed to grow and create results. Have you ever struggled with putting yourself first? Most people do. Good health is the best form of investment anyone can have.
Investing in oneself can look different for everyone. Investing in your education, slapping on a facemask, or eating a better diet - the list goes on and on. The old cheesy saying of "You need to put your seatbelt on before helping others" really stands true. We train our minds to think about what we want in life, and our brains rewire themselves to acquire the ideal self-image and make it an essential part of our identity. Reaching goals can be difficult, and it can be really helpful to have someone there to help guide you through the process. That is what a health and wellness coach does.
What is a health and wellness coach?
A health and wellness coach works with individuals, groups and/or organizations who want to invest in a vision to become healthier, in large part by making lifestyle changes that optimize health, wellness and wellbeing. Goals can be daunting and oftentimes it feels like we run after our goals, rather than our goals chasing after us. Health and wellness coaches aid in the transformational journey one embarks on to achieve their life goals.
According to Madhuleena Roy Chowdhury, of Positive Psychology, "Goal-setting in psychology is an essential tool for self-motivation and self-drivenness – both at personal and professional levels. It gives meaning to our actions and the purpose of achieving something higher."
Having the power to help guide someone into answering their own questions, and becoming the best versions of themselves can be a really rewarding role.
5 Ways to Invest in Yourself
Set goals. Learn how to set both personal and professional goals for yourself. Without goals, we are driving without the headlights on. Your goals should be SMART goals - Specific, Measurable, Attainable, Relevant and Timely.

Building your confidence. People who know and recognize their own value have something to say and others will listen. There is courage in speaking your truth. The more you love yourself and own the value that you offer, the more confident you will become in sharing it with others.

Honor your intuition. By trusting your gut and honoring the message it is sending, you can show yourself more love and respect. Listening to your gut, allows you to make better decisions.

Take care of your health. It is one thing to fuel yourself emotionally, but it is equally important to fuel yourself physically as well. Making healthier choices for you and your body will give you the energy to take on the day and work up the confidence because of how it makes you look and feel. Look good, feel good!

Read books and attend seminars/workshops. Books or audiobooks are amazing resources to build your knowledge and expertise in any area of life. Another way to expand your knowledge is attending workshops and seminars. They will give you the opportunity to surround yourself with like-minded individuals who are also on the journey of self-worth and development!
SWIHA's Health and Wellness Coach Program
Your health and wellness is a journey you don't have to take alone. Southwest Institute of Healing Arts has a comprehensive and engaging Health and Wellness Coaching Program (200-hour Certificate of Excellence). At the core of this program is a belief in the mind-body-spirit connection and that each of us has a deep, inner knowing. When we connect with that knowing, we can achieve our individual health and wellness goals that are connected with our values! You will learn:
how to structure individual coaching sessions and the journey of the coaching relationship

techniques and processes for developing and maintaining relationships with your clients

how to support goal-setting and personal growth, and guide the behavior modification needed to succeed

the basics of health and wellness, including necessary changes for preventing and recovering from disease and avoiding risky behaviors

how to help your clients find their passions, improve their performance, overcome obstacles and enhance their quality of life
Watch this video below to discover if this health and wellness coaching program fits your dreams.
Take charge of your own health, invest in yourself, and help others do the same.