I know what you're thinking—and the answer is: No! This pudding does not taste of avocados, though it does use their thick, creamy consistency to create a decadent base. Perfect for a late-night sweet tooth, a crowd-pleasing potluck dish, or even for sneaking more variety in to a picky-eater's diet – all you need are a few staple ingredients and a food processer or blender. Thanks to raw food chef and SWIHA Holistic Nutrition instructor, Janet Lee, for demonstrating this recipe on Wellness Wednesday (watch the video below!).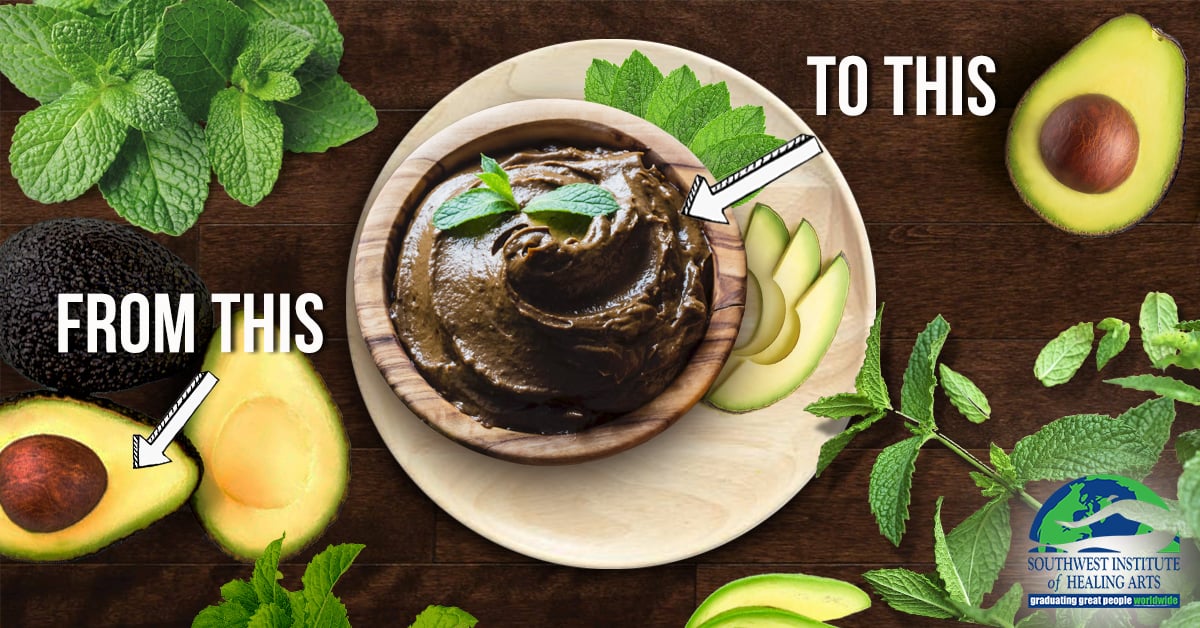 The Health Benefits of Avocado
Avocados are high in potassium, a common nutrient deficiency. Potassium helps to regulate blood sugar and helps maintain the electrical gradients found in our bodies on a cellular level.
It's one of the fattiest plant foods – and only the good kind! 77% of avocados calories are from oleic acid (also found in olive oil), which supports heart health and reduces inflammation. This fat content is important, as it helps you absorb fat-soluble nutrients such as Vitamins A, D, E and K.
These green goddesses are packed with antioxidants, including several carotenoids that support ocular health and prevent problems such as cataracts and macular degeneration, a common problem in aging western adults.
Despite their smooth texture, avocados are filled with fiber, both soluble and insoluble, providing the perfect canvas for probiotic supplements and helping to prevent blood sugar spikes.
Why Sweeten with Maple Syrup?
As more people are coming in to awareness about the health repercussions of refined sugar, a plethora of sweetener options have emerged – stevia, monk fruit sweetener, coconut sugar, agave syrup, and so many more! If you have a preferred alternative sweetener, we invite you to experiment.
Maple syrup is personal favorite option, as it is a sustainable and ecology-friendly food. It is made from the boiled-down sap of the maple tree and, when properly cared for and tapped, maple trees can produce for over 100-years. The retired trees never go to waste though, as they are often harvested for lumber to fuel the evaporators necessary for the creation process – a true full-circle life!
Avocado-Based Chocolate Pudding
3-4 ripe avocados (still on the firmer side), peeled and seed removed

1 teaspoon pure vanilla extract

½ teaspoon cinnamon

½ cup raw cacao powder

1/2 cup pure maple syrup

¼ cup coconut oil
Place all ingredients in a food processor and blend. Stop and scrape the sides occasionally and make sure the avocado is completely blended. Taste and adjust flavors by adding additional maple syrup, cacao powder or cinnamon. Serve immediately or store in the refrigerator.
Are You Passionate about Wellness & Want to Hone Your Skills?
Southwest Institute of Healing Arts' Holistic Health & Wellness Coaching program is geared toward individuals passionate about mind-body-spirit health seeking to live a healthful life physically as well as internally and inspire others to do the same! The best part? You can take classes from anywhere in the world – this program is available 100% online!
This program will provide you with a foundation in behavior change, mindfulness, and positive psychology. It is focused on mind-body-spirit connection while being deeply rooted in science. You will master foundational holistic nutrition topics, psychology fundamentals, mindfulness techniques, entrepreneurial business development, professional communications, and marketing. You will choose one of two paths to further enhance your skillset: Natural Foods Culinary Specialist or Mindfulness Facilitator.
Or, if you're seeking some foundational knowledge, our 200-Hour Holistic Nutrition certificate will give you the skill and confidence to make healthy decisions and guide others to do the same. Learn about the therapeutic properties of unrefined whole-food nutrients, develop healthy shopping habits, learn how to integrate high-quality natural "whole food" ingredients, seasonal recipes, specific cooking techniques, and more!
Watch Janet Lee, raw food chef and SWIHA Holistic Nutrition instructor, in action!