Kelly St. Claire was enjoying her life as a mother of two with a successful career as a hairstylist when she suddenly felt as though something was missing from her life.
"I love beauty. However, my passion also lay in holistic and energetic healing," Kelly explains, "I didn't know the term 'multi-passionate' at the time. I just thought I was flighty and that in order to get into my holistic health work I'd have to leave my beauty work. I struggled with it for a long time."
The urge to expand in to healing eventually led Kelly to take many holistic workshops in order to stretch her knowledge base and get inspired. That's how she found Southwest Institute of Healing Arts!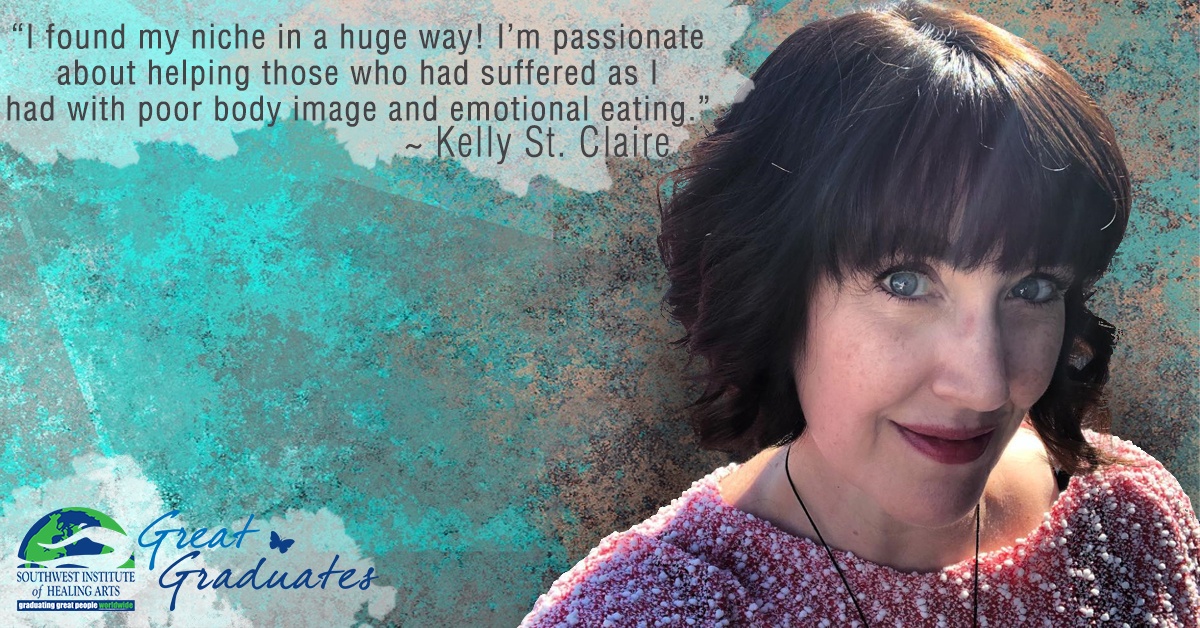 An Education in Wellness
"[SWIHA] was perfect for me!" she says, "It became obvious that this was put in my world for a reason, so I signed up for the Holistic Wellness Practitioner diploma with a focus on holistic nutrition. I also received an intense education in life coaching and hypnotherapy."
Kelly soon realized that she wanted to step further in to the realm of holistic nutrition and also pursued the Holistic Nutrition Wellness Practitioner diploma, choosing the Natural Foods Culinary Specialist option.
"All of the teachers were amazing and supportive. Dr. Kelly Clough pushed me to be excellent in writing my research papers. He was honest, tough and I appreciated the feedback. It helped me develop."
In the middle of her studies, she found out she had cancer in her body which would require a radical procedure. She understandably found it difficult to focus on her studies.
"I went through my 'dark night of the soul'. I realized that I was a wounded healer and, through my darkness, I learned to appreciate the divine messages I received. I found myself alone in many situations and learned how to love my own company. It was a painful but profound experience."
"SWIHA worked with me as I took a leave of absence. I reached out to the school and had full support as I finished strong," she says, "I came back and felt the purpose and the drive. I motivated myself and disciplined myself to do the work. I took my education seriously and wanted to do the best I could."
Nothing could stop Kelly once she discovered her purpose: "I was drawn to helping others who suffered as I had. I had once fallen into the trap of emotional eating and realized that my weight had crept up. My body image was poor and I hid out. I was very critical of my body. I worked hard to overcome this and now feel beautiful and able to help others!"
Kelly adds: "The cancer and emotional challenges were obstacles in my path, and I feel ecstatic and proud that I finished strong with a 3.90 GPA! I thank SWIHA for being compassionate and encouraging me."
A Beautiful New Career
Today, Kelly is a Health, Beauty & Wellness Coach who focuses on challenges surrounding aging, emotions and body image.
"I help people feel confident and beautiful!" says Kelly "I am still a hair and beauty stylist and realize how healing a good experience in the salon is. I have the privilege of working in people's crown chakra. I connect with them on a sacred level whether they realize it or not. I spread love to my clients!"
Through her beautiful new career, Kelly has found a deep sense of confidence and pride and feels strong in her ability to help others. She offers local group coaching, guided conversation circles, private coaching, classes, workshops and even home parties!
"I found my niche, in a huge way," Kelly explains, "I'm passionate about helping those who suffered as I had with poor body image and emotional eating. I help people learn about holistic nutrition and my whole approach is to make it fun and enjoyable. It's a great feeling to be so strong in my purpose!"
When asked about her greatest lessons, she says: "I learned that I am an exceptional person and my coaching and teaching will help people. I learned to be compassionate with myself and to allow myself time to heal. I am now free from cancer and smiled upon by the Divine."
Her wisdom for future healers?

"Take your studies seriously and have gratitude for the fabulous opportunity you have here. Persevere, ask for support if you need it and, most of all, finish strong. Don't give up!"