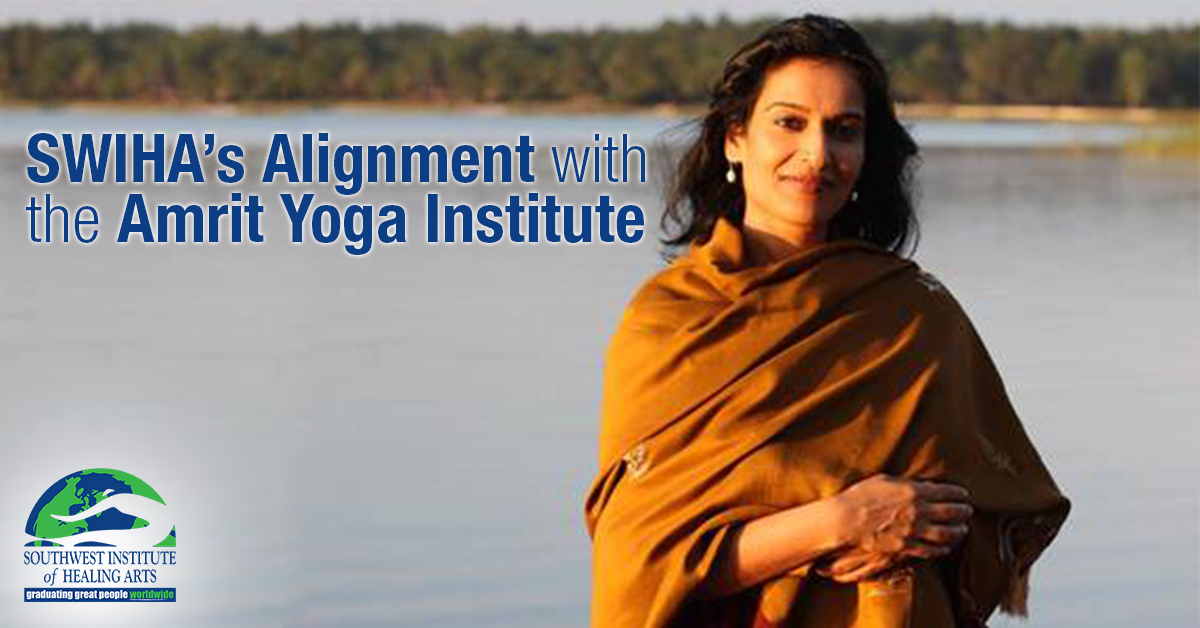 In the practice of yoga, it's traditional to follow a lineage to allow for more integration of the vast yogic teaching. After three members of the Southwest Institute of Healing Arts' leadership team traveled to India and birthplace of the Amrit Yoga Institute teachings, we are now aligning our curriculum with this lineage through incorporating I AM Yoga® in to our curriculum. This provides a valuable opportunity for you to learn an authentic expression of yoga which honors its spiritual intentions and provides a complete mind-body-spirit focus.
What makes the Amrit lineage notable, and how did SWIHA begin this partnership?
Amrit Desai is a pioneer of yoga in the West and part of the Lakulish Lineage. He is one of the few remaining living yoga masters who brought over the authentic teachings of yoga in the early 1960s. His yoga training programs have reached more than 40 countries worldwide and over 8,000 teachers have been certified.
Over the years, SWIHA has integrated teachings from the Amrit Yoga Institute through the Yoga Nidra programs and the Yoga Body Psychology, both Certificates of Excellence that can be earned within our yoga programs. Now that we have adopted the lineage of Amrit Yoga into our teachings, you will start to learn and apply I AM Yoga® in our 200-hour Yoga Teacher Training as well as in our advanced training programs.
What is I AM Yoga®?
I AM Yoga® is a concentration of teachings founded in yoga, meditation and self-realization, as well as a natural evolution of ancient yogic practices passed down from teacher to disciple. Developed by Yogi Amrit Desai and based on teachings which he received from his guru, Swami Shri Kripalvanandji (Kripalu), these practices maintain their mystical eastern roots while being scientifically current, accessible and relevant to the western psyche.
Finding inspiration in ancient yogic texts, I AM Yoga® will teach you to dynamically weave these teachings into your yoga practice. You will expertly decode the original teachings of yoga, unveiling its relevance and modern application in your personal life, as well as in today's world.
What will the Advanced Yoga Teacher Training programs (600- or 800-hour) add to my yoga teaching toolbox?
The core curriculum of the 600- and 800-hour Yoga programs is made up of classes designed to deepen your understanding of anatomy, yogic energy and the business of yoga. You will then decide between two paths: Yoga Studio Teacher or Yoga Therapist.
The Yoga Studio track is a great match if you envision yourself primarily teaching studio classes. You will customize your area of focuses through electives such as Yoga Nidra, Power Yoga Sequencing, Transformational Yoga Coaching, Integral Breath Therapy and more.
The Yoga Therapy program is a great match if you are feeling called to hold a deep and sacred therapeutic space for individuals and groups. Unlike the studio track, students on this path will take the full Meditation in Motion, Yoga Nidra, and Yoga Body Psychology certificates as part of their program.
Can I become certified with the International Association of Yoga Therapists (IAYT)?
Yes! SWIHA is honored to offer a full path to certification by the IAYT. All courses in the Yoga Therapy track meet the Amrit Yoga Institutes requirements to apply. If you choose to pursue certification with the International Association of Yoga Therapists, you will need to complete additional documented outside sessions.
I have taken the Yoga Teacher Training program at SWIHA. Can I choose to take one of the new Certificates of Excellence?
Yes, if you are a Yoga Teacher Training graduate, you meet the prerequisite requirements for the Yoga Nidra, Yoga Body Psychology and Meditation in Motion certificates and may choose to enroll in those as a stand-alone.
Yoga Nidra is an ancient practice that allows the body and mind to enter into a deeply relaxed state with the intention of bringing the conscious mind into harmony with the subconscious and unconscious. You will learn to promote mental healing through the power of unconscious visualization and pranic healing through the flow of light and energy in the body.

Yoga Body Psychology is designed to treat visible physical symptoms and the invisible mental and emotional blocks that contribute to them. Using gravity supported, static poses held by the facilitator, or with the use of the wall or props, you will learn how to surface and release blockages held in the body and explore the anatomy of energy.

Meditation in Motion transforms the practice of yoga into a yogic way of life and an energetic expression. This advanced training builds on Amrit Yoga's I AM Yoga™ Teacher Training Posture of Consciousness format and focuses on moving from the willful practice of postures to a dynamic blend of intentional poses and intuitive movement.
Learn more about the exciting new updates in our Yoga Teacher Training programs in this webinar featuring Kamini Desai, Executive Director of the Amrit Yoga Institute, and holder of the Amrit Linage: