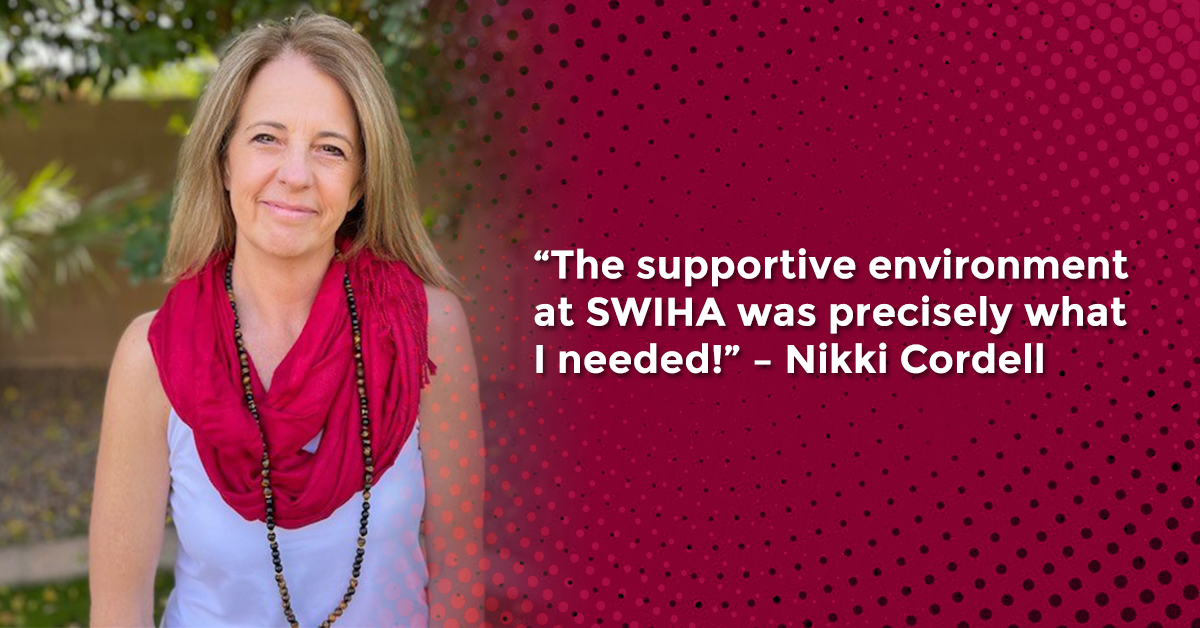 The corporate 9 to 5 job is not for everyone. It certainly wasn't for SWIHA Great Graduate Nikki Cordell. Nikki recalls her life before SWIHA by using words such as "busy" and "hectic" as well as recalling the feeling of constantly longing for something else. Nikki Cordell wanted a way out of her corporate job…and she found one. Nikki was introduced to Southwest Institute of Healing Arts, and the rest was history! "I wanted to follow a dream, doing something that I love. A dream I always had was to own a yoga studio. Yoga has been a hobby of mine for many years, that one place I would allow space to take time for myself" asserts Nikki. She found that even though her days were still long and full, as she went to the evening program right after work, she came home feeling different. Nikki came home feeling refreshed, and always enjoyed her time in class, constantly looking forward to her next class, which was quite the opposite feeling of dreading her next day at her corporate job.
Nikki knew she was on the right path toward living her dream when she had completed her yoga teacher training practicums. Nikki proclaims, "The opportunity to put together a class and teach the public was scary, although a defining moment for me. The coaches helped to build my confidence with their feedback. I felt energized after teaching the classes. Friends came and the feedback was great! I started to believe I could do this!" Nikki was surrounded by like-minded individuals who found a safe space within yoga. As mentioned before, Yoga was a hobby for Nikki as well as a place where she was able to take time for herself. Watching yoga transform from a hobby to a career for Nikki was a special process to endure.
"Yoga has changed my life. I have a direction I am looking to go - to build my yoga business - one step at a time. I took the business of Yoga class as well, which really helped to define what I needed to do next. I feel like I am about to step into the next phase of my life!"
With the help and support from the SWIHA/Spirit of Yoga Community, Nikki gained confidence in herself to go after her dreams. Nikki states, "I am beyond grateful for the nudging I received to look outside my comfort zone and try something new. The supportive environment at SWIHA was precisely what I needed!" Nikki had what it takes to go after her gifts and graces, however, like many SWIHA students and graduates, the only thing standing in the way is themselves. Once Nikki was able to get past her own fears, she was able to see how confident and able she was to do whatever she dreamed of doing!
Currently, Nikki is still working at her corporate job, however, during her off hours, she is working on getting her Yoga business started! "I still practice yoga to keep up and improve my knowledge. My goal is to put together one class or outreach each month to continue marketing myself" says Nikki.
Near the end of 2021, Nikki started her business called All Things Possible Yoga (ATPYoga). Nikki explains that her Business of Yoga class she took at SWIHA was what inspired her to really go after starting her own business. Nikki explains the inspiration behind her business name, "The name is inspired by a favorite bible verse Matthew 19:26, 'With man, this is impossible, with God all things are possible.' Yoga has helped me to find this as my truth." Nikki's mission is to support and guide women on their journey to discovering courage, strength, and the power of self-care with the practice of Yoga, Guided Visualization, and Breath work.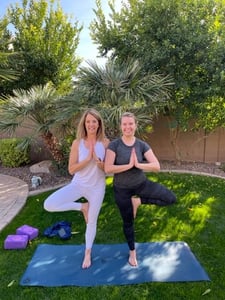 Nikki is planning on hosting her first annual Women's Retreat! She will be offering several yoga classes along with other various activities such as hiking and crafting. Nikki asserts, "I feel I impact clients with my love and enthusiasm for self-care and support of the client as they find their individual paths. The skills I learned at SWIHA through YTT 200, Business of Yoga, and Yoga Nidra are what I am showcasing to my clients. I currently offer yoga flow, Nidra, chair yoga, and meditation classes. I offer classes online, in my home (backyard), and at the upcoming yoga retreat, I am hosting. I hope to start working with mental health counselors to utilize Yoga Nida.'
"I feared there were too many yoga instructors out there, I heard and now believe that I have a unique voice and there are people out there that can only be reached by me!"
Nikki would like to thank Will Zecco her amazing Yoga Instructor during her 200 hr Yoga Teacher Training program, as well as Vanessa who greatly encouraged her throughout her program and even after graduation. Nikki's advice to any future/potential SWIHA students is "It would be to go on the journey. Carve out the time, YOU are worth it!!"