Discovering Green Tea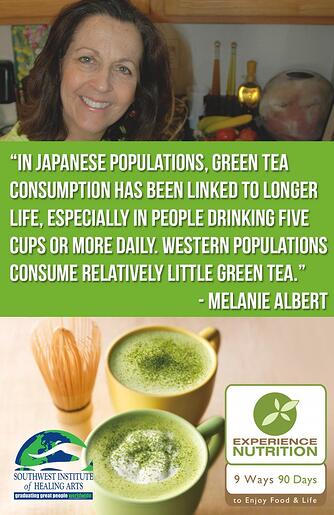 I began drinking green tea ten years ago when I started working with best-selling author and integrative medicine pioneer, Dr. Andrew Weil, who has been a long-time advocate for drinking green tea. At first, green tea was a little odd to me. I was not accustomed to the green, grassy taste of high quality green tea. Over time, I've grown to enjoy drinking it. Now the ritual of preparing and drinking high quality green tea and matcha tea are part of my daily life. I'm sure many of you at the Southwest Institute of Healing Arts (SWIHA) campus see me drinking my matcha tea throughout the day.
Why Green Tea is Good for You
ECGC, the antioxidant in green tea, is an anti-inflammatory.
Research has found that green tea benefits heart health, brain health and cancer prevention.
Full of catechins and polyphenols, which help the brain to relax and stimulates dopamine levels.
Theanine in green tea helps improve mood and a sense of relaxation.
Known to increase memory and concentration.
Has less caffeine than coffee.
Tastes delicious, so enjoy a few cups every day!
Most Popular Green Teas

This high quality Japanese green tea is covered before picking to accentuate its vibrant green color and increase amino acids, as well as vitamins A and C.Matcha: Tea of the Japanese tea ceremony
The tea leaves are stone-ground, so you really are eating tea leaves when you drink matcha tea.
You get the full benefits of green tea.
Matcha has a grassy, green taste.

Kyokuro: High quality Japanese tea
The tea bushes are covered for two weeks prior to harvesting with nets or trellises to reduce the amount of sunlight the plants receive.
The emerald leaf takes on a lustrous, splinter-like appearance.
It has a deep, intense rich green color and fresh, grassy taste
Sencha: Most popular Japanese tea
A great starting point for those just beginning to explore the world of green tea.
The splintered green leaf delivers a vegetal, yellow-green cup.
In Japan, sencha is drunk hot in the cooler months and usually chilled in the summer months.
"In Japanese populations, green tea consumption has been linked to longer life, especially in people drinking five cups or more daily. Western populations consume relatively little green tea."Melanie Albert
Whole Food S.O.U.L. Food Wednesday Action:
Try Green Tea!
Through our Whole Food S.O.U.L. Food blog we invite you to take action with your whole foods eating and drinking habits. The goal is to incorporate new whole foods eating, including good-for-you beverages, into your way of eating step-by-step.
Our challenge for you this week is to try real green tea. It could be matcha or green tea leaves instead of green tea in a teabag. Share your creations with us on Facebook.
Whole Food S.O.U.L. Food Recipe: How to Prepare the Perfect Green Tea
Green Tea with Tea Leaves
Put a teaspoon of tea leaves into a tea strainer.
Bring water to nearly a boil. This is very important, so you do not burn the fragile tea leaves; many people burn the leaves and then don't care for the bitterness of the green tea.
Pour water over the tea leaves.
Cover the pot or cup.
Steep for 1-3 minutes.
Continue steeping the tea leaves with fresh water as needed and enjoy all day.
Matcha Tea
1/4 tsp matcha in matcha bowl
Add nearly boiled water
Whisk with bamboo whisk
Enjoy the ritual and ceremony
Enjoy.
Share your Green Tea Experience with us on Facebook:
www.facebook.com/SWIHA and www.facebook.com/9Ways90Days
---
About the Author Melanie Albert
Melanie Albert, nutrition and food expert, author and speaker, has been active in the integrative medicine and nutrition fields for over a decade. She is the founder & CEO of Experience Nutrition Group, LLC, whose mission is to improve the lives health and nutrition of the sports community, kids and corporations through food and lifestyle education.
Melanie is an instructor in Whole Foods Cooking, Holistic Nutrition (Conscious Eating) and Entrepreneurship at the Southwest Institute of Healing Arts (SWIHA) in Tempe, AZ. She also teaches Intuitive Eating at Spirit of Yoga in Tempe, AZ. Melanie walks her talk and you can always find her at farmers' markets, in the kitchen experimenting, and practicing yoga.
You can get more recipes, nutrition and food tips from Melanie.
Visit her blog: www.9Ways90Days.wordpress.com
Visit her Facebook: www.facebook.com/9Ways90Days