Ester Mina Silinsky believes that G-d has granted her 120 years to complete her life's work. At 61 years old, she is happily married, has raised nine children, and intends to use the rest of her remaining years to help others manage their own health using holistic methods and ancient wisdom obtained through SWIHA Holistic Wellness Practitioner program— now known as the Mind-Body Wellness Practitioner program. Since only two of her children still live at home, Ester is at a stage of her life where she can focus on enjoying her family and on her career as the owner of Holyland Holistics.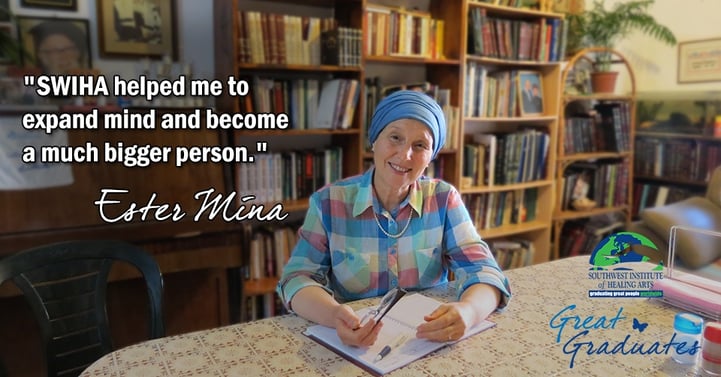 Ester wasn't always this fulfilled by her work. Previously, she spent eight years working in medical billing. Day after day, she saw how debilitating and devastating chronic illnesses were. She had particular empathy for those patients who were afflicted with preventable chronic ailments, like diabetes and hypertension. After years of bearing witness to this suffering, she felt that she was unable to stand idly by any longer. She began to research wellness and diet certifications to bolster her capabilities and credibility. Ester says, "I was planning on just going to people's houses and helping them to change their lives– I wasn't thinking any further."
At first, Ester didn't have a set plan for her education. She knew that she wanted a wellness certificate to boost her qualifications, and yet she wasn't sure how to take the first steps to obtain one. What she wanted was to be able to go to people's homes and act as a holistic healer, guiding them through the process of living better lives. Beyond that, her future was a blur. It was while she was investigating wellness-based certificates that she discovered SWIHA's many programs and realized that the school was exactly what she was looking for.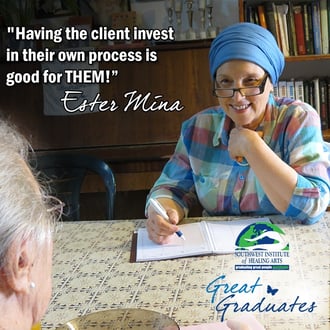 As Ester describes it, the courses she took at SWIHA opened her mind and eyes to new ideas, books, and ways of thinking while also teaching her how to turn her passion for helping others into a viable, professional business. She is continuing to revolutionize and think "outside of the box" when it comes to the services she offers, commenting: "SWIHA helped me to expand my mind and become a much bigger person. My relationship with G-d has improved, along with everything else. I needed what SWIHA has to offer— and in many more ways than I could have known." When asked which instructors had the largest impact on her growth and development while at SWIHA, she said, "All of them had tremendous impact. They all meticulously taught their craft, encouraged me, and gave me the most gentle and loving criticism."
When it comes to business savvy, Ester also experienced a huge breakthrough with her relationship to abundance, the monetary value of her work, and the nature of entrepreneurship. "I have learned a lot, and one of the things I have learned is NOT to work for free… Having the client invest in their own process is good for THEM– even if only a token amount." She has found that when her clients invest monetarily in themselves, they are more committed to the changes that they are undertaking.
Although she is currently juggling the demands of working with clients, this recent graduate is also doing a methodical review of everything she has learned so far. In fact, she loved courses at SWIHA so much that she's continuing her education by taking Auriculotherapy with Cheryl Speen. She's sees value in doing so because of how integral SWIHA's coursework was to shaping her business: "I had in mind to start a business of my own, but never in the way I am doing it now– everything I am doing is basically a spin-off of my homework."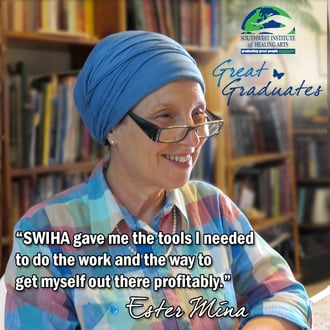 Ester's thriving practice is called Holyland Holistics, and she works with a niche group of pre-diabetic and diabetic Jewish women, meeting one-on-one with them in their homes (or out of the comfort of her own home!) and using hands-on methods to offer healing. Through Torah-Based Life Coaching, Holistic Nutritional Coaching, Focused Relaxation and Guided Imagery, Health Management, and Auriculotherapy, Ester helps these women take control of their lives and manage their health.
Ester knows that her relationship with G-d has improved while attending SWIHA, as has her marriage. Her personal and professional development have exceeded her expectations, and she encourages others to focus on their own growth as they embark on their own academic journeys. "For the time that you are learning at SWIHA, try to make it a priority – it goes quickly and the classes are PACKED with information! Slim down your life to the bare minimum, and just concentrate on school– YOU WILL LOVE IT!"