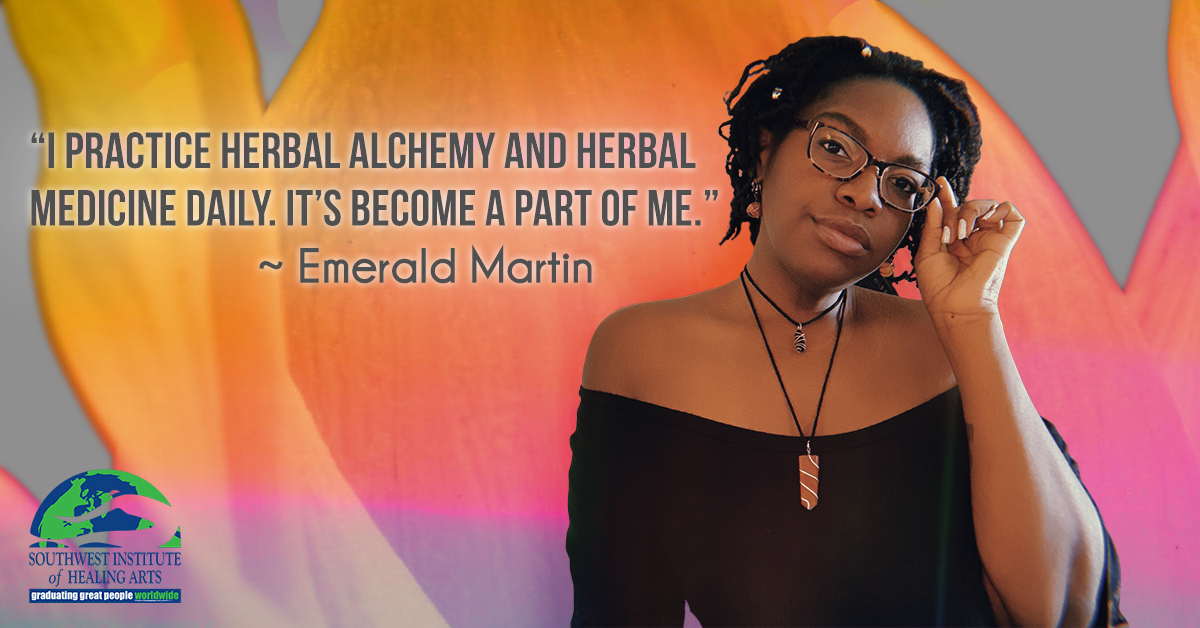 "My life has changed in ways I would've never expected," Emerald Martin, founder and owner of Green Vibes Wellness tells us, "I had no idea what I was getting into."
Emerald's company has been thriving since 2019, a testament to her transformative approach towards Herbalism and Holistic Health. Green Vibes Wellness offers services including one-on-one coaching/health review sessions and a variety of herbal remedies custom-made for each individual client.
"My goal is to make lasting change with my clients and for them to empower them to take the wheel to their health," she says, "My company is always transforming and flowing with the times. There is so much to learn, therefore so much to teach."
Becoming an Herbalist
What lead Emerald to Southwest Institute of Healing Arts was, what she describes as, a "fated conversation" with a co-worker who had audited a nutrition class at SWIHA.
"I was deeply intrigued, and after more information I knew in my heart this was something I was passionate about," Emerald describes, "Healing not only the physical body—all aspects that bring us together, including our innate connection to plants. "
She continues: "Before attending SWIHA, I was clinically depressed, pre-diabetic, and on the brink of collapse from carrying the weight of the world on my shoulders. I felt so out of alignment, I was not living my truth and it wore on me more and more each day. I had no direction in my life... that changed 100% when I started my program."
She describes an inner-knowing as she set foot on the Tempe, Arizona campus for the first time: "The energy was something I resonated with on a level I've never experienced. After talking with Admissions and understanding the differences between each program, all I could think about was Herbalism. The entire vibe of the school was enamoring to me and felt like home. After auditing my first Herbalism class with JoAnn, I knew I was in the right place."
Emerald answered her heart's call and pursued her Associate Degree in Holistic Health Care with concentrations in Western Herbalism & Holistic Nutrition.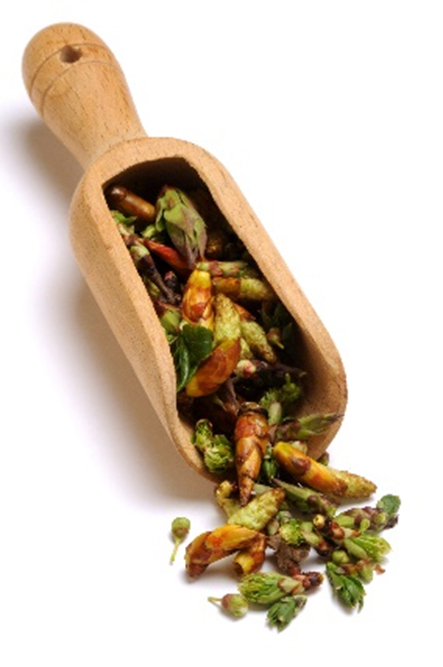 Life as a SWIHA Student
Emerald credits Joann Sanchez, the director of the Western Herbalism program at Southwest Institute of Healing Arts and a prolific herbalist herself, with further igniting her passion: "JoAnn Sanchez is a remarkable person. Not only is she a very influential teacher, she is one of the most compassionate and intelligent women I've ever met," she continues, "I admire her most for her ability to trust her intuition on a whim and calmly pursue the tasks at hand, though they may be monumental. She is very strong in mind, body, and soul; I am so grateful to have met and been taught by her. The Herbalism program would not be the same without her intuitive insight and practical skills as Director."
Her time in Holistic Nutrition classes with Janet Lee and Dee McCaffrey is also a source of inspiration and fond memories: "They both had very different teaching personalities and I appreciated that. What I found most admirable was their vast flow of knowledge, especially in regards to food. Both Janet and Dee expressed themselves well during class. I learned a lot more from those two than I think I ever could have read in a year!"
"Attending and graduating from SWIHA is an experience I will hold close to me for the rest of my life," Emerald concludes, "I will always embody what I learned there and strive to teach others of the magic we all hold inside."
An Entrepreneurial Spirit
"Plants hold the key to optimal healing," Emerald states, "I wish to share this with others and truly change the world through connection and self-respect."

With that knowledge, Emerald is making an impact on her immediate community by providing them with education and herbal remedies she learned to make through the Western Herbalism program.
"Green Vibes Wellness focuses on providing deeper healing through the experience of plants interacting with the self," she explains, "I practice herbal alchemy and herbal medicine daily. It's become a part of me."
Green Vibes Wellness is also expanding into services such as Sound Healing Therapy and Astrology reports.
"As I am, my company is always transforming and flowing with the times. There is so much to learn, therefore so much to teach," Emerald tells us.

Emerald is also working side by side with the Director of the Herbalism Program, JoAnn Sanchez: "Since January 2020, I work as an instructor for the Herbalism program and my main focus is managing the apothecary and the Botanica library. It's an incredible experience and it keeps me on my P's and Q's."
Words of Wisdom
For those called towards Holistic Healing, Emerald has this to share: "Surrender and allow your cup to be filled."
"The greatest lesson I learned at SWIHA was to have patience," she reveals, "There is always something beautiful around the bend of learning something new. Be open and allow transformation to happen to you."
She adds: "No matter what day or time class is, always go. There will be a message and a lesson in each class. Be open, don't assume you know everything, and challenge yourself. Don't pass on assignments—they are more than just 'homework'. It's 'inner-work'."
In true Herbie fashion, she also mentions: "The best lesson though, is to take herbs every single day, and to stay grounded in ones-self."
You can connect with Emerald and her business, Green Vibes Wellness on Facebook and Instagram! Or, if you resonate with Emerald's energy, you can join her in our Western Herbalism program beginning October 6, 2020 or January 13, 2021.