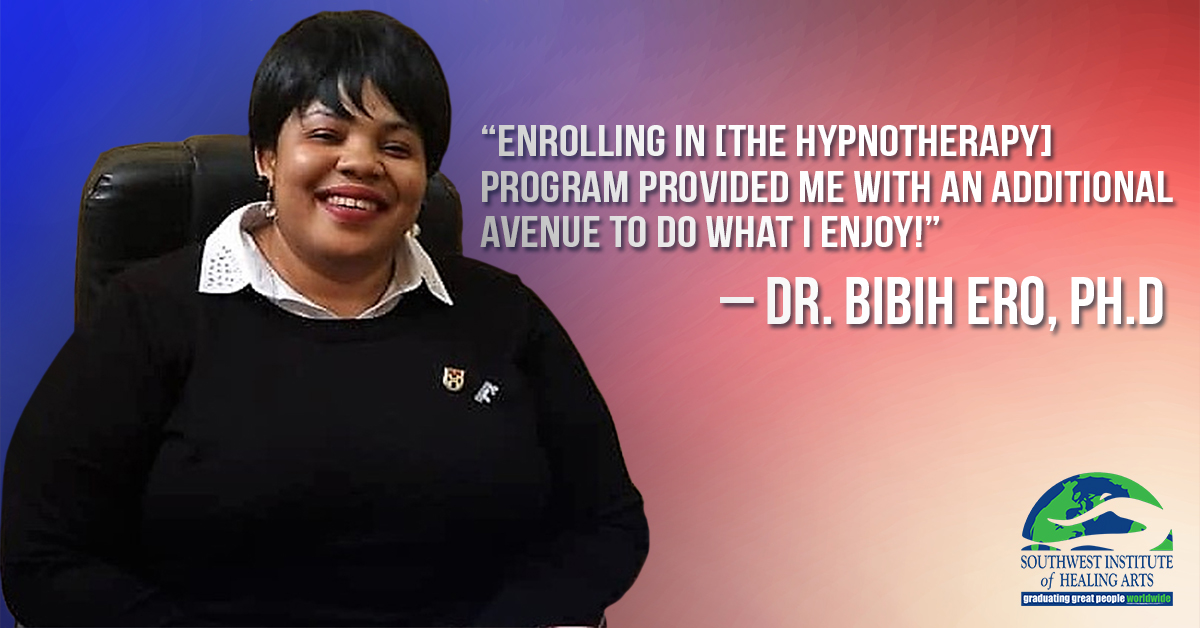 Dr. Bibih Ero is a University professor with a background in Psychiatric & Mental Health Nursing and experience as a Health Coach/Naturopathic Nutritionist. "I have always been very passionate about the relationship between the subconscious-mind and human behavior," she tells us.
Dr. Bibih has always dreamed work for herself, citing flexibility and personal fulfilment as her main motivating factors. Her business, Prime Health Focus, LLC, provides services in Health Coaching and Hypnotherapy; she also sells premium organic tea blends to complement a healthful lifestyle.
Adding Hypnotherapy to her professional services has enriched her ability to serve her clients. When asked why she chose Southwest Institute of Healing Arts for her Hypnotherapy program, she states: "I was very much impressed by the core values, which have invariably shaped my personal values."
She continues: "I enjoy motivating and empowering clients to make the positive changes they desire for themselves. Therefore, enrolling in this program provided me with an additional avenue to do what I enjoy."
"Sherry Gilbert and Kathy Shimpock are my mentors! These two women are awesome!" Dr. Bibih shares, "I am a teacher, and I understand what it means to be a mentor to your student. They taught me in a manner that sincerely proved that they wanted me to a true reflection of their strengths."
While in her program, her favorite topics were Script Writing, Neuro Language Programming, Ideomotor Responses and Smoking Cessation.
"I have come to learn and understand that Hypnotherapy imports knowledge from diverse disciplines," she explains, "Given this premise, a little knowledge about 'everything' is vital for a successful practice in Hypnotherapy."
Dr. Bibih adds: "Today, I am equipped with an additional tool (Hypnosis) to keep doing what I enjoy: motivating and empowering clients to make the positive changes they desire for themselves. This has provided me with additional fulfillment, in terms of achieving my life's objectives."
"You are enough and you can do anything," Dr. Bibih wants you to know, "You see it, you believe it, you act on it and you achieve it. Energy flows in the direction of focus."