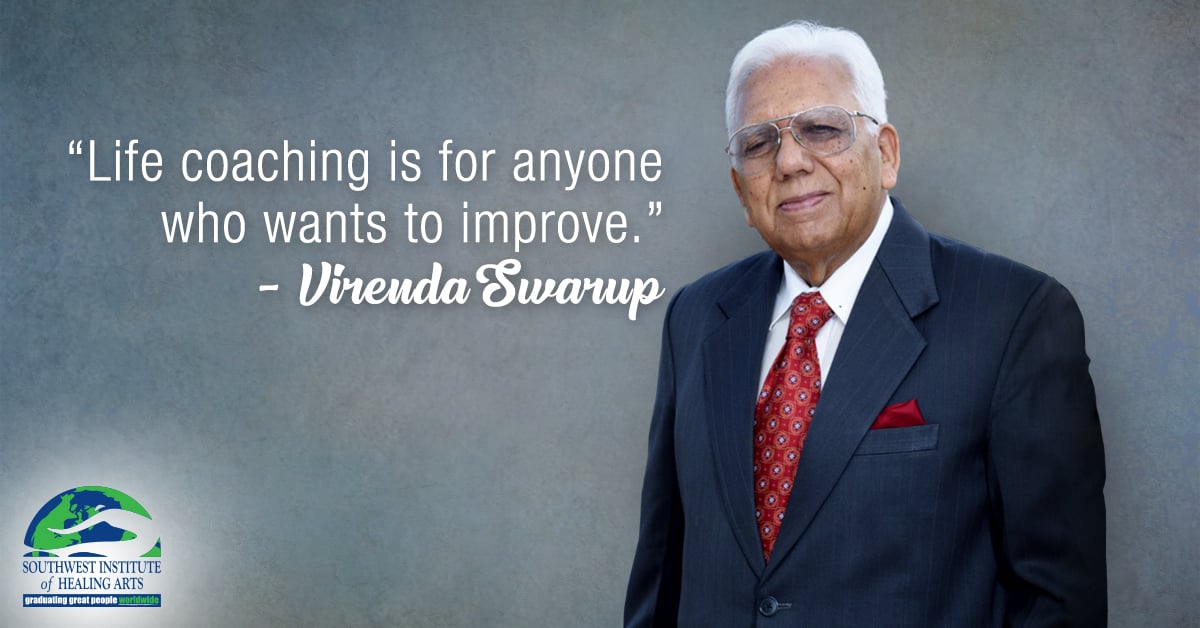 "Life coaching is for anyone who wants to improve an area of their life that is important to them," explains Virenda Swarup, a SWIHA Life Coaching graduate, "It could be to do with their relationships, job, disturbing/troubling stressful thoughts, self-confidence, lifestyle, sudden transition or anything that is important to the individual in living a more satisfying and creative life."
Virenda served as a Colonel for the Indian army for twenty-eight years, and explains his intriguing backstory: "As a young officer, I lost my right eye in a tank battle and rose to the rank of Colonel. I commanded an Armored Regiment and held various coveted appointments as Director in Army Headquarters, Colonel Administration in Mountain Corps, Colonel Military Secretary in Desert Corps.While in a harness I had a mishap, and was rendered blind and invalidated out of military service."
Unruffled by the sudden catastrophe, he created a business with twenty coal loading dumper trucks & heavy machine for coal loading. "It was a twenty-four hour operation in Westerwith almost one hundred drivers. Although it was a great exposure to the business world, I became disenchanted by corrupt practices and sold the business," he explains.
Virenda then travelled to St. Petersburg, Durban, Johannesburg & Pretoria and then Chicago, St. Louis, Philadelphia, New Jersey, New York, Louisville, and Arizona. It was then that he authored a book, Across Seven Seas – A Memoir of a War Veteran.
Today, Virenda is putting his Life Coaching and life experience to good use as working with the wellness program of an internal medicine facility as a Life Coach & Human Potential Trainer.
"Most patients referred to me are those who, besides severe ailment suffering, struggle with mental predicaments & wish to clear cobwebs relating to stressful thoughts associated to relationship & health issues. They need someone to listen to their woeful stories and find the solution to resolve it," he tells us.
Virenda is proud to serve others as they overcome obstacles: "Having led a very satisfying life with experiences of human drama of all dimensions, shades, colors - both inspiring and catastrophic - I like to pass on the life-living values to all those who need it."