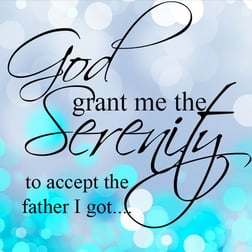 'Happy Father's Day' does not always seem to fit for some people who had less than an 'A+' experience with their fathers. The 'A' often stands of Abusive, Abandonment, or Awfully-emotionally-unavailable.
Long ago, I learned to celebrate the lessons my father gifted me as a child of an Alcoholic father. Yes, I have an overdeveloped sense of responsibility; yes, I highly prefer to be 'in control', and yes, I tend to 'do it myself' because I can predict the results. While I have had to learn to temper and refined all these qualities I inherited as a result of who my father was, in the end, they have served me well.
The last lesson my father taught me has most shaped my life. It is the importance of being able to imagine.
My father's birthday was June 13 and often fell on Father's Day. In late December, 20 years ago, my father had just returned from an AA meeting with a burning desire to work the 5th & 8th steps:
Admit to God, to ourselves, and to another human being the exact nature of our wrongs.
Make a list of all persons we had harmed, and became willing to make amends to them all.
Dad went into great detail to ask for my forgiveness and made sure he told me he loved me. When he hugged me, I was very aware the hug had extra meaning. Brushing off this intimate moment I said, "Dad, it's fine . . . it's all good . . . . I'll see you in six months for your 70th birthday."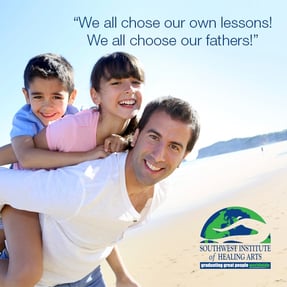 As he stepped back, wiping away a tear, he mumbled: "I can't imagine being 70!" He died a few weeks after.
To this day I consciously choose to imagine whatever it is I want in my life. In my coaching and everyday conversation, I say:
Imagine that . . .
Are you willing to imagine?
What would happen if you allowed yourself to imagine?
In a Forgiveness Ceremony I facilitated a few years ago, I made the opening statement: "We all chose our own lessons! We all choose our fathers!" A big-rough-tough-like man sitting on the front row began to sob! In total and utter gut-wrenching pain, he shouted: "Why would anyone choose me as their father?"
The entire room sat pin-dropping quiet, as we listened to the story his soul needed to tell: Through his shameful tears he admitted to being an abusive, out-of-control alcoholic, with a godawful temper. Awakening from a blackout one night, he remembered seeing his little girl, with a red, swollen handprint on her face, weeping the words: "Daddy I'll be good . . . daddy . . . daddy . . . " The words being shouted by his ex-wife still burned into his mind: "If you love your child, you will leave!"
He did leave. He never drank again. And, he became a decorated veteran. Returning from war, the real battle had just begun. He had never forgiven himself for abandoning his daughter. His plea was that he could find a way to forgive himself . . . . His deepest fear was he would begin drinking again.
My invitation to him was this: "Rise to the Angel's perspective . . . Look down on your daughter's life . . . imagine how it may had been."
His immediate response was, "I don't need to do that. I have kept track of her every step of the way!" He proudly reported that she had an award-winning high school experience; she graduated college with honors; she married a really good guy . . . and she now had a little girl of her own.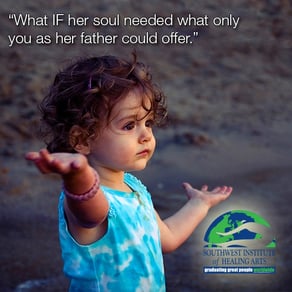 Out of my mouth came the words: "What IF her soul needed what only you, as her father, could offer?"
Since he was a recovered alcoholic, my challenge to him was: "Can you imagine going to her and doing the work of the 5th & 8th steps?"
Admit to your daughter, the exact nature of your wrongs.
Be willing to make amends.
This story has a very happy ending: On Father's Day, dressed in his military whites, complete with his metals of honor, he knocked on his daughter's door. She answered the door . . . and without a moment's hesitation she hugs him saying: "I have prayed this day would come all my life!"
Before you are quick to say that not every 'father-child' story will have a story-book ending like this one, imagine it does!
What would happen IF you allowed yourself to imagine you chose your father and whatever experiences he gave you; they make you the person you are today? Can you imagine today being: Happy ME Day . . . I am who I am because of the father I chose!
As I was writing this blog, I had the opportunity to ask three graduates of the Mind Body Transformational Associates program ,who had shared their fathers who did a great job 'loving them-inadequately', what they learned from choosing an "A-type" father. In all cases they said: "I learned how I want to parent! My father taught me how to love my children differently than I was loved . . . and I can celebrate that!"
For those of you who do not even remotely relate to this blog: Blessings, blessings! Hug your father extra tight today!
As for me, I am hugging my father who is in heaven today, with my prayer being: Thank you daddy for doing your assignment well . . . Because of you I am the strong, independent, hard-working, pray-ful woman I am today! I love you! Happy Father's Day!


Discover how SWIHA can help you truly understand and utilize your gifts to make your dreams a reality. Learn more about the programs we offer including life coaching, mind body transformation, and so much more.
---
About the Author, KC Miller
KC Miller has been a go-getter for over 40 years and a true pioneer as a Holistic Entrepreneur. As a longtime massage therapist, reflexologist, Reiki Practitioner, Life Coach, Toe Reader and Ordained Minister she knows firsthand that you can create a business out of thin air with purpose and passion. Her original motto was: Let me be an instrument in the peace and healing of others. From her private practice KC grew the awarding-winning nationally accredited private college, Southwest Institute of Healing Arts. The mission statement has changed to reflect with even more passion KC's commitment to holistic entrepreneurship: "We inspire individuals to discover the gifts and graces and support them in taking their skills into the world in a loving and profitable way."