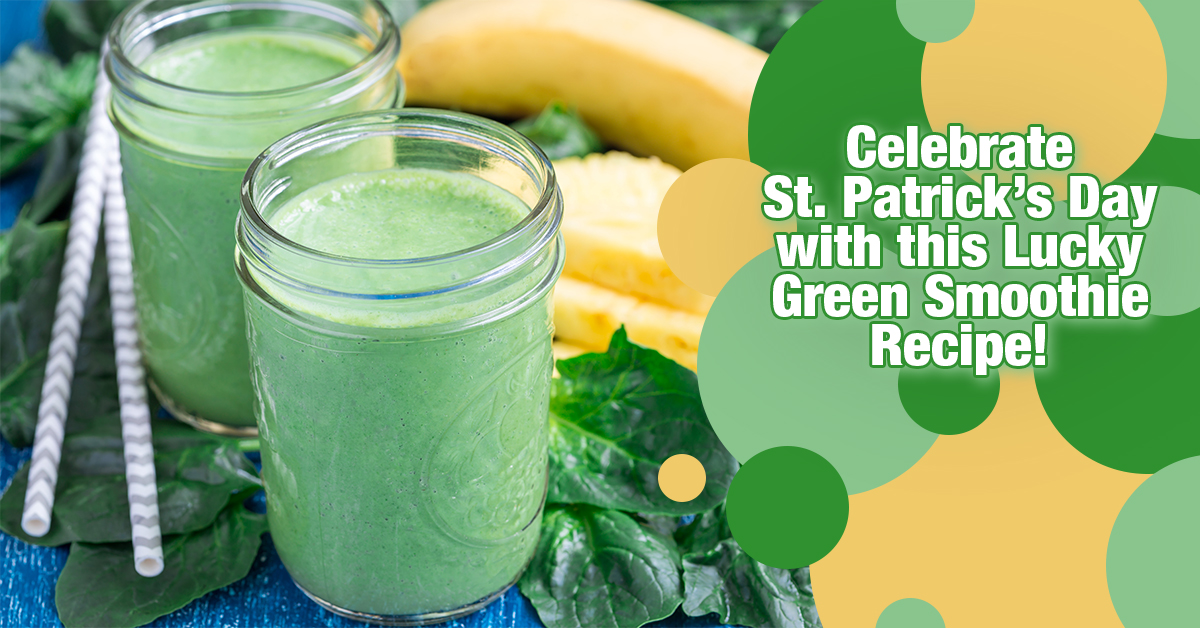 Happy St. Patrick's Day! Let's celebrate with a superfood green lemonade smoothie! This refreshing, potassium-rich, plant-based smoothie with banana, pineapple, ginger, and greens only requires 1 blender, 10 ingredients, and 10 minutes of your time! The smoothie produces the most vibrant blue-green color (perfect for the holiday, I know) and tastes sweet like lemonade. It's a perfect quick meal, snack, afternoon pick-me-up, or if you are just feeling like you want to be transported to summer vacation mode!
Included in this delectable smoothie are superfoods, specifically two nutrient-dense powders: Moringa and Spirulina. The Superfood powders don't add a lot to the taste, yet they help give the smoothie its electric green color and a wonderful boost of nutrition (great for the focus of National Nutrition Month!)
Moringa is known as the "miracle tree" and some claim it is "the most nutrient-rich plant yet discovered".
Spirulina is well known for its super nutritious blue-green algae that's rich in B vitamins and proteins.
Recipe Key
- Gluten Free
- Vegan
- Vegetarian
- Dairy-free
- Naturally Sweetened
---
Green Lemonade Smoothie (prep time: 10 min)
Ingredients:
- 1 small frozen ripe banana
- 2 ½ cups frozen pineapple
- 1-inch knob ginger (peeling optional)
- 1 medium lime or lemon, juiced (~3 Tbsp or 45 ml as recipe is written)
- 1 small handful fresh spinach
- 3/4 cup coconut water (or sub filtered water)
- 1/2 cup light coconut milk (boxed is best // or sub other dairy-free milk, such as rice, oat, or hemp)
- 1 tsp moringa powder
- 1 tsp spirulina, chlorella, or barley grass juice powder
- 1 Tbsp hemp seeds (optional)
- 1/2 – 1 cup water to thin / help blend
Instructions:
- Step 1: Add all ingredients to a high-speed blender and blend until completely smooth. Add more water as needed to encourage blending. It should be a mix of creamy and slightly slushie, pourable but not watery.
- Step 2: Taste and adjust flavors as needed, adding more coconut milk for creaminess, pineapple or banana to thicken, lime or lemon for tartness, or ginger for zing.
- Step 3: Enjoy as is, or garnish with additional hemp seeds and a pineapple wedge (optional).
- Step 4: Best when fresh. If you have leftovers, freeze into popsicles or ice cube molds. When ready to use, simply blend the smoothie ice cubes in your blender with more coconut water and coconut milk.
Are you passionate about the healing power of nutrition and creating a healthier lifestyle for yourself and those around you? SWIHA's Holistic Nutrition program is an excellent choice for anyone interested in turning their passion into a meaningful and successful business. SWIHA's Holistic Nutrition Programs will deepen your understanding of whole food nutrition and how it contributes to optimal health. You'll learn about the inflammatory effects of the Standard American Diet (S.A.D) and why S.O.U.L nutrition (Seasonal, Organic, Unprocessed and Local whole foods) provide a better, more life-sustaining foundation for healthy living.