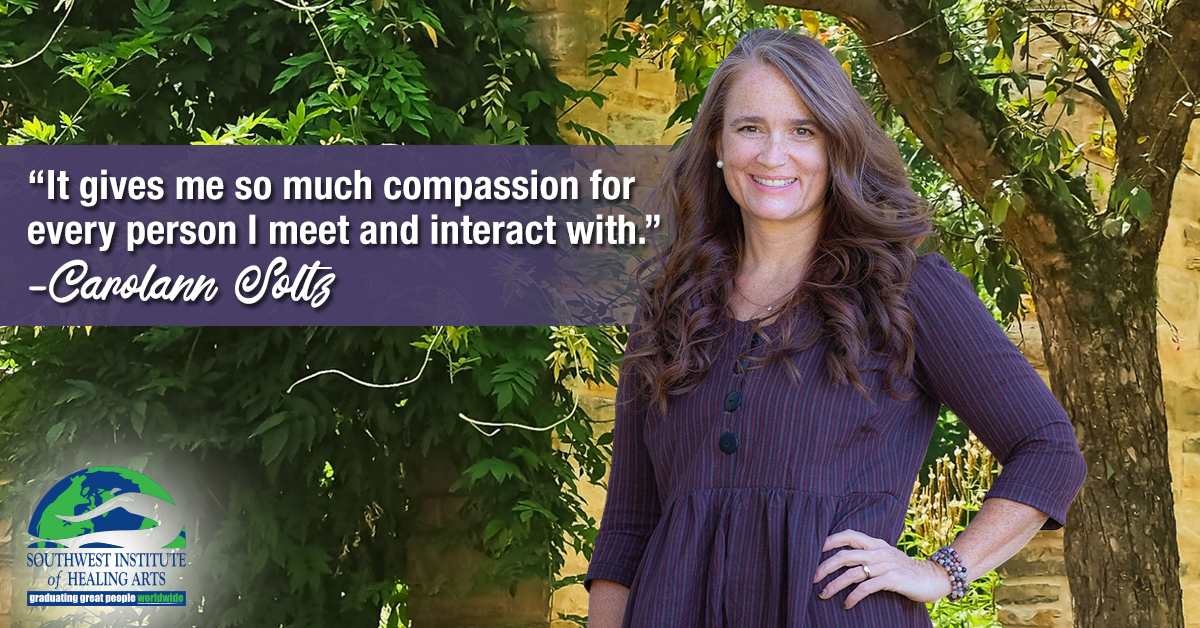 Carolann Soltz, a Spiritual Life Coach, has spent the last fifteen years fundraising, consulting and supporting non-profit organizations. She tells us: "While this is great work and has provided well for me financially, it never felt like soul-filling work; the work that I am called to do."
In August 2018, Carol took steps towards her yoga certification and, in January 2019, enrolled in the Life Coaching program at Southwest Institute of Healing Arts. While she didn't necessarily know what she wanted to do with all of this new training, she did know she wanted to take steps in the direction of her soul's longing.
"I chose SWIHA specifically for the spiritual focus of the Life Coaching program," she explains, "From my personal journey, I feel strongly that a balanced life requires a spiritual, physical and intellectual harmony, and Life Coaching needs to incorporate the spiritual focus of each person. I had a friend who had gone through another program at SWIHA and she highly recommended the program and path. It checked all the boxes and I decided to dive right in!"
Carolann's business is primarily online, with clients all over the country. "I like to bring a down-to-earth vibe, an open and non-judgmental place of listening, and a willingness to listen to Grace for how I should proceed with each unique client," she says, "I want them to feel seen and valued in every session."
Beyond coaching calls, Carolann has established a coaching program incorporating the wisdom traditions of yoga and the Enneagram, bringing the physical body into harmony with the intellect and spiritual. She primarily works with women who are in their personal awakening journey, and uses the tool of the Enneagram combined with Pranayama and breath work, yoga asana, meditation and journaling to support their inner journey towards their self-discovery and inner bliss. The next 6-week online workshop, called Creating Connections, starts in March 2020.
"I am so excited to see who is ready to jump in and do this transformational work with me!" Carolann tells us.
She gives us these additional thoughts: "I love being a Life Coach because of the personal interactions I have with my clients. I get to practice my listening, allowing someone else to feel heard, seen and valued. I get to be reminded that every person is unique, their path, their choices, their inner voice, their struggles, where they are in their journey. It gives me so much compassion for every person I meet and interact with. We see but a glimpse of what others are experiencing! And I get the opportunity to learn a little more about a person, where they are, be invited into their inner world. I am so honored that they trust me, my questions, the tools I bring forth, and are willing to do the brave inner work to find their true selves."
We invite you to visit www.guidanceoncall.com

to receive your Initial Complimentary, Virtual, Coaching Session for the month of January, "Life Coaching Month."