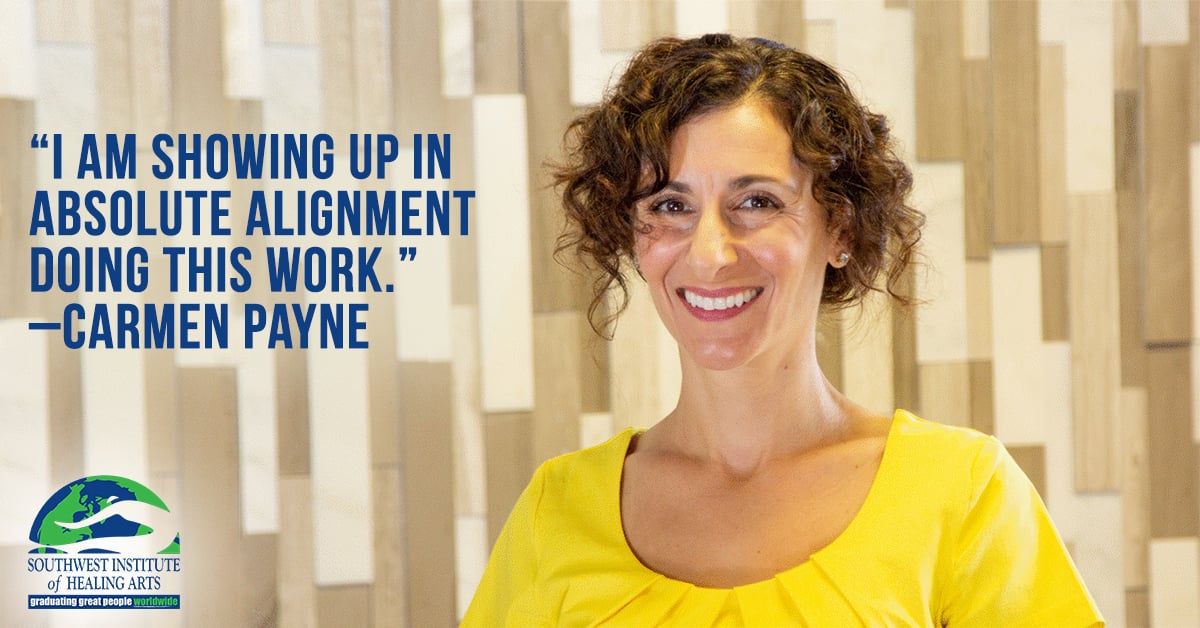 "For me, it is absolute alignment. I am showing up in absolute alignment doing this work," says Carmen Payne, who has been a practicing Life Coach since 2013, "It gives my soul so much joy to be serving others in this capacity and be a messenger."
Carmen had spent twenty years working an IT job, and slowly found the stress of the job compounding until she had the overwhelming feeling that she needed to be doing something more in alignment with her passions. That's when Carmen pulled out her resume and asked herself some hard questions, including the last time she felt excited and energized to come to work: "The role that literally lifted itself off the page at me was when I was training and coaching people."
Carmen sought spiritual counsel with a Medium, who confirmed her feelings of being called in to a mentorship role. She was encouraged to look at Southwest Institute of Healing Arts' program offerings, which she describes as "divine intervention".
"It is completely energizing for me to coach others. To help them remove their blinders and see their 'bigger picture' and what possibilities exist for them," describes Carmen, "It is also about releasing what I call 'the bullies'. These bullies can take all shapes and forms, people, memories, false beliefs and expectations, experiences and toxic work environments, etc. The experiences we have had that hold us back and keep us stuck."
Carmen's initial niche within her business, Soar Transformational Life Coaching, pulled from what drove her to Life Coaching: helping others who felt unhappy in their workplaces for a variety of reasons, getting to the root of the 'why', and working with them to help shift mindsets and create boundaries.
"I realized that while I love working with these individuals and give them the tools to navigate their environment from a different perspective or find a new environment to shine, I was treating the symptoms and not the root cause of the issue," she says. Carmen then came across a Forbes article which shared that 50% of employees leave their job because of their boss, "From this realization, I developed a keynote and now I speak to leadership and management teams on Leading with Your Heart. I share my five fundamentals of leading with your heart and this has made an impact on how they then go back and lead their teams."
She continues: "My style is very honest and real. I try to be as authentic and congruent as possible when coaching and speaking. This is what I would expect from those I choose to learn from and receive coaching from."
"I love being a Life Coach because it is the most intrinsically rewarding experience for me," emphasizes Carmen, "I look forward to every coaching session, every workshop and even speaking engagements! I greatly enjoy being in service and helping others heal, shift perspectives and shine their light."