Eat Local. Shop at a Farmers' Market. Buy a CSA. Enjoy a Simple Roasted Roots Recipe
In Arizona where the Southwest Institute of Healing Art (SWIHA) campus is located and where I live, many of the local farmers' markets will be re-opening for the season after our "dry heat, hot summer". Fortunately, we do have a few farmers whose produce is available during the summer, so I've been having fun shopping from a few farmers for our Whole Foods Cooking Classes at SWIHA this summer.
4 Great Reasons to Eat Local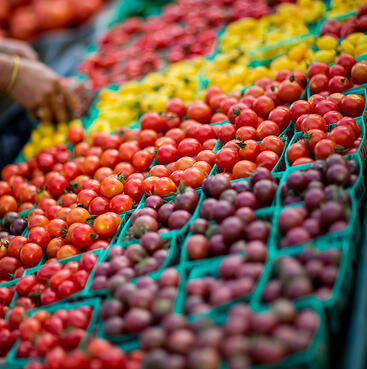 Locally grown produce is fresher, tastes better and lasts longer.. Most produce in conventional grocer stores is picked well before it's ready to be picked. Some of the methods used to ripen the food in warehouses and in trucks include methane gas. Food that is allowed to ripen on the vine absorbs many of the flavors and nutrients they are intended to. Local produce shortens the path traditionally traveled from farm to table and the result is better tasting more nutrient dense food.
Eating local keeps us in touch with the seasons.. When we eat foods that are at their peak taste, most abundantly available and grow where we live are generally what our body needs at time of the year. For instance, when it's summer-time, much of the available food, like strawberries and watermelon tends to be light, water-rich and cooling.
Support your local economy. When you buy local it creates a local need for the product or service and to fill that need, local jobs. This means that we are keeping that money that would be sent other places in the community and helping each other. Shopping at your local farmers' market or joining a CSA (Community Supported Agriculture) is a great way to start buying and supporting local businesses.
It's better for environment. Did you know that food in conventional grocery stores travels an average of 1,500 miles. This is tracked as "Food Miles" and is one of the reasons our produce is heavily linked to the oil industry and contributes to air quality and pollution issues.
"With farmers markets and CSA, I've tried new-to-me veggies such as Purslane, striped beets, purple carrots and all kinds of leafy greens".

-Melanie Albert
Find a Farmers Market Near You
As demand for locally grown fruits and vegetables has increased, so too has the number of farmers markets across the nation. After 20 years of steady increases, the number of farmers markets across the country now registered with the USDA is 8,268, compared to 1,744 in 1994. To find a local farmer's market, visit the Local Harvest site at www.localharvest.org/farmers-markets/.
Support your local farmers by joining a CSA
Over the last two decades, CSA has become a popular way to buy local, seasonal food directly from a farmer. Here's how it works: a farmer offers a certain number of "shares" to the public. The "share" size vary from farmer to farmer, generally consists of a box of vegetables that is enough to feed a family for a week, but other farm products, like flowers, fresh herbs, or eggs, may be included. To participate you purchase a "share membership" and in return receive a box of seasonal produce each week throughout the farming or ranching season.
Advantages for Farmers
Receive payment early in the season, which helps with cash flow
Spend time marketing the food early in the year, before their 16 hour days in the field begin
Get to know the people who eat the food they grow
Top 5 Reasons to Join a CSA
Eat ultra-fresh food, with all the flavor and nutrient benefits
Get to experiment with new vegetables
Visit the farm at least once a season
Kids have fun and try foods from "their" farm, and learn more about how food is grown
You can develop a relationship with the farmer who grows their food
---
Whole Food S.O.U.L. Food Wednesday Action:

Go to a Farmers' Market & Cook Organic Roasted Roots
With our Whole Food S.O.U.L. blog we invite you to take action with your whole foods eating behavior.
Our Challenge for you this week is to visit a farmers' market, buy a few beautiful, colorful organic roots and prepare delicious roasted roots. Try roots such as golden beets, rainbow carrots, turnips, rutabaga, sweet potatoes, or radishes. To get started, try the Experience Nutrition™ Organic Roasted Roots Recipe. Come on over to Facebook and share your creations with us on Facebook.
Our Whole Food / S.O.U.L Food Wednesday Recipe for the Week
Experience Nutrition™ Organic Roasted Roots Recipe
Ingredients
This is a basic recipe or cooking foundation to roast any kind of roots. I have served this dish at holiday dinners and love to make a large batch for left-overs. Have fun experimenting with different roots, different herbs and spices, different cuts, different textures, and different colors.
3-5 roots: Carrots, celery root, golden beets, red beets, sweet potatoes, turnips
Fresh garlic
2-3 TBS organic extra virgin olive oil
Sea salt
Simple Steps
Pre-heat oven to 350-400 degrees
Chop all veggies
Place roots into baking dish
Add organic extra virgin olive oil and sea salt, and mix into the veggies
Cook for about 30-35 minutes
Enjoy.
Share your Farmers' Market Organic Roasted Roots creations on Facebook:
www.facebook.com/SWIHA and www.facebook.com/9Ways90Days
---
About the Author Melanie Albert
Melanie Albert, nutrition and food expert, author and speaker, has been active in the integrative medicine and nutrition fields for over a decade. She is the founder & CEO of Experience Nutrition Group, LLC, whose mission is to improve the lives health and nutrition of the sports community, kids and corporations through food and lifestyle education.
Melanie is an instructor in Whole Foods Cooking, Holistic Nutrition (Conscious Eating) and Entrepreneurship at the Southwest Institute of Healing Arts (SWIHA) in Tempe, AZ. She also teaches Intuitive Eating at Spirit of Yoga in Tempe, AZ. Melanie walks her talk and you can always find her at farmers' markets, in the kitchen experimenting, and practicing yoga.
You can get more recipes, nutrition and food tips from Melanie.
Visit her blog: www.9Ways90Days.wordpress.com
Visit her Facebook: www.facebook.com/9Ways90Days