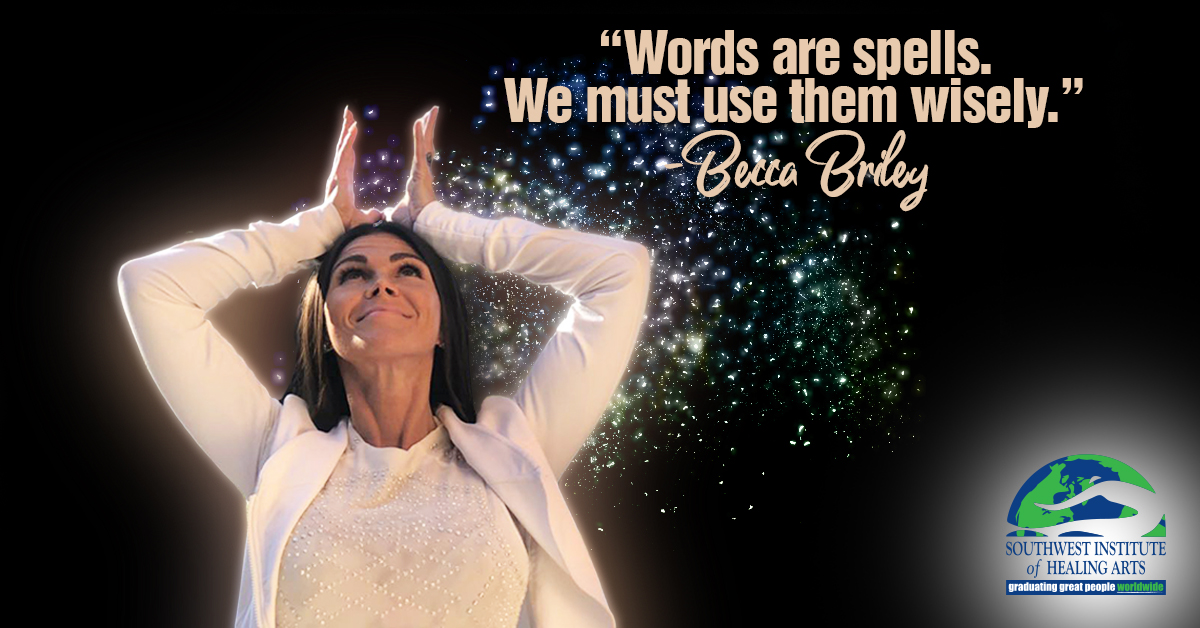 Becca Briley is an Integrative Healing Arts Practitioner as well as a Holistic Nutrition Specialist, Transformational Life Coach, Toe Reader / Soul Coach, Yoga Teacher, soon-to-be Ordained Minister, and Reiki Practitioner. She is a life-long student who has taught Life Coaching and Spiritual Traditions online for SWIHA. Becca now teaches "Mission Possible" on-campus, to support students in building their businesses as they step into their purpose and power.
"There is nothing more beautiful to witness than light-workers embracing and fulfilling their life missions," she tells us.
Becca has a corporate background in Journalism, Marketing and Business Development in many different industries, plus an educational background in Psychology, Biology, World Religion with a BA in Journalism and Mass Communications from ASU. Since a child she has always looked for the lessons in every life experience, so she feels she has served a Spirit Guide for decades.
Becca explains, "I am always Spirit Guided; I prayed for a place where I could serve my purpose to the fullest, that was worthy of me, and vice versa."
"Being vulnerable is the most courageous thing humans can do," she continues "Life Coaching is holding safe, sacred space for a fellow brother or sister, where they can authentically show-up, be vulnerable, and speak truths. Oftentimes, this is the first time they may have ever been allowed to do so. An effective Life Coach serves as spiritually-pure-soundboard, with no opinion-based judgments. This is where beautiful transformation takes place, as every client already has their answers within; they just need support in speaking and re-aligning their lives with this truth. I invite people to use "Return To Love" is a mantra, as we begin the self-love, self-care and self-awareness journey."
In her practice, Soul Glow, Becca explores mindset, intention, old-programming, self-talk, words spoken to others, healthy boundaries, mindfulness, living in the now, positive action and vibration. She is a Trauma-Sensitive Soul Coach who provides Yoga in Nature, Reiki, Nutrition, Toe Reading, Mindful Guided Imagery and Life Coaching to women, men and children of all ages. She works with people in the realm of Self-Awareness, Trauma Recovery, Life Changes, Speaking Truths, Stepping into Power, Releasing and Re-writing Stories, Restoring Spirit / Shifting Energy, and Manifestation.
"Mindset creates our perceptions of the world," Becca says, "And oftentimes, who you are, is what you see. Hence, people are mirrors. Intention sets the stage for everything we do. With self-awareness, we can evaluate what we are creating in our lives. Words are spells - we must use them wisely; this energy also creates our reality. What we are vibrating, we are calling in more of. Lessons will repeat themselves until we learn and integrate them into our lives."

She confirms that honoring truths and life experiences is where beautiful growth occurs, no matter how chaotic one's life may feel that re-programming the mind-body-spirit shifts the energy of one's life. Follow SWIHA on Facebook to join Becca Live every Saturday in January at 12PM AZ time!