"How blessed am I?!" exclaims Amanda Martin, "I'm excited to wake up every day knowing that I get to assist clients with their personal journeys of discovery."
Amanda recently graduated from the 100-Hour Life Coaching program at Southwest Institute of Healing Arts and is currently working on completing her Reiki certificate. She says that since stepping in to her power as a Wellness Coach, she has found her life's true passion: being an active partner for those on their journey to uncovering their best selves.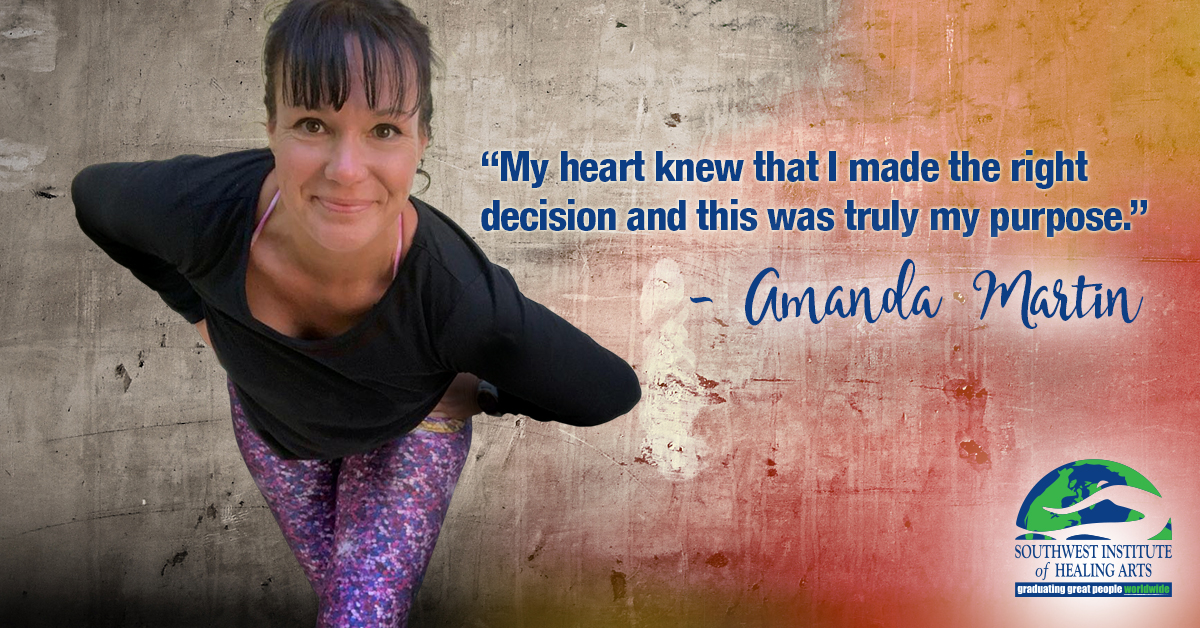 "When I was first given the assignments to 'practice' on fellow students, I was so nervous at first. After that very first practice session, however, my heart knew that I made the right decision and this was truly my purpose!" Amanda tells us, "I became so excited about my practice, clients and their future dreams. I was hungry for more practice time to allow myself to gain more insight and skills!"
Amanda also credits her Life Coaching education with profound personal change: "I am truly living my best life and I see great things for myself in the future...I am happier, lighter and have purpose."
Since graduating, Amanda has focused on building her business, Amanda Martin Life Coach, and is so far thrilled with her progress. She has built her website, created a business Instagram and solidifies her credentials on LinkedIn. Amanda even plans to be a full time entrepreneur by the end of the summer!
Amanda offers coaching around mindset, nutrition and even facilities exercise sessions via the web. "The skill set I have after graduating from SWIHA is unmatched and I felt very able to open a virtual coaching practice online," she says, "I focus on mindset first, as I feel this is of the utmost importance. Through these sessions, clients truly see how powerful their minds can be and how to re-frame their mindset for the better. It truly impacts me as well as my clients. It's remarkable."
Amanda leaves us with this beautiful thought: "As an individual, we are powerful, and as a team we can accomplish so much more! Hiring a coach is a gift we give to ourselves and the possibilities are numerous. Together we are so much more able and so much more powerful."