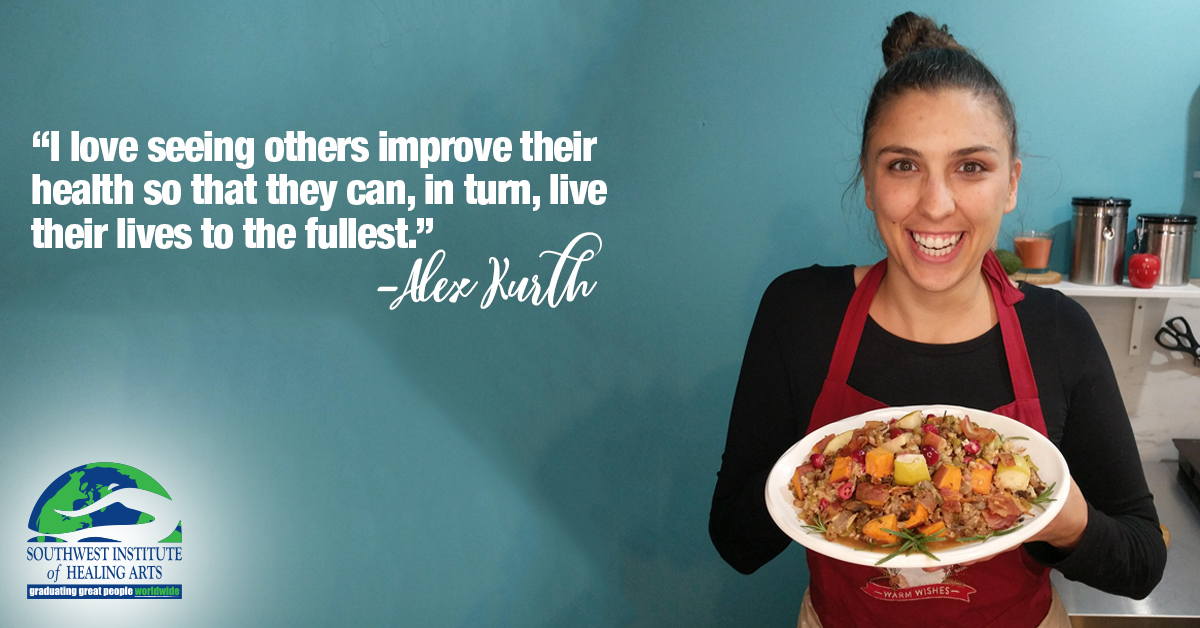 "Health and Nutrition Coaching is a type of life coaching focused on moving the client forward on the path of health. One foundational pillar of this coaching is that of 'bio-individuality'; the idea that each person is unique in their biology and will therefore will need to discover what works for their own, unique experience," Alex Kurth, a SWIHA graduate, tells us, "The client must do the work, however the coach is their biggest fan and is always cheering them on and rooting for a win."
Before becoming a Wellness Coach through her business, A Kurth Life, Alex Kurth was facilitating the Memory Care Program at an assisted living facility for seniors who had Alzheimer's and Dementia.
"I was actually inspired by these residents to get into holistic nutrition, because none of the treatments for their symptoms or diseases were being addressed or supplemented through any kind of therapeutic food approach," she says, "I noticed the residents were being encouraged to eat processed food at every meal, such as pancakes and corn syrup for breakfast, jello for snacks, bread at every meal, unlimited desserts, and barely any fruits and veggies on their plates."
Seeking to eventually come full circle and work with this population and their families again with a holistic approach to health and wellness, Alex enrolled in the Holistic Nutrition Wellness Practitioner program at Southwest Institute of Healing Arts.
"SWIHA's program is evidence-based which means it's founded on principles backed by scientific studies and research. It was important to me that I joined a program that was holistic in nature -- meaning it looked at health as a whole, not just covering symptoms like the band-aid approach so commonly practiced in allopathic medicine," explains Alex, "It was also important to me the National Association of Nutrition Practitioners had approved SWIHA's curriculum as path to joining their professional association of Holistic Nutrition Professionals. I think it's very important to ally ourselves with people and professional organizations who advocate for alternatives to the mainstream systems that are currently failing us."
Alex now works with clients who want to improve their health by changing their diet and lifestyle, mainly coaching millennials whose work revolves around serving others, such as teachers, nurses, social workers, and moms.
"My business offers one-on-one coaching as well as personalized cooking classes -- both online and in person," Alex says, "My coaching style revolves around 'giving yourself grace'. I know that a lot of us are really hard on ourselves, and I want to help my clients break out of that mindset and into one where they realize they can take small steps and grow every day. As a coach I am really loving, and I ask a LOT of questions!"
Alex's favorite part of her work is this: "I love seeing others improve their health so that they can, in turn, live their lives to the fullest. Every person I work with also influences their own circle of friends. In this way, my work is impacting many families and communities."
In honor of Life Coaching Month, SWIHA invites you to visit www.guidanceoncall.com to receive your first Coaching Session for the month of January complementary.
We invite you to visit www.guidanceoncall.com to receive your Initial Complimentary, Virtual, Coaching Session for the month of January, "Life Coaching Month."