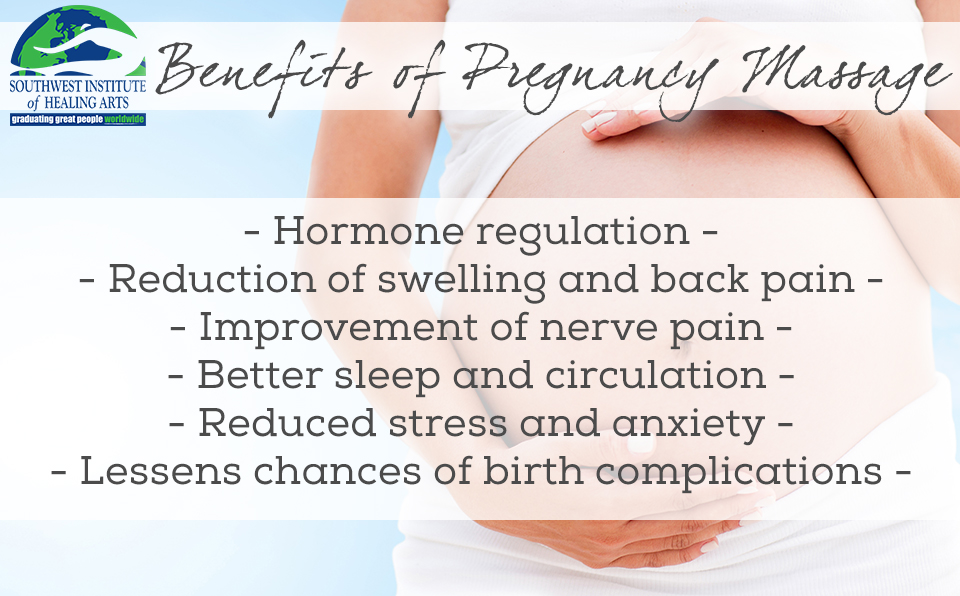 Pregnancy massage is a wonderful self-care tool that can be used during this special time. The wise woman sees massage as an integral part of her total prenatal care, addressing the many changes rather than a special treat! It is safe and effective. Pregnancy is a non-medical event; it is a natural process. If you have concerns about receiving massage as an expectant mother, have a conversation with your obstetrician.
I first took classes in pregnancy massage when my daughter was having her first child. I wanted to support my daughter, make her more comfortable, and create a warm, supportive environment for my grandson by providing pregnancy massage for his mother. It was a wonderful time for me to be able to be totally present for my daughter on the many levels. Touch is a way of connecting and developing deeper bonds. Research has shown that expectant mothers that receive massage during pregnancy are more likely to touch and bond with their babies.
There are 5 things that are important to know about pregnancy massage for the expectant mother:
1

. Massage is a great therapeutic tool

There are many physical and emotional changes that occur during pregnancy. The hormones surge, the pelvic structures expand to allow the growing fetus the space it needs to develop, and all the changes may put stress on other areas of the body. Frequently pregnant women present with low back and pelvic area pain, upper back and neck pain, and are adjusting emotionally to the ever- changing body image and thoughts about what comes next. This is new territory for first time moms. Each pregnancy (and child) is unique, so although a woman may have had prior pregnancies, this pregnancy is a new experience for this mother and how it uniquely impacts her and the family. The massage session allows the mother the space and support to share her thoughts.
2

. Research supports massage during pregnancy

Research is available that supports the health benefits of massage for pregnant women (that received regular massage during pregnancy):
Better sleep and improved moods
Labors had fewer complications, including less premature births
Women that received nurturing touch during later pregnancy they touch their babies more frequently and lovingly
During labor with the presence of a doula, a woman providing physical and emotional support, including extensive touching and massage, reduces the length of labor and number of complications, interventions, medications, and Cesareans
Touch is a way of connecting and developing deeper bonds. Research has shown that expectant mothers that receive massage during pregnancy are more likely to touch and bond with their babies.
3

. Positioning during massage

During the first trimester, traditional positioning for during massage is acceptable When the abdomen grows larger towards the end of the first trimester, a face-down (prone) position may no longer be an option. Putting pressure on the abdomen places pressure on the uterus and the baby. Best to avoid that. After 22 weeks, positioning during a pregnancy massage shifts to side-lying or a reclining position. These positions are supported by the use of pillows, cushions, and wedges so the body can be completely relaxed and receive the nurturing touch.
4

. Massage technique options during pregnancy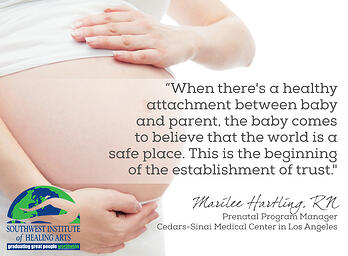 Energy techniques such as Reiki and Healing Touch are non-invasive, supportive and balancing techniques that can be used as an adjunct or stand-alone technique in a session. The practitioner has her hands lightly on or above the body, providing Heart-centered touch and energy. The energy aspect of the physical body affects the overall health of the body. An energetically-depleted physical body can result in aches and pains and feelings of fatigue. Its great to get an energy boost!
Reflexology is also a therapeutic modality that can be incorporated into a pregnancy massage or be used as a stand- alone technique. Reflexology can be provided to the hands and /or the feet. Reflexology is based on the premise that there is a map of the body on the hands and the feet. When applying pressure to the "reflex" areas on the hands and feet, there is a stimulation of corresponding organ and structural body parts. You can receive a "whole- body" session just by working on the hands or the feet when using reflexology. Swelling in the feet can be helped as well by working lightly on the feet. There are labor-stimulating points on the hands and feet that the reflexologist should be aware to avoid until this is the goal. My daughter-in-law recently had a baby. My grandson was in no hurry to come into this world, content in his cozy womb environment. While she was in the hospital to encourage the start of labor, I provided vigorous stimulation to these labor points on the feet and hands. Guess what, no labor!! What I garnered from this experience is that the body is wise, and will receive what is offered and do with it what it wishes. It has its own time clock, and apparently, this was not the time for the delivery! Good lesson.
The benefits of both the energy modalities and reflexology are a sense of relaxation during and after the session, less invasive, and can remain clothed if used as a stand-alone technique.
5

. Know your massage therapist

The education and knowledge base of the massage therapist is key to receiving a therapeutic massage. Massage schools can offer pregnancy massage as a specialty class or as part of the required curriculum. There also are certification programs in pre and perinatal massage that are available for massage therapists to take if this is their passion. When searching for a massage therapist during your pregnancy, ask if the therapist had special training. Spas and massage clinics are respectful of pregnant mother's special needs and prepare their staff with the education to ensure a safe and therapeutic massage session.
Pregnancy massage strengthens the bond with your unborn child, helping you feel closer and more connected.
---
Southwest Institute of Healing Arts
offers specialized education in pregnancy massage known as
Mother Touch
.
Mother Touch is a NCBTMB and Arizona Licensed CEU course and will next be offered
[next_class_date coursecode="CB 400"].
The massage clinic at the Southwest Institute of Healing Arts can match you with the therapist that is best suited for your health and wellness needs.