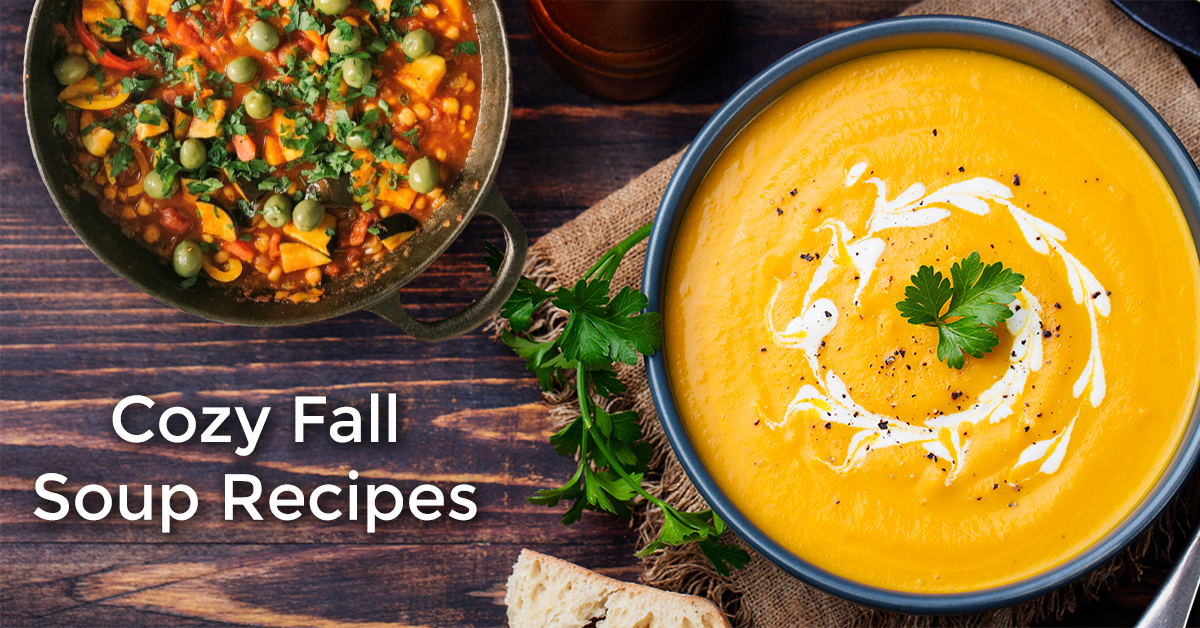 The best and only way to celebrate Fall is with a bowl of soup, right? During this season of the year, all we want to do is cozy up in a nice blanket and eat some soup. With the weather cooling down, it only feels right to try some new soup recipes! Chef and Coach, Janet Lee, states, "The holidays can often be a time of overeating, high stress, and expectations. If that has not worked well in the past; I invite you to lean into self-care, eat colorful foods, and look for the joy in it all!" To follow what Janet said, this is the perfect time to really take care of yourself and your body before the craziness of the holiday season. Southwest Institute of Healing Arts invites you to add these two delectable soups to your collection of fall soup recipes this year!
Butternut Squash, Chickpea & Lentil Moroccan Stew
Ingredients:
4 cups butternut squash
1 (15 oz.) can of chickpeas
1/3 cup cilantro
6 cloves garlic
1 cup green lentils
juice of ½ lemon
1 (28-ounce) can of tomatoes
1 medium onion, white or yellow
2 ½ cups vegetable broth, organic low sodium
1/4 tsp cayenne pepper
1 tsp cinnamon
1/2 tsp Salt
1 tsp turmeric, ground
2 tsp cumin
black pepper
1 tablespoon olive or coconut oil
To Prepare:
Heat a large pot on medium heat and add the oil, so it coats the bottom of the pan. Cook the onions until translucent, about 3 minutes

Next stir in cumin, cinnamon, turmeric, and cayenne; cook for 30 seconds to a minute

Add tomatoes, broth, chickpeas, butternut squash, lentils, and salt and pepper. Bring to a boil, then cover, reduce heat to low, and simmer for about 20 minutes or until butternut squash is tender and lentils are fully cooked

Stir in lemon juice and sprinkle with cilantro and basil, if desired. And enjoy!
Pumpkin Soup
Pumpkin is in the squash family so it is high in Vitamin A. Vitamin A is a bronchial dilator, meaning it helps us breathe better. It is recommended for colds, people with asthma, and for the nasty viruses that affect our lungs.
Ingredients:
2 15 oz. cans of organic pumpkin
1 medium cauliflower, chopped
2 small yellow onions, diced
4 cloves of garlic, sliced
4 TBSP olive oil or coconut oil
4 cups of vegetable stock or low-sodium broth
2 15 oz. cans of coconut milk
1 teaspoon GF yellow curry powder
1/2 teaspoon white pepper
2 bay leaves
1 tsp of grey or Himalayan salt
Black pepper to taste
Red pepper flakes to taste
To Prepare:
Heat a large pot on medium heat and add the oil, so it coats the bottom of the pan. Cook the onions until translucent, about 3 minutes. Add in the garlic cloves and canned pumpkin. Cook for another 4-5 minutes.

Add in the cauliflower, canned coconut milk, broth, curry, and spices (except peppers.) Cook on medium heat until the soup comes to a low boil. Lower the heat, so the soup is simmering for another 20-25 minutes.

Remove the soup from the heat. Pull out the bay leaves with some tongs. Add in white pepper. Blend the soup in a high-speed blender (or with an immersion blender). Adjust the salt and pepper according to your taste preferences.

Serve warm with pumpkin seeds and fresh cilantro. Extra can be saved in the fridge for four days or frozen for later.

Variation

: Cook onions in a pan, then add all ingredients to a crockpot. Cook on low for four hours.
Do you have a passion for Nutrition? There is a need for Health & Wellness Coaches to help motivate others to live healthier lives and develop healthier nutrition habits. Discover how you can help others through our Holistic Health & Wellness Coach Diploma program. You can use your craft and skill for nutrition as a career! With courses in coaching skills, holistic nutrition, and business development - you can be prepared to start your own business venture doing something you love.