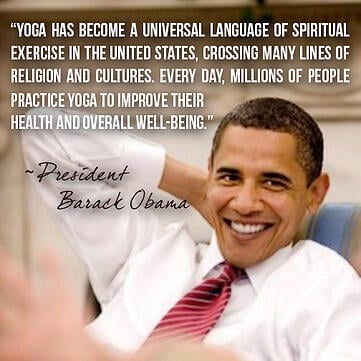 Yoga has deep roots - really deep. Estimated to have originated more than 5,000 years ago, this ancient practice predates written language. What began as a spiritual practice (and still is in some forms) is more commonly used in the USA by lay people as a tool to increase flexibility of body and mind, reduce stress and improve balance.
The practice is increasing. According to a 2013 listing by Yoga Journal, the number of practitioners who engage in some type of yoga has stretched from four million in 2001 to 15 million in 2013. While tracking yoga aficionados may be difficult to calculate, the amount of money spent on yoga apparel, equipment, mats and accessories is not.
Statisticbrain.com reported that $27 billion was spent on yoga products – an 87 percent increase than in years past. From Anchorage, Alaska to Zuni Pueblo, New Mexico, Americans are buying yoga products, signing up for yoga classes and enrolling in yoga teacher training programs like never before.
Politics aside, even the U.S. Commander in Chief touts the benefits of yoga.
"Yoga has become a universal language of spiritual exercise in the United States, crossing many lines of religion and cultures. Every day, millions of people practice yoga to improve their health and overall well-being."President Barack Obama.
For the Love of Teaching Yoga
Kim Bulloch, a 500 hour Registered Yoga Teacher (RYT) and instructor at the Southwest Institute of Healing Arts (SWIHA) Spirit of Yoga studio, says teaching yoga helps her to embrace change and evolution on all levels.
"What I love most about teaching yoga is that it is an ever-changing job. The way I teach shifts and changes as I learn more and evolve as a yogi."Kim Bulloch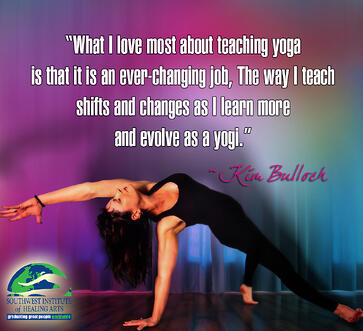 Many yoga instructors teach because they love yoga, but there are monetary benefits as well. According to payscale.com, yoga instructors in the USA earn an average of $24.52 per hour.
Job security is further enhanced as the number of yoga studios and fitness centers continue to expand. Another important statistic is the income of those who are willing to go to the mat to perform their favorite stretching or spiritual ritual. Statisticbrain.com cites that yoga practitioners have the funds to attend yoga classes, buy yoga products and even hire a personal yoga instructor
A Lifelong Practice and Career
Unlike many fitness programs, yoga can be a life-long practice. A quick You Tube search will bring up videos of Swami Yogananda Majaray Ji, a great Himalayan Yogi with more than 100 years of life under his loin cloth, as he wraps his legs around his head and bends his arms into a shape that resembles a human pretzel.
He is not alone. The Guinness World Record holder for oldest yoga instructor is 93-year-old Tao Porchon-Lynch, who says she will practice yoga until her last breath.
Benefits of Teaching Yoga
So what is it that is so appealing about teaching a balancing pose such as Vrksasana, the tree pose, or guiding students into Warrior II pose?
For Jenna Zizzo, a graduate of SWIHA's Advanced 600 hour Yoga Teacher Training program, teaching yoga helps get her out of her own head.
"When I'm teaching a class, what I'm thinking about is what pose is coming next, how my students are feeling, and most importantly, are they practicing in a way that is safe and healthy for their bodies," she says. "Everything that happened before class or earlier in the week fades away as I begin leading my students into the opening breathing exercises and poses. It really helps me stay in the present moment."
Yoga Teacher Training
SWIHA, located in Tempe, Ariz., offers Yoga Teacher Training (YTT) as an essential part of their curriculum. The Spirit of Yoga Education Facility and Yoga Studio, also known as SOY, teaches an authentic expression of yoga (Unity Yoga) that has a transformational approach that honors a diversity of practices and belief systems. Unity Yoga instruction is based on the principle that yoga is a unifying tool for creating health, well-being and a deep spiritual connection. The YTT programs combine both structure and educational freedom so students may find their own truth, while incorporating a 'living yoga' approach to their lives. SWIHA's program is unique in being one of the very few nationally accredited schools offering the option to take a YTT program independently or along with additional career-expanding holistic programs such as Massage Therapy or Life Coaching.
SWIHA offers three YTT programs, including a 200 hour Yoga Teacher Training Certificate and an advanced 600 or 800 hour diploma. All of SWIHA's YTT programs enable successful graduates to become Registered Yoga Teachers through the internationally-recognized Yoga Alliance® Organization and hold the official title of "RYT" (Registered Yoga Teacher). This designation is often required for those seeking professional employment as yoga teachers.
"Yoga provides the connection to something greater than yourself and is very much a discipline of the spirit. It's the 'personal' trainer working from the inside out, so that our mind and our soul can be as flexible and strong as our bodies."James Patrick, Director of Yoga Education and Student Advisement at SWIHA
For more information about SWIHA's YTT programs, visit www.swiha.edu or www.myspiritofyoga.com or call SWIHA at 480-994-9244.