Plus tasty recipes: Experience Nutrition™ Vegan Chocolate Avocado Pudding & Chocolate Sweet Potato Brownie
What do Sweet Potatoes, Bird Seed, Grass Seed, Dark Chocolate & Avocados have in Common? Healthy Dessert Night at Whole Foods Cooking Class!!!
Within the Whole Foods Cooking Class at the Southwest Institute of Healing Arts we really enjoyed "Healthy Dessert Night" creating delicious whole foods gluten-free and dairy-free desserts with special unique ingredients. The students passionately and creatively cooked desserts including Vegan Chocolate Avocado Pudding, Millet Cake, Chocolate Sweet Potato Brownies, Agar Agar Gelatin, Vegan Chocolate Cream Pie and a Spicy Apple Crisp.
---
Top 5 Ways to Create Tasty Healthy Desserts with Unique Ingredients
Enjoy dark chocolate. Consume Dairy
Eat dark chocolate with at least 60-70% cacao or use raw cacao powder in your dessert recipes. The more cacao, the less added sugar. Shop for chocolate with no added dairy.
Try gelled chia seeds (grass seed!) instead of eggs.
Ratio 1 tablespoon of chia seeds, to 1 tablespoon water for one egg. Chia seeds are rich in omega-3 fatty acids and protein, and are a great plant-based thickener and binder for baked treats.
Experiment with gluten-free flours like millet (bird seed!).
Bake a cake with millet flour. In the US most of us know millet as birdseed. Ground whole millet seeds are a naturally gluten-free substitute for wheat flour.
Eat avocados for dessert.
Really. Make a delicious chocolate pudding with avocados. Avocados are primarily monounsaturated fat, which is beneficial for heart health.
Enjoy sweet potatoes for dessert.
This is a new one for me. For years I've recommended sweet potatoes for clients with a sweet tooth and now we are enjoying a brownie recipe featuring boiled sweet potatoes.
Whole Food S.O.U.L. Food Wednesday Action:

Create your own healthy dessert
With our Whole Food S.O.U.L. blog we invite you to take action with your whole foods eating behavior.
Our Challenge for you this week is to make a dessert with one of the following: chia seeds, cacao powder, sweet potatoes, avocados, or millet flour. To get started, the try the Experience NutritionTM Vegan Chocolate Avocado Pudding or the Chocolate Sweet Potato Brownie. Come on over to Facebook and share your creations. Please consider sharing your creations with us on Facebook.
Our Whole Food / S.O.U.L Food Wednesday Recipes for the Week
Experience NutritionTM Vegan Chocolate Avocado Pudding
Organic Ingredients
4 ripe avocados
8 Medjool dates
2 vanilla beans or 2 teaspoons vanilla extract
½ cup raw cacoa powder
2 cups water
Simple Steps
Place all ingredients in blender.
Blend on high for about 2 minute.
Stop and scrape down sides of blender.
Run for another 2 minutes, or until completely pureed and smooth.
Refrigerate for a few hours.
Enjoy.
Chocolate Sweet Potato Brownie Recipe Courtesy of Chef Dan Santos
Organic Ingredients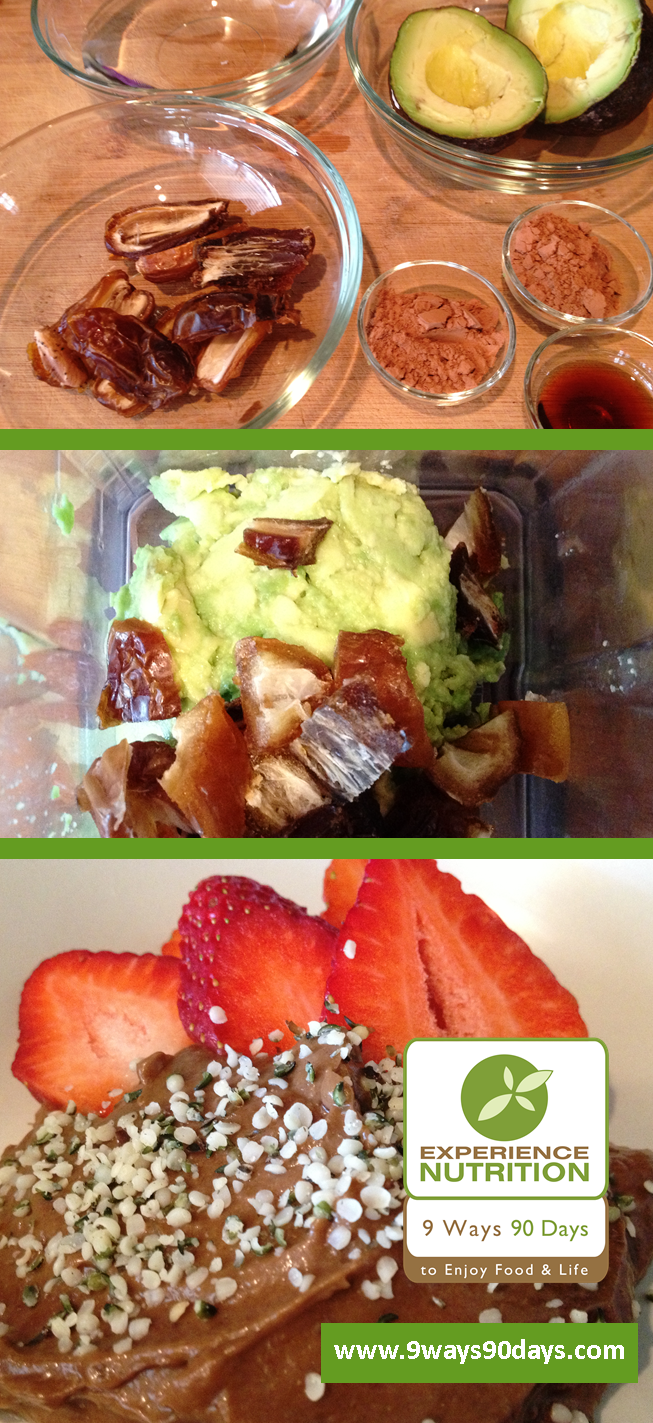 Serves 12
2 cups sweet potatoes, peeled
3 cups coconut sugar
2 cups coconut flour
1 cup cacao powder
½ tsp salt
2 tsp vanilla extract
2 cups gelled chia seeds (1/2 cup chia seeds, 2 cups water, soak for 30 minutes)
12 oz 100% cacao bar chopped
Coconut oil as needed
2 tbsp cacao powder
Simple Steps
Preheat oven to 350F.
Peel and cube sweet potatoes.
Boil until fork tender. Drain and puree until smooth.
Measure pureed sweet potato into food processor.
Add flour, cacao powder, coconut sugar, sea salt and chia seeds.
Puree in the food processor until completely smooth.
Be sure to scrape down bowl and blend until color is consistent.
Add chopped chocolate and stir to combine.
Using coconut oil lightly oil a 9x9 cake pan.
Using 2 tbsp of cacao dust all 5 sides of the cake pan.
Pour the entire mixture into the pan. Spread to make even.
Bake for 20-30 minutes or until a toothpick inserted in the middle comes out clean.
Remove from oven when done and allow to cool completely.
Enjoy.
Experience Nutrition™ Vegan Chocolate Avocado Pudding prepared by students in Whole Foods Cooking at
Southwest Institute of Healing Arts
Enjoy.
Share your dessert creations on Facebook:
www.facebook.com/SWIHA and www.facebook.com/9Ways90Days
---
About the Author Melanie Albert
Melanie Albert, nutrition and food expert, author and speaker, has been active in the integrative medicine and nutrition fields for over a decade. She is the founder & CEO of Experience Nutrition Group, LLC, whose mission is to improve the lives health and nutrition of the sports community, kids and corporations through food and lifestyle education.
Melanie is an instructor in Whole Foods Cooking, Holistic Nutrition (Conscious Eating) and Entrepreneurship at the Southwest Institute of Healing Arts (SWIHA) in Tempe, AZ. She also teaches Intuitive Eating at Spirit of Yoga in Tempe, AZ. Melanie walks her talk and you can always find her at farmers' markets, in the kitchen experimenting, and practicing yoga.
You can get more recipes, nutrition and food tips from Melanie.
Visit her blog: www.9Ways90Days.wordpress.com
Visit her Facebook: www.facebook.com/9Ways90Days