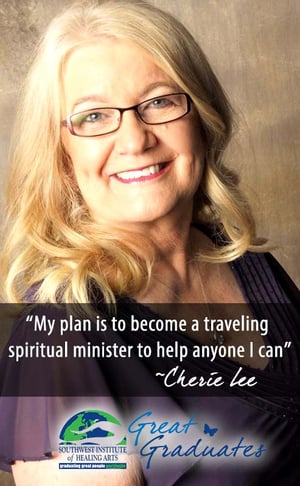 Cherie Lee grew up in Galveston Island, Texas with four siblings, three brothers and a sister. She was raised a Catholic and attended church every Sunday. She always believed in angels, God, Jesus, and Mother Mary, and loved to learn about Catholic traditions, prayers, and songs of worship. However, she was not sure if she really believed in the devil or a hell with fire. As I grew up, I tried to please my parents and do the right thing, although I had my moments of rebellion. "I was a good kid, growing up in a very dysfunctional family with an alcoholic step-dad who abused my eldest brother and me on a regular basis. My entire family was negative in nature, and I became the peacekeeper of the family. I became a person who always tried to help others, yet was full of my own negativity; I suffered from anxiety and depression at times. However I always had faith in God, and this is what pulled me through every terrible incident growing up."
At the age of seventeen, Cherie chose to do a thesis paper on Buddhism and reincarnation in high school. She did not know at the time why she chose this subject; she just felt very comfortable with it despite her Catholic upbringing. Through her study, she found herself believing. She realized she had always felt as if she could sense how others were feeling. "I had a lot of déjà vu wherever I went. This feeling led me on a path of self-discovery, and I felt I no longer believed all the things I had been told to believe in the Catholic religion. I started checking out all the different religious books in the local library, and I researched what they believed. I also started attending a lot of different churches. I discovered that many of them believed in a higher power, and several believed in an afterlife. This was very different from what I was used to."
Cherie is not alone. Many people struggle with their childhood religious beliefs, and it is very difficult to have the courage to step out of that comfort zone and search for a meaning that resonates with the adult version of who we once were. She went on to share: "When I was twenty-three years old, I had a near-death experience in which I was declared dead for three minutes. I had an out-of-body trip to heaven, where I saw two angels, three spirits of deceased relatives, and 'Jesus'. Jesus told me it was not my time to be there, and he sent me back to my physical body. I returned with a dark entity attached to my soul, which did some strange things to me. It took me five years to accept what had occurred, as well as to get rid of the dark entity." (SWIHA has a Spirit Releasement class for those who seek more information.)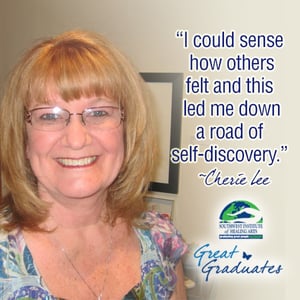 Cherie's gifts began to open. She started to have dreams and visions in which she was directed to give messages to her loved ones. Until she shared the message, the dreams would continue. Trying to tell people about this new gift was very difficult for her, as people who do not believe in that sort of telepathy, have fear or preconceived disbelief based on their upbringing and lack of personal investigation. In fact, many of them began to think she was crazy and for forty years they ridiculed her and called her crazy.
Cherie's Road To SWIHA
In 2014, I wrote and published my first book about my near-death experience and these visions. I spent the next two years promoting Visions From Above ~ My Journey- My Destiny. I put my book out there publicly at local events and also virtually on Facebook, Google Plus, and Twitter. After all of the criticism, I felt I had to makeup an anonymous name to use for my book, so I am known as, 'Amy Jamison'.
One day as I was researching on my computer, I kept seeing an ad for Southwest Institute of Healing Arts in Tempe, Arizona. The ad would flash across every page I visited. Then, I went offline and started watching television. Next, this same ad came on during commercials. I took this as a sign from God to call the school and check it out.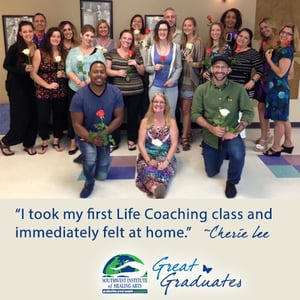 I called SWIHA, went in for an interview to find out what classes they offered, and I signed up on the spot for a Life Coaching class. As I was driving away from the school, an amazing thing happened. A white dove flew close to my windshield across my view. I took this as a confirmation. When I took my first Life Coaching weekend, I immediately felt at home and welcomed. I felt I was in the right place, at the right time, without any judgment. During that class, I had the huge realization that I wanted to become a traveling minister. I ended up becoming a Master Life Coach, signing up for Hypnotherapy next, and then received financial aid for the Mind-Body Wellness Practitioner program. It was within this, that I will become an ordained minister. My plan is to become a traveling spiritual minister to reach as many individuals and help them in any way I can. My ceremony coming up at the Gifts and Graces, on December 2nd, 2016."
The December Gifts and Graces will have a focus of, "How Are You Being Called to Serve?" KC Miller will be leading the Ordination Ceremony in which Cherie will be a part of. The evening begins at 6 pm and goes until 7:30 pm. Help us celebrate the graduates who are stepping into their calling!