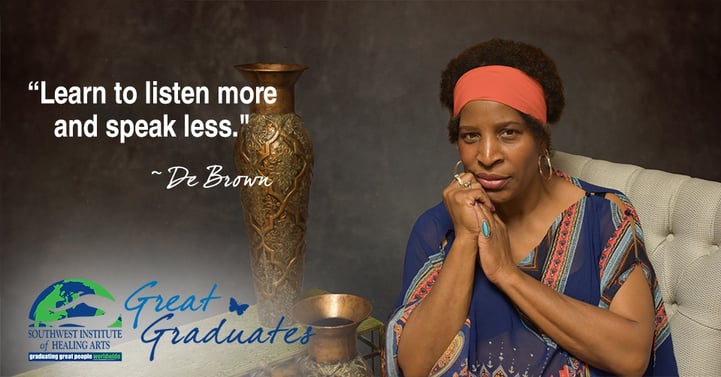 Before attending SWIHA, Deborah Brown was a professional college student in Maryland, a Community Health and Wellness Facilitator, and a Minister. After going through what she refers to as a "Damascus experience," she felt a calling to seek something bigger— the pursuit of the "missing piece" keeping her from delivering her gifts to the public.
While Deborah had served as an entrepreneur in various shapes and forms for most of her adult life, the business journey had not always been completely satisfying for her. She had always had SWIHA in her sights, originally in the form of the Natural Aesthetics program at SWINA; however, Spirit had other plans for her and led her to the Mind Body Transformational Psychology Degree Program at SWIHA, where she would learn how to serve as a holistic healer and entrepreneur. "The Mind Body Transformational Psychology Degree called out to my Spirit because it had the components to feed me and fine tune my life's work in Ministry, Health and Wellness, Spirituality, and Entrepreneurship, as well as foster my leadership qualities," says Deborah.
Such decisions haven't always been so straightforward or clear for Deborah in this life, and she is grateful to be where she is today. She has triumphed over several medical crises in her lifetime, including being told that she would never walk again and that she had only six months to live. "At one point in my life, my health was so bad, I didn't think I would have the strength to survive. Spirit infused me with something special that has allowed me to be on this planet with a very potent message: "Live a life that matters, and try to live it well.'"
Deborah took that message to heart and ran with it, opening her business PaRicDe' Enterprise and Ministry. The name was given to her years ago by Spirit and is a combination of her own name and those of her two sons, Paul and Ricardo. Deborah says that De' is actually her spiritual name, given to her by the Divine on one of her trips to Africa. It means educator, teacher, and speaker. Speaking of this meaning, Deborah says, "It seems I have been doing this most of my life. My business is designed around this concept. I enjoy teaching, educating, finding and giving resources, transforming lives, connecting people, and supporting entrepreneurship and small business development." PaRicDe' Enterprise and Ministry provides Holistic/Natural/Wellness Education services and gives people tools to develop their Spirituality, including: Natural Health Coaching, Spiritual Coaching, Life Coaching, Toe Reading, Health Education, Ministry Services (pet blessing, rites of passages, celebrations, funerals, speaking, marriages) Tools for Living, De' Balm, and Chronic Health Management.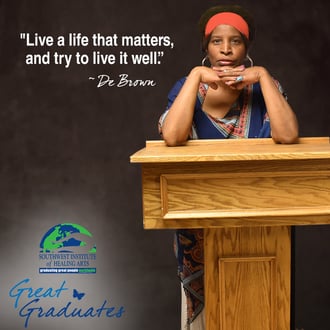 Deborah is also in the process of getting re-certified by Living Well Institute/Dignity Health to facilitate chronic health management in the community, as well as working with Well Spring Metaphysics Center as a Toe Reader and Workshop Facilitator. On top of that, Deborah is continuing to work as a minister, participating in holistic fairs and festivals, and takes great pleasure when SWIHA calls upon her to work with the Gifts and Graces program. Being the busy woman that she is, she remembers that self-care is also a priority. "Personally, I try to get my rest, exercise, eat well, keep healthy relationships, and stay fine-tuned spiritually by putting in the personal work to keep my spirit in balance. I still enjoy swimming, gardening, cooking, traveling, reading, and speaking."
Learning and studying at SWIHA has had a major impact on Deborah's life, spiritually and business-wise. She says that SWIHA was a leading factor in rounding her out as a holistic healer and professional person— merging those two entities together into one. "The school gave me permission to become more of who I am as a Spiritual being that's being called to Serve… serving in a way that honors God, the Universe, and the Community."
Deborah acknowledges all of her teachers at SWIHA for each bringing their own special gifts into the classroom setting which enabled her to gain all that she could from the classes she attended. She states that one of the greatest lessons she learned while at SWIHA was to, "Learn to listen more and speak less," and she leaves future SWIHA students with a piece of advice: "Pray, meditate, study, seek out resources, and honor your fellow classmates for having the courage to go through this process alongside you. Go out into the community and fill the need."