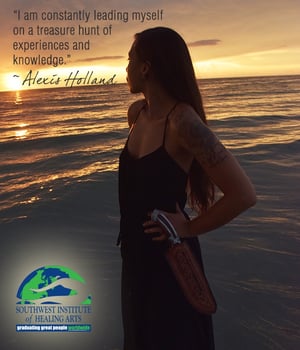 Alexis Holland grew up in sunny, humid Florida and has spent years bouncing around the country with her husky, Kiya, gaining integral life experience and wisdom. Sometimes she barters musical entertainment for a place to sleep, like the time she stayed in a Vedic Temple in Sedona, AZ in exchange for playing Kirtan (a Sanskrit word for a musical form a narration). They love to set up camp, especially in the mountains, with as little as a tapestry, her blanket, food, and instruments. In the midst of her nomadic lifestyle, her love of music from various cultures began to grow, as well. She found herself attending lots of drum and music festivals, from a Sufi ceremony called a Zikr (sacred ceremony of divine rememberance), to Rainbow Gatherings, a drum and dance festival called Paralounge (northern FL), and a handpan retreat called Hangout USA (Asheville, NC). Along the way she learned to play an array of instruments, trombone being the first in grade school. Since then her collection has grown; she plays the handpan, crystal singing bowls, tuning forks, guitar, cajon, drums, and digeridoo. She reflected, "Music was all around me, in many different forms… wherever I went, there it was…and there I was, fully immersed."
This beautifully talented musician has always been able to sing. Her earliest memory of embracing her vocal and musical passion, was when she was a little girl singing along to Selena, Mariah Carey, Alicia Keys, and Michael Jackson. Alexis also remembers going to church on Sunday with her 'grama' and singing her heart out with the choir. Years later at her first musical ceremony, she was struck with the realization that she had a fervent love for combining singing and prayer. "There was nothing like it in the world that made me feel as elevated." One of the most valuable lessons music revealed to her was that 'music is the most powerful medium to deliver a message—consciously and subconsciously.' This kind of impactful power was, and continues to be, a leading motivation to help people transform their lives through healing, using music as medicine. Alexis has shared her special type of "Rx" on stages in Phoenix and Sedona, AZ; Albuquerque, Taos, and Santa Fe, NM; Boulder, Denver, and Longmont, CO; San Diego, Santa Barbara, and LA, CA; Las Vegas, NV; Tampa, Miami, and St. Petersburg, FL; Asheville, NC; and Uvita, Costa Rica. Yet, no matter her performance location, when she is on stage in her element, she feels comfortably at home.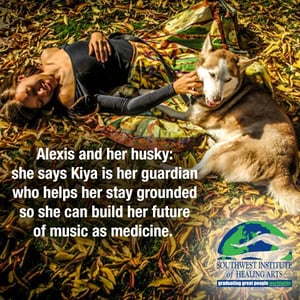 She says her voice is also one of her most effective medicinal instruments, through the use of chanting and mantra: "It's not what you play; it's how you play it." She greatly connects with her Native American background, and is also influenced by her African heritage, both of which come out in her musical process. When asked where she gets her inspiration, she had this to offer:
Life… I am constantly leading myself on a treasure hunt of experiences and knowledge. The people I meet, the places I go, and the cultures I encounter determine what I write about. I feel it is important to educate people about what goes on in our world today that is not presented in the news, on topics such as environment and culture.
For Alexis, another potent form of encouragement comes from the people she performs for, especially when they have a healing experience. She shared a beautiful story about a woman who attended her sound healing meditation in Denver, CO. This was her reflection: "After the hour of playing, a woman came up to me in tears, simply amazed at what had just occurred. She began to tell me her story of having a seizure two years prior that left the whole left side of her body completely paralyzed. She expressed to me that after the sound healing meditation, she felt more in the left side of her body than she did in the two years of physical therapy. I will never forget her… that story keeps me doing what I do… keeps me believing in it, no matter how ethereal it may be. There is a science behind this music."
This is Alexis' business which includes her music as medicine vision, plus she teaches yoga and is a life coach and public speaker. Her mission is help guide her clients "into the best transformation of their lives", where they will find nourishment for the mind ~ body ~ spirit, through coaching, holistic nutrition, and yoga, if they choose. She is also aiming to create a global online network so she can reach as many people as possible with her healing music. However, her gypsy spirit also wants the travel experience. . . for, it wants to bring her medicinal craft and energy to all parts of the world.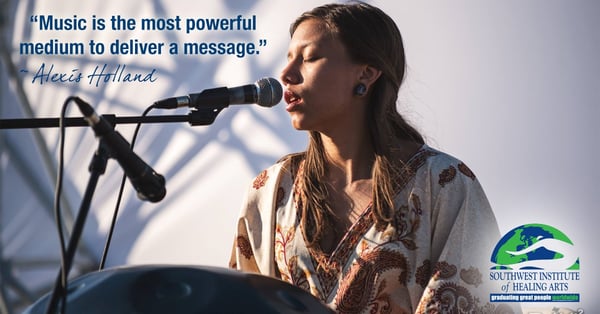 Are You Feeling Inspired?
Watch this deeply moving video that exhibits Alexis and her passion for music and healing. Find out how you can contribute to the Harmonious Holistics campaign, Music as Medicine.
To see Alexis perform one of her favorite songs, Mirror of Nature, see the official music video!