Worrying about money can be a tremendous stressor in one's life. Scientific studies have shown that extreme stress can adversely affect our mental health and can decrease the function of our immune system. Because mind and body function together, worrying about money may cause physical and emotional symptoms. You might feel helpless or depressed. Possibly you experience headaches, digestive problems, or frequent infections. You may feel anxious, irritable, and have difficulty sleeping.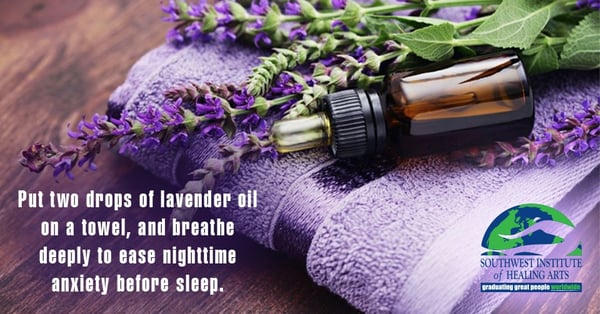 Aromatherapy can be of help by stimulating the brain which can shift your mind and emotions. By breathing in the aromatic vapors of pure essential oils, you can receive many different kinds of therapeutic effects for the physical, emotional, and mental body.
The Science
When you breathe in, the aroma molecule is translated into a signal by the receptor cells in the nose. This signal is sent to the olfactory bulb and then on to the limbic and hypothalamus parts of the brain. It is believed that the essential oil aroma activates the "pharmacy" within our brains; the neurochemicals. These neurochemicals (serotonin, endorphins, etc.) communicate with our nervous and other body systems, to bring the positive changes you need. Consider the possibility that what you smell could affect how you think and feel about money.
Create Your Own Prosperity Recipe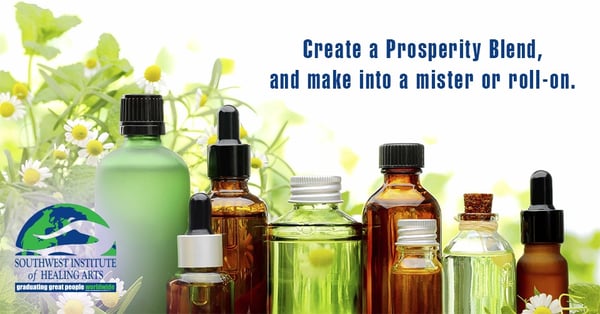  Basil has a slightly licorice aroma. It brightens moods, strengthens the nervous system, improves mental clarity, and relieves headaches. Use it when you hear yourself asking, "Oh, what am I going to do with all these bills?"
 Bergamot has a sweet & fruity scent. It balances the nervous system, relieves anxiety, and lifts melancholy, helplessness, hopelessness, emptiness, and grief. Use it when you feel disheartened or like giving up.
 Chamomile has a strong, sweet and warm-herbaceous aroma. It serves as a sedative to ease anxiety and nervous tension, as well as sleeplessness. Use this if you tend to lay awake at night or suffer from insomnia.
 Clary Sage has a spicy, hay-like aroma. Use it for relieving worry, crying, guilt, obsessions and compulsions, hostility, or panic. When you just can't see beyond the pile of bills, use this oil for clarity. Take a deep breath and begin to journal about your options. You will begin to "see" a plan for the future.
 Eucalyptus has a strong camphorous odor. It helps to relieve irrational thinking. When you are totally absorbed in your fears, put a couple drops on a Kleenex and place of your nose. Close your eyes and breathe deeply. You may want to sit down, as some people get light-headed. This may be just what you need to get that thinkin' turned around so you can better assess your situation!
 Frankincense has a spicy, balsamic aroma. Known as one of the most precious substances to ancient man, it is associated with religious practice. Use it to enhance meditation, elevate mind and spirit, or for psychic cleansing. Take in its healing scent to relieve fears, grief, and repressed feelings of self-destruction. It's a great time to count your blessings and give thanks!
 Hyssop has a sweet, warm, and spicy-herbaceous aroma. It has a long medicinal and religious history to lessen anger, greed, jealousy, despair, and desire. When you find yourself coveting what others have, run a hot bath and soak in this generous aroma until you are filled with a sense of appreciation for what you do have.
 Lavender has a sweet, fresh, floral scent. Uses include balancing emotions; relieving stress, tension, and headache; promoting restful sleep; and lowering high blood pressure, insecurity, and worry. Add about 40 drops of lavender to 1 ounce of water to create your own mist spray. Keep by the bed if you are a problematic sleeper. Add chamomile to your mister for chronic insomnia.
 Neroli has a refreshing, bittersweet and floral aroma. Use in times of emotional crisis, longing, grief, and hopelessness.
 Patchouli has an intense earthy, balsamic-woody aroma. It relieves indecision, lethargy, and mood swings. When you can't make up your mind as to what to do about finances, rub this oil on your feet, close your eyes, and begin to visualize the steps you need to take to move forward financially.
 Peppermint has a sweet, minty aroma. It is wonderful for more energy, a brighter mood, and better focus. This is a great oil for headaches: apply one drop to each temple. To create momentum in your financial life, put this oil in a diffuser after setting a goal. Make a plan, visualize success, and breathe deeply.
 Sandalwood has a woody, balsamic aroma. Sandalwood is believed to bring about calmness and serenity and is linked with incense and meditation. Use to lift melancholy, enhance meditation, and promote calming, restful sleep. It relieves possessiveness, promotes forgiveness, cynicism, insecurity, loneliness, nightmares, and dwelling on the past. Consider doing a little yoga and remembering that the measure of true wealth is not always found in your checkbook register.
 Ylang Ylang has an exotic, sweet floral scent. It is a great oil for brightening your mood, relieving anger, or subduing your anxiety. It can also release emotional guilt, resentment, and jealousy.
How To Use Your Blend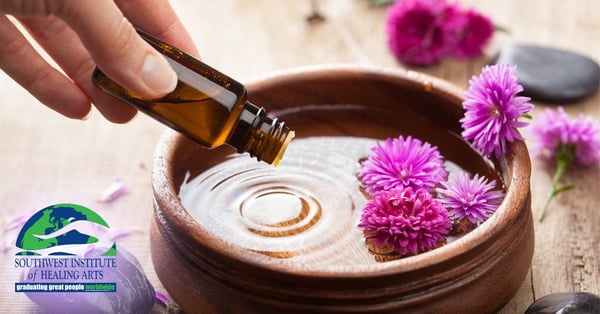 Once you decide on your favorite oils, you have many options. You may like the individual scents, or you could experiment with different ratios. Some of the stronger oils, like eucalyptus or patchouli, you will only need one or two drops. Consider your carrier (oil, water, cream) and the amount. Buy a couple spray bottles or misters, and keep one in your car, purse, kitchen, and by the bed. If you use a lot of hand or foot lotion, find your favorite unscented lotion and add the oils you liked best. For super dry skin, use a massage oil; or if you have oily skin, stick to a mister or spray bottle using filtered or solar-charged water. If you don't like products on your skin, use an air diffuser or soak bamboo sticks to freshen the air in your home.
Everyone who has experienced financial troubles, knows it can be a very challenging time. The SWIHA commUNITY is an excellent place to seek out holistic support. Stress can be reduced with one of our yoga classes at Spirit of Yoga, or learn valuable tools to overcome stress and fear by attending a weekend or online Life Coaching class or by booking an appointment in our Hypnotherapy Clinic (480-634-5968). Please do not suffer in silence; you are not alone.
To learn more about the benefits of aromatherapy, see when our next class is at Southwest Institute of Healing Arts! (AR 425 – Aromatherapy – Massage with Oils in January 2017!) We offer complimentary Guest Passes if you want to check out a class, good for up to 4 hours! Call Student Services at 480-994-9244 for more information.
If you need essential oils, we carry a variety of scents at Healing Pages bookstore. You can find other aromatherapy recipes and tips on the SWIHA Blog page! Happy smelling!