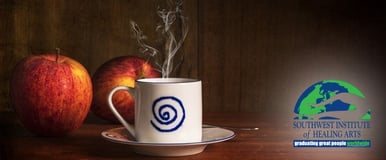 It is officially autumn and we hope you are starting to experience some cooler temperatures. As we transition from summer into fall it as always nice to slow down. This time of year often makes people begin to think about pumpkin patches, leaves changing, and, of course, apple cider!
We are sharing a simple recipe that will be perfect for chilly evenings, while studying, or by the fire. We are also including a complementary printable for you to cut out as a reminder to make this warm beverage plus a few extra to give to friends, family, and neighbors.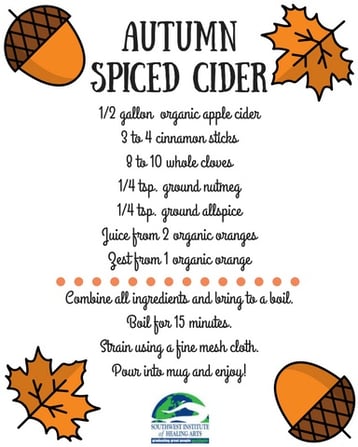 One of the reasons we love apple cider is that all or most of the ingredients can easily follow the S.O.U.L. nutrition guidelines that we teach about in our Holistic Nutrition programs. Most people have heard of the old model, known as the Standard American Diet or S.A.D. diet. Here at SWIHA, we have replaced that model and educate our students about S.O.U.L nutrition:
Seasonal
Organic
Unprocessed
Local



These whole foods help to build the foundation for a healthy, sustainable lifestyle.
Discover if you can find organic and local apple cider, and then check for the spices at your local farmer's market or food co-op! See if you can find oranges in season at your grocer, or you can try it without the citrus. This can be a small start to get you thinking about your food and also taking the time time to enjoy it. Wrap your hands around your mug and sip happily away!
We invite you to learn more about the holistic nutrition programs available at the Southwest Institute of Healing Arts.