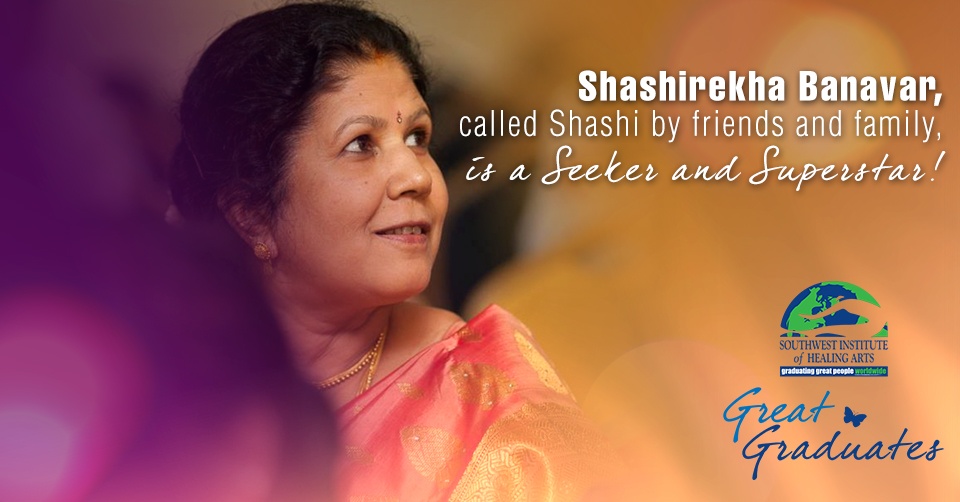 SWIHA graduate Shashirekha Banavar, affectionately called "Shashi" by friends and family, is described by those who know and love her as sophisticated, sassy, shy at first, sensitive, and super committed to whole food cuisine. Shashi lives in India, where for the past 30 years she has served as a lawyer and a consumer activist, written a book entitled Shashi's Recipes – Authentic South Indian Vegetarian Dishes, and received the President's Guide Award for top performing Girl Guides (similar to the Girl Scouts in the United States) from the President of India. Shashi is a superstar by many standards, although she will blush hearing it said!
As one of the first students to graduate from the online 750-hour Holistic Nutrition Wellness Practitioner diplomas, Shashi actually flew to Tempe, Arizona, to attend the September 2017 Gifts and Graces event, where she was recognized as being a one of SWIHA's Great Graduates! She easily gets the award for traveling the furthest to attend graduation on campus!
Shashi has actually been travelling between Bangalore, India, and Tempe since 2008. Her son, Mahesh, was attending ASU, and after his graduation from the university, he became a Research Assistant Professor while finished up some work on his doctorate. On one of her visits, Shashi was out walking around the ASU neighborhood and noticed SWIHA's campus. She recalls, "I passed it several mornings– and there was just something calling to me to come in and discover what the magical halls held for me!"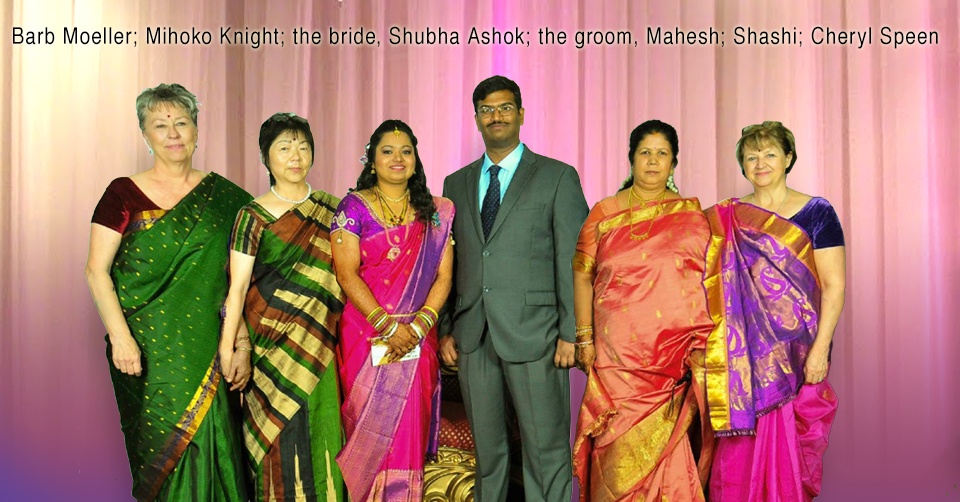 The day Shashi decided to peek her head in the doors of SWIHA, she knew she had discovered kindred souls. Shashi had already studied astrology, numerology, and pranic healing in India. Born into a traditional Indian family, Shashi explains, "Growing up, I was instilled with the importance of healing and helping others. Naturally, I was drawn towards SWIHA immediately."
Toe Reading was one of the first classes that she was drawn to and where she met Master Toe Reader and teacher Cheryl Speen! She was hooked from the moment Cheryl said, "Sit down! Your feet have a story to tell!" Cheryl, Barb (from the SWIHA bookstore), and Mihoko Knight, (the woman who translated Toe Reading: Are You Walking Your Destined Path into Japanese) became fast friends! When Shashi's son Mahesh announced he was to be married, Cheryl, Barb and Mihoko went to India for the wedding and to more fully understand their gracious and mischievous hostess.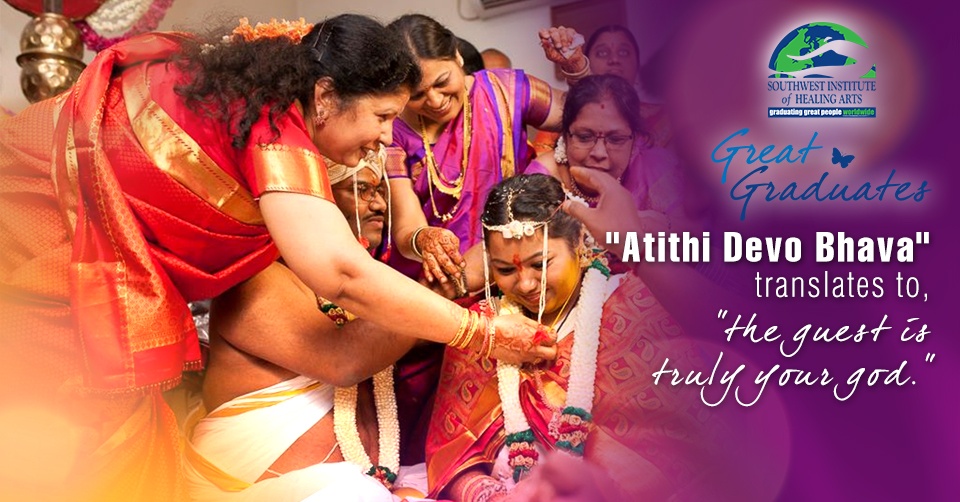 Indian hospitality is legendary. The maxim of hospitality in India has crossed generations and is demonstrated to each individual visitor invited into an Indian home. The Sanskrit saying, "Atithi Devo Bhava," translates to "the guest is truly your god." This is what the three women from SWIHA experienced as guests in India. Having the opportunity to be considered family, they witnessed firsthand the ceremony, pageantry, and communal love of a traditional Indian wedding, lasting several days, during which everyone dresses in vibrantly colored saris– a silk garment consisting of several yards of lightweight cloth draped so that one end forms a skirt and the other forms a head or shoulder covering!
Apart from the lavish décor and pomp celebrations, Indian weddings are known for their sumptuous food. The wedding Shashi orchestrated was no exception, with delicious vegetarian delights and delicacies.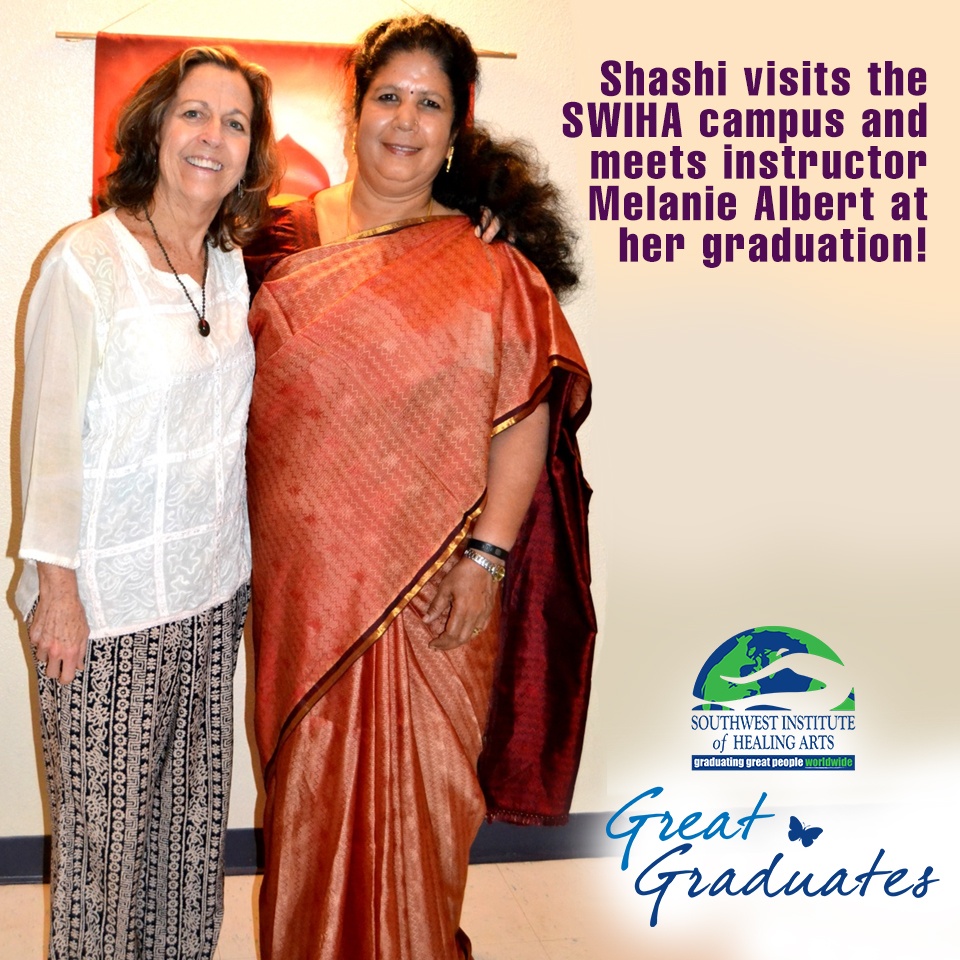 Shashi loved meeting her online holistic nutrition instructors when she visited the campus, including Melanie Albert, who she met in person at the SWIHA graduation, and Dee McCaffrey, the author of one of the required textbooks, The Science of Skinny, and who Shashi describes as a "local celebrity."
As a lifelong seeker, Shashi took many other classes that she believes have helped provide her with resources, including Introduction to Hypnotherapy with Linda Bennett and Introduction to Intuitive Guidance and Chakras taught by Lisa Grunwald. Shashi shared, "I noticed in a number of classes I attended that many of the students had bitter, unfortunate personal experiences they were working through. Through the course of the classes, they shared their stories and received empathy from the instructors and fellow students. They learned new ways to heal themselves– and others! It clarified for me what I wanted to do moving forward!"
Now in the process of starting her new business as a Holistic Nutrition Coach and Toe Reader, Shashi will be teaching the Indian way of cooking sattvic food and nutrition for people who want to eat good well and keep fit. Her business will involve both an online presence and in-person consultations, with one-on-one coaching session. In keeping with her activist and humanitarian roots, she plans on using her knowledge to help people that are poorer and underrepresented to achieve better health and happiness. "I want to work with the needy and ailing," she offers. "SWIHA has taught me how to start my own business and how to successfully work with clients! I feel prepared and ready to serve in the world!"
One of the classes Shashi took on-campus during her last visit to the valley was Singing Bowl and an Intro to Gong taught by Will Zecco. True to her many gifts, Shashi has been trained in classical music and plays the veena— an ancient musical instrument. With a mystical wink, Shashi shared, "I had profound experience in sound healing class. I now claim the ability and opportunity to facilitate healing with other on many levels– body, toe, sound, and soul!"
SHASHIREKHA BANAVAR
Website: https://sites.google.com/site/shashisrecipes/
| | | |
| --- | --- | --- |
| | | PS ~ Shashi could also be described as a sensational, smart and snappy sari dresser — which is to say that you never see her wear the same beautiful outfit twice! She is a specially generous with providing the glamorous cloth as gifts — I am personally honored to have received such a gift. |