Cora Love was actually led to the Southwest Institute of Healing Arts (SWIHA). She was seeking, very diligently, an affordable program that covered multiple modalities. "Another effort I was following was being thwarted at every turn. Then, I saw SWIHA, which offered everything I was interested in, accepted financial aid, and was able to get me enrolled within days to start my two-year program, on-time, January 19, 2015."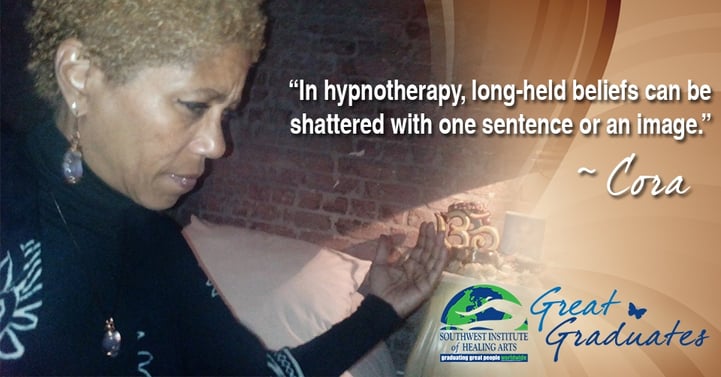 Cora went on to graduate from the Mind-Body Transformational Psychology program, with a concentration in Spirituality and a specialty in Hypnotherapy. "One of the most valuable things SWIHA taught me was that my spiritual gifts are real; they can be enhanced with study and practice, and I am more powerful than even I originally thought. I also learned that what most of us think we know and believe, we really, really don't. Long-held beliefs can be shattered with a sentence, or an image."
The passion Cora has for her program of study developed when she was managing a metaphysical gift shop in Miami, Florida, Bagua. "I was able to indulge in 'crystals, chakras and pendulums, Oh My!' I laugh now because this is the title of a workshop I have since created, an indication that my life, in that regard, has come full circle. (Read Cora's Blog!). I was able to indulge in a lot more than that, and was encouraged by the owner in very deliberate ways to follow my spiritual gifts. I have much gratitude for her. I am so passionate about what I do because it is the most natural for me. It's the 'job' I've been seeking, it's the work I've been seeking, it's the feeling I've been seeking. And in most cases, also happens to be really fun!"
The Sage Gem is the name of Cora's business offers intuitive, holistic, non-invasive services that support others in being their healthy, joyful, best Self- physically, mentally, emotionally, and spiritually. Her business is mobile, operating online and remotely, yet her her mailing address is Miami Beach, Florida.
"I am helping to raise the vibration of the universe, one soul at a time."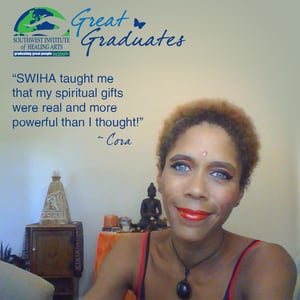 Cora's business started with just "crystal and stone intention wear", however, she knew it was going to expand. Presently, she is doing one-on-ones in person and online through video platforms like Skype and Facebook, online, and even via text. Cora offers sessions in hypnotherapy, life coaching, weight management, chakra balancing, crystal healing, pendulum readings, auriculotherapy, aromatherapy, and toe reading. She also hosts workshops, sleep retreats, house clearings, home blessings, and ceremonial rituals. She is also ordained and performs marriage and end of life ceremonies.
Book with Cora
During a session with Cora, a client will experience a sacred and safe space, love, progress, peace, and usually one other component that they find difficult to verbalize (Euphoria? Happiness? Mysticism?) Her clients and customers are those who have an open mind and are interested in healing themselves and progressing at a soul level. "My clients come to me because I hold sacred space for them and support them in appropriate ways through what can be a very heavy experience, that of spiritual unfolding. I meet them where they are, from the homeless to millionaires, and help them to raise the vibration of their soul, with intuitive, non-invasive, holistic services and products." She uses personal contacts, the internet, and client referrals for most of her marketing efforts.
Check out Cora's online shop at The Sage Gem! Many items are available to buy in quantity for all your special event vending needs!
"Confident," is how Cora says she feels when she applies her SWIHA knowledge in a session or client interaction. "It feels great to know what I am talking about, and know what I am doing, as much as can be explained anyway (mysticism)."
Cora's message to other new SWIHA grads who hope to follow in her footsteps:
This is real. The school is real. Energy is real. YOU AND
YOUR SPIRITUAL GIFTS ARE REAL!"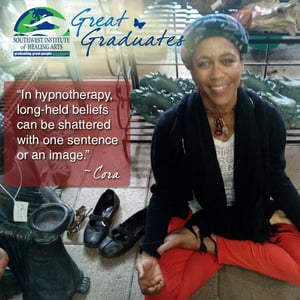 Right now Cora plans continue her education at IIOM, Integrative Institute of Original Medicine, to receive a Doctorate in Natural Medicine. She checked with them before she began her studies at SWIHA to be sure they would accept transfer credits. They said they would, gladly. They were familiar with SWIHA and gave high remarks.
Cora explains that her SWIHA education has changed her perspective of self and her course for the future by giving her the foundation she was looking for. She admits that most challenging part about starting her business was, and still is, generating income. The easiest part about starting her business is using her spiritual gifts.
There has been several client success stories that Cora wanted to share. "With hypnosis, I have helped people overcome arachnophobia, fear of public speaking, weight and smoking reduction and more. With energy work (using crystals/stones, pendulums, my hands, etc.), I have helped people shift energies within them for release on physical, mental, emotional and spiritual levels; I have cleared spaces of unwanted energies for people; and I have brought clarity to people with toe readings, my crystal and stone intention wear, and other modalities; I have helped people heal using sound vibration, specifically singing bowls; I have healed pets from fleas and heartworm; and people also tell me that I heal them with my hugs. This is a short list :)"
To end this on a sweet and humorous note Cora wanted to say, "In my best Humphrey Bogart voice, 'SWIHA is my Swee'hea''!'!"
Keep in touch with Cora Love!
 www.thesagegem.com | www.facebook.com/thesagegem | blogspot.thesagegem.com