For over 15 years, Joy Carter was a master's level social worker and wanted to be able to have a business of her own. "At the time, I wasn't sure what I wanted my next career move to be, so I started to work with a life coach. During the sessions, it became clear that life coaching would be a great fit for me, as I would be able to be a holistic entrepreneur and continue to help others. "
She started to look for programs in her area, and that's when she came across SWIHA's program. "I went to check out the campus and attended a first-Friday night, Gifts and Graces event. I was really impressed with the positive, spiritual approach of the program and school. So I signed up for the weekend intensive to see if I would like the program and, as the saying goes, "The rest is history!"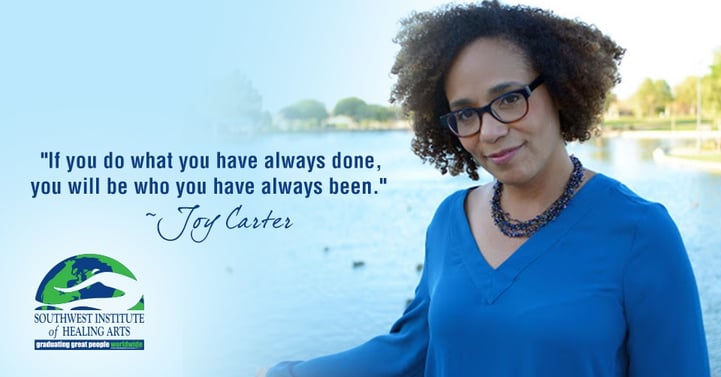 Joy's main focus is 'mindful habit change' for women. "Habit change includes weight loss, healthy eating and life style, procrastination, and negative self-talk. I support people in turning wishful thinking into a powerful plan of action." She also conducts habit change workshops to teach her Mindful H.A.B.I.T.S.™ Method for lasting change. "The next workshop is scheduled for January 14th. More information about the workshop is located at joyouslifecoach.net/workshop."
The coaching tool that Joy values most is the Wheel of Balance. "I love this tool because it can be adapted to use with groups and also changed to address specific topics and/or issues you might be addressing with people. It's easy to use and explain to people. I also like that it gives a graphic representation for what is going on in life."
When asked how SWIHA continues to support her on her path from a student to her present day business, Joy had this to say:
SWIHA offers a lot of wonderful services for students, including entrepreneur coaching, opportunities to provide services and/or sell products at Gifts and Graces, listing on the Great Graduates website, and graduate event email blasts every other week.
"Transformation, inspiration, motivation, and knowledge," are what a potential life-coaching student can look forward to, according to Joy! Echoing the sentiments of many others, Joy went on to say that "the process of going through the life coaching program at SWIHA is life changing." "Through learning how to help yourself in the courses, you learn how to help others because you understand the journey of transformation. I have had people ask me where to start when considering taking courses at SWIHA, and I always recommend the life coaching intensive weekend, no matter what program they are interested in," said Joy. "The strategies and techniques you learn apply to absolutely everything you will do to holistically serve others. The instructors are very knowledgeable and will lovingly push you outside your comfort zone so you can grow and learn." Joy left us with this beautiful quote to ponder on:
"If you do what you have always done, you will be who you have always been."