Tiffany DeLancy does not quite remember how she originally heard of Southwest Institute of Arts (SWIHA), yet she does know that it was her interest in becoming a yoga instructor that was the original reason for attending the school. She went on to enroll in and graduate from the Yoga Teacher Training 600-hour program with Aromatherapy and Hypnotherapy as her electives.
Tiffany became passionate about yoga simply by starting classes at a gym and yoga studio, and when she started learning more about the philosophy in her training, it completely resonated with her. "I am passionate about sharing my journey of self-discovery, because I believe the more we heal ourselves and find internal peace, the more peace and healing we can create in the world."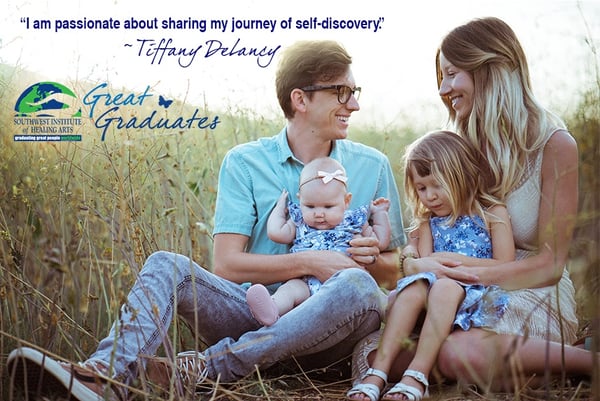 This passion has led Tiff to create a few different and separate businesses, and yet they all combine to create something bigger. When asked what inspired her to start her businesses, she replied, "A desire to bring back the sisterhood in motherhood, bring women together, and support one another." She teaches yoga for children, prenatal yoga, and yoga of motherhood as Tiff DeLancy Yoga. She shares and sells essential oils and aromatherapy consultations as Tiff DeLancy Essentials. She is also a birth doula and is part of a doula collective in Orange County, Ca, called OC Doula Collective where she offers all of her modalities as part of her doula support.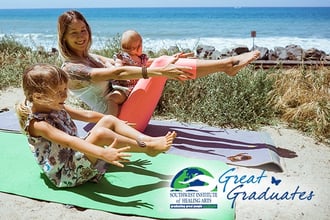 Tiffany's bigger business venture, is called Saturn*s Sister (www.saturnssister.com). It's all about the intense and challenging time and transition of each of our Saturn return and a guide to finding creative, calm + clarity within the chaos. Your Saturn return is an astrological concept based on the planet's return to the place in orbit where it began the day you were born; this takes about twenty-nine and a half years. With this comes great change around thirty years old and it ripples into the first few years to come. When we are distracted from our life path or purpose, opportunity might pass by and this is called "missing your Saturn return". Whether missed or not, change can be disorderly and messy and so Tiff wants to offer support. With Saturn*s Sister's co-creator, Maya Hackett, they will be offering a monthly subscription for this sisterhood circle including recipes, yoga, meditation/hypno, aromatherapy, and so much more. Right now they are currently in the early stages and she is so eager and excited to share it with so many wonderful and beautiful souls!
Southern California is where this graduate spends most of her time, however her businesses allow her to work with people all around the world. She mostly works out of her home, however the doula collective she is with does have an office located in Costa Mesa. She currently offers services in: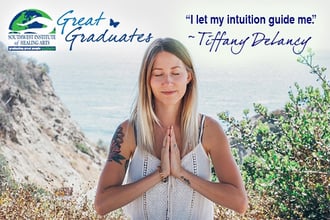 Birth Doula
Aromatherapy
Hypnotherapy
Yoga
Saturn*s Sister circle
Typically with a birth client, she offers some sort of hypnotherapy session for either fear releasement or just for relaxation - whatever the client needs. She will also offer the momma aromatherapy options, for labor and birth support. Her clients are women looking for support in having a natural birthing experience and also women and mothers searching for a sisterhood, a community with deeper connections. When describing what it feels like to apply her SWIHA knowledge in a session or client interaction, Tiff says, "It feels like truly trusting in myself and my abilities. I let my intuition guide me." She considers herself fortunate to have worked with a couple of women in fear releasing, hypnotherapy sessions before they gave birth. Each had a previous birth experience that left them with some pretty heavy emotional trauma and she was able to support them and use hypnotherapy to help them move out of fear. Both mothers-to-behey were able to have wonderful and beautiful experiences with their next children. "It was such an honor and I find such joy in reminding women how powerful they are!"
Instagram has been a huge resource when it comes to growing her business because she has found such a great motherhood community there! Finding people to support her and cheer her on through the process has come easily. The thing she still has the most challenge with is believing and accepting that she is worthy of all the abundance and success the universe has made available to her, as well as the process of stepping into her full potential. Although, all of the lessons she learned at SWIHA help tremendously in this area. One of the most valuable things Tiff learned at SWIHA was how important it is to her to have a deep, heart to heart connection with people. "SWIHA is such a loving, open, accepting place.... I really felt able to fully embrace myself and my truth and that has been sooo empowering for me."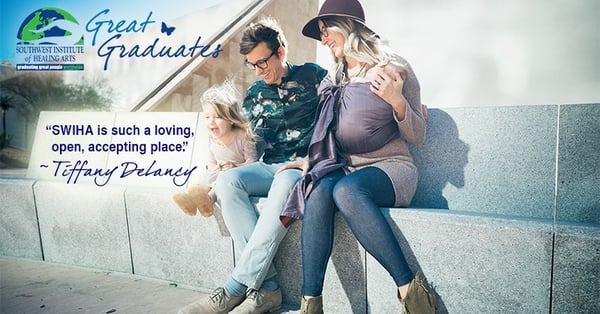 Tiff's message for SWIHA students and graduates looking to follow in her footsteps:
"It might seem scary at times, to really put yourself out there. I'm still working to release my fears over those vulnerabilities. Yet it feels so wonderful to support and love others unconditionally in that way. And that feeling completely trumps any thoughts or notions of failure."
Stay in touch with Tiff!
Facebook:
 Tiff DeLancy Yoga &  Tiff DeLancy Essentials
Instagram:
 @namastetiff,  @namastetiffessentials,  @saturnssister,  @ocdoulacollective