After moving to Phoenix as a Supervisor/Analyst in the Federal Government, Tammy Coin received a massage from a graduate of the Southwest Institute of Healing Arts, who told her about the school. Soon after, Tammy decided to enroll and subsequently graduated from the Mind-Body Wellness Practitioner program. During this time, she learned how to finally integrate all the pieces of herself, unearthing her identity and the WHAT to go with her WHY. "I have known my WHY for being on this earth for a very long time. I just didn't know the WHAT that was going to bring it together. I entered the program with a Masters in Human Relations Counseling. The Mind-Body Wellness Practitioner program helped me pull the rest of my pieces together." The tools she has learned on this journey have been the gift that helped her to finally connect the teachings of her life. This gift, ultimately led her to start her own business.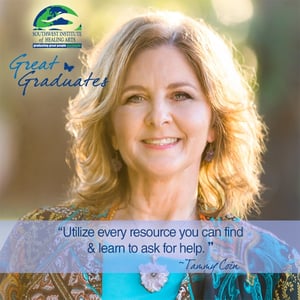 The Doors of Wellness, LLC is Tammy's business. She is using the experience, expertise and education of her life to help other people find their own door of wellness. "I believe that stuck emotions are at the root cause of physical illness, mental illness, addictions, weight issues, relationship challenges, loss of sense of self-worth and spiritual disconnect. I'm truly passionate about the Mind-Body Connection." She describes herself as a Life Strategist, Mind-Body Wellness Practitioner & Trauma and/or Abuse Recovery Coach focusing on the unhealed emotions at the root of her clients obstacles. She offers many tools and modalities to her clients.
The Doors of Wellness is physically located at 1050 East Southern Ave. In Tempe, AZ. Tammy is also available for online sessions, worldwide. She is currently developing a ten week program for people needing to rebuild after a divorce, break-up or loss. She is also developing several other programs and packages. The current modalities that she is sharing are: Transpersonal Hypnotherapy, Transformational Life Coaching, Basic Toe Reading, Royal Toe Reading, Holistic Nutrition,Essential Oil classes/education, Mindfulness meditation, Law of Attraction, Chakras, Tarot/Wisdom Cards, Mediumship, and Consulting. She is growing her business using word of mouth, referrals, Facebook, Twitter, Live Videos, Periscope, business cards, her website, and teaching engagements.
First and foremost, Tammy creates a safe, sacred, confidential healing space for her clients. As someone who has been there: she is real, raw, relatable and transparent and empathizes with her clients without judgement. She is truly a gifted practitioner with a diverse background who can effectively bridge the gap between the mainstream and the "woo-woo" (the deeper, spiritual level misunderstood my some).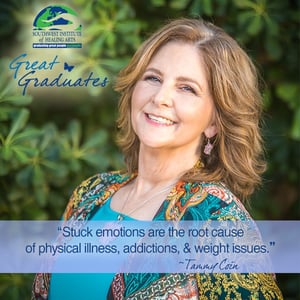 Based on her own life journey, Tammy's focus is on adults who have unhealed emotions resulting from childhood trauma and/or abuse who feel disconnected from their true identity. They are often highly intelligent; thriving in some areas of their life yet may be struggling in others (physical health, emotional health, addictions, weight, self-worth, etc.). They often have a deep KNOWING within themselves that they are meant to do bigger things with their life. These clients find that Tammy is someone who truly understands who they are and how to help them, with a strong heart-centered approach. Through a synergistic blend of her SWIHA knowledge and tools from her other education and life experience, she is able to create a unique and profound experience for her clients (and for herself). "I wanted to create a practitioner for my clients that I could never find. It feels like a dream come true, with a self-care bonus!"
Coming from an analyst background, the biggest challenge Tammy faced when starting a business was limited knowledge around being an entrepreneur and marketing. "I have a tendency to over-think and this has created challenges for me. There are times where you just don't know, what you don't know, so you don't know the right questions to ask. This often creates challenges, when you are learning to make money in a new way." She likes to find a way, not an excuse.
SWIHA assisted Tammy in finally creating an identity for herself that was once lost. "I came from a world where people go to work every day, come home, get up and do it again. That life never felt enough for me. I wanted something more. My SWIHA education along with connections I have met during this journey, allowed me to see the cage that had been created around me. It was never comfortable. I had just buried the other parts of me. Now, there are no limits to what I will do in the world, I have the keys and will continue to break on through any doors that come my way." Tammy aspires to be a worldwide speaker and Hay House author.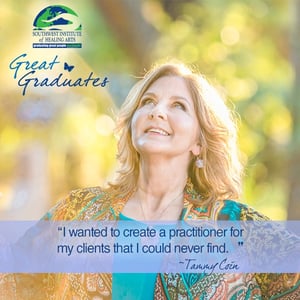 All of Tammy's clients have been success stories. "To watch them grow and evolve before my eyes is pure magic. One client came and said that they needed me to be the magic because everything else had failed. I taught this client to find the magic within themselves. Another client expressed that I gave them a safe, sacred space that isn't easy to find and described me as a teacher's teacher. I truly love these clients!"
Tammy's message for SWIHA students and graduates looking to follow in her footsteps:
Based on one of my favorite quotes from Richard Seaman, "Utilize every resource you can find. Reach out to people who have gone before you for help. No matter how hard it gets (and it will get hard), focus on your WHY. If you don't have a WHY or know what that means…start there! Also, teach what you need."