Mathina Ross has always been a healer and philanthropist at heart. Though her background is not necessarily one you would expect from someone who now has a bustling career offering signature massage experiences, throughout her life she has mastered the art of caring for others. In fact, before attending SWIHA and completing our 1000-hour Massage Therapy Program, Mathina cultivated a profoundly rewarding career in cosmetology, in which she chose to specialize working with children who experienced spectrum disorders toward the end. She shares that the work was fulfilling to her soul, yet left her feeling drained. "I loved the work, [however, I] got 'burned out.' Given my specialized status, when I chose to move on, my options were very limited. Prior to specializing, I had worked in hair, skin and nail care, and had been massaging much of the body, so the transition to massage seemed an appropriate one."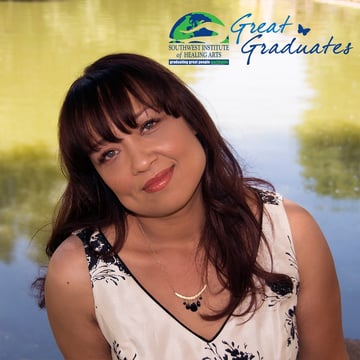 Burn out from the altruistic and gratifying work with children with special needs was not her only reason for wanting to shift into massage. Mathina wanted her work to seep beyond skin deep. "When I began in Cosmetology, I wanted to help shift lives by working with the "physical image" aspect of the clients' being. There's much healing to be done there. Over time, I realized that I wanted to help facilitate healing on a deeper level, not only with the physical. [I wanted to help] with the mental, emotional, spiritual and energetic aspects [as well]."
When Mathina decided to transition into massage, she proactively chose to embrace her freedom professionally AND personally. Like many of our students, Mathina reached a pivotal and poignant moment in her personal life, in which she knew she needed to finally choose herself. She divulged in courageous vulnerability that enrolling in the massage program was an act of emotional rebellion that would finally lead to honoring her dreams! "During a troubled marriage, I wanted to go to massage school. I was given the ultimatum "if you do, the marriage ends." So, when the relationship dissolved, within hours, I enrolled in my first SWIHA class."
Fast forward 1000 hours where she now runs her own business offering signature massage experiences including a wide variety of modalities here in Tempe, AZ. "I offer massage services consisting of "signature sessions" that incorporates therapeutic/rehabilitative work, energetic work through Reiki, Integrated Cranial Sacral Therapy, Polarity (an ongoing education), Reflexology and relaxation based sessions that incorporate the use of Hot Stone and basic Aromatherapy. Each session is tailored to the needs of the clients. We show up differently each time. My clients know that they will rarely, if ever, receive the same session twice."
Sessions with Mathina sound too good to be true….lucky for her clients though, they are! Sessions start with a thorough intake that helps to guide the direction of the session. From there she and the client determine what the client's needs are. The first step for Mathina is always to hold space and establish rapport with her client. She shared that she even has a ritual that she performs prior to the client's arrival to clear and ground both her space and herself. Most bodywork sessions include the use of hot towels, heat packs, hot stones and basic aromatherapy if indicated and desired. Unless the client specifically requests an energetic session or relaxation, sessions are a blending of both rehabilitative and relaxation modalities that bring healing and balance to every aspect of being.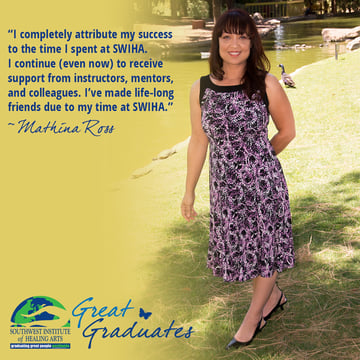 Mathina takes pride in being able to support people from all walks of life who tend to lead stressful lives. Her work helps countless individuals to be healed and heard…cared for in ways that they otherwise may not receive elsewhere. "They feel overworked and disconnected, perhaps even unseen in the world. Some have said that the only place they have in life to let go and unwind is during their appointments. A number of them have left hugging me and expressing authentic love for me and the work we do together."
With experiences like that, it's no wonder that Mathina's greatest sources of client growth are word of mouth and personal referrals. What keeps them coming back as clients for life? To hear Mathina talk about it, the acceptance and support on top of the physical relief she offers is the obvious answer! "I believe my clients show up because they know that no matter how they show up, I'm there to support [them]. I come from a place of non-judgment. They feel safe to be who they are, knowing that a shift will take place, and that they will hopefully leave feeling better than when they arrived. I believe my clients continue to book with me because my goal is for them to be given the tools they need so that they no longer need me. I want my clients to feel empowered through education to more easily be able to access their body's own innate ability to heal. My goal is to work with their chief physical complaints and then move to a place of maintenance."
Mathina feels endless gratitude for the instructors and courses at SWIHA that helped her gain the tools to be able to offer these transformational and life-altering results to her clients. "I think in every class my personal processing was unbelievably intense…I completely attribute my success to the time I spent at SWIHA. I continue (even now) to receive support from instructors, mentors, and colleagues. I've made life-long friends due to my time at SWIHA. [Though] I'm constantly seeking new knowledge, [when my program was complete] I felt prepared to go out in the world… and earn a living that I felt good about."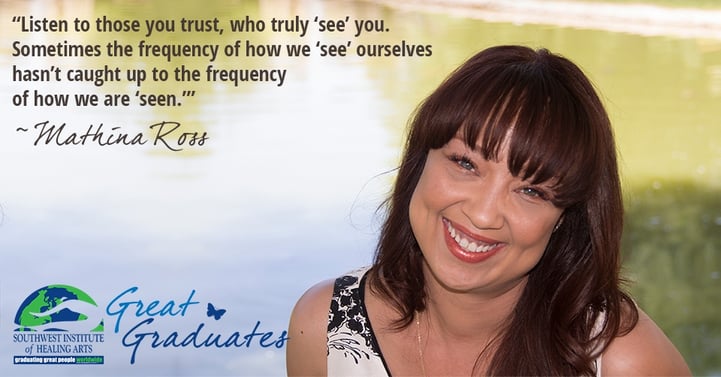 With so much talent and compassion, we are so happy to have Mathina returning to us as a student. She recently enrolled in our 200-hour Yoga Teacher Training and Toe Reading Programs and says that she prefers to complete her Continuing Education hours at SWIHA. "I am constantly doing self-study based on what my clients show up with in sessions. If I could be a full-time, forever student, I think I would!"
To students of SWIHA and to-be healers, Mathina has this message for you: "You are always capable of way more than you ever imagined possible. Listen to those you trust, who truly 'see' you. Sometimes the frequency of how we 'see' ourselves hasn't caught up to the frequency of how we are 'seen.' Know that, to be 'of service' to others in the healing arts, many times personal healing is necessary in the beginning. It's a gift even if it doesn't feel like it at the time. It creates a deeper sense of rapport, empathy and compassion, which in turn makes you more relatable. It's okay to be vulnerable. Finally… make yourself a priority and take care of yourself!"
If you are interested in receiving Mathina's restorative and relaxing touch, connect with her by visiting www.bodyinharmonyaz.com/ to book your session today!