Bella Neumann showed up at SWIHA because that was just part of her life journey. From being a big sister/mom to her younger sister at such a young age, all the way to being the person who helped her father into his next plane of consciousness (eternal rest), the techniques she's learned through SWIHA's program have assisted her through it all.
She is now 52 years old, and she has grown and developed every age of her life. This is a profound insight she has had, looking back on it all: "I am a daughter, a big sister, a mother, and grandmother (they call me Yaya) and am a friend and confidant to many. I only point that out, because I feel if we do not find ourselves on each side of a situation, there is no room for growth." She says she has been on all sides of any given situation, and even though she may have found herself completely stuck in one point of view when first approached, through growth and opening her heart to how others may handle the same situation, she has found herself able to not only understand, but welcome, her own change of mind, heart, and soul.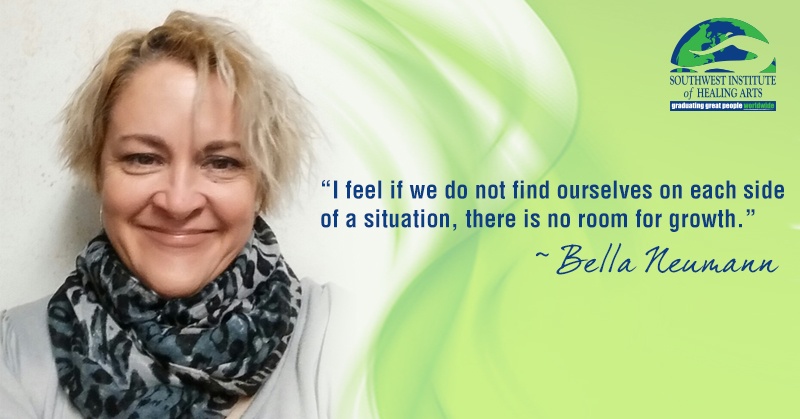 Professionally, she has been coaching for about six months; personally, she has been coaching since she raised her little sister from the age of two. She has been a support system to others since she was small, and still finds herself happiest when she is helping others on their journey through this glorious thing we call life.
When Bella works with her life coaching clients, she has to say that the Wheel of Balance is her favorite tool, as it repeatedly opens the eyes of anyone who utilizes it. "It is a heart-opening tool for my clients to really see in pretty colors of their choosing, of what life topics are most important to them at the time and which one actually over-monopolizes their time and heart, and keeps them from living their true life's destiny."
Part of being a life coach is understanding that you energetically attract your clients, usually creating a niche for yourself. This is usually about connecting with people who you can help the most: often your clients are going through similar experiences as your own. Bella is "completely in love and in awe of mindfulness living". She is currently working one-on-one with clients, teaching mindfulness techniques, and she is completely amazed by how changing her own mind regarding mindfulness has been able to show her how to not only start her own life coaching business, but it has actually awarded her the time to begin 'My Seester's' with both her sisters. She mentioned her favorite quote, "You can never cross the ocean unless you have the courage to lose sight of the shore".
This is Bella's message to anyone interested in helping others and becoming a life coach: "I would tell them the greatest thing to expect, is their own growth potential. In the past six months since graduation, I have grown by leaps and bounds, and the absolute beauty of this is that it all came from the course work I did at SWIHA. Without the wonderful staff and my fellow classmates, I feel I would have missed the greatness of the people I have been blessed to meet and grow from.
SWIHA without a doubt was not only a support system in every single way, yet a true blessing at a time when I was wondering, 'What's next, where do I go from here; is this going to be my life when I know I can do and offer so much more?!'
Through the incredible staff and all the wonderful people I have been able to meet through SWIHA, I now know what's next. I have a path of where I am going, and I feel complete knowing that I am now living my true destiny.
It is not difficult to see that Bella effortlessly stays passionate about this kind of work and the impact it has had on her own life. In conclusion she says, "The incredible feeling I have at the end of my day, is that so often I cruised through the endless piles of paper work, the continual call to yet another insurance company to discuss the outcomes of a patients denial for payment; to now feeling I am actually a positive benefit to those same patients and now my clients."