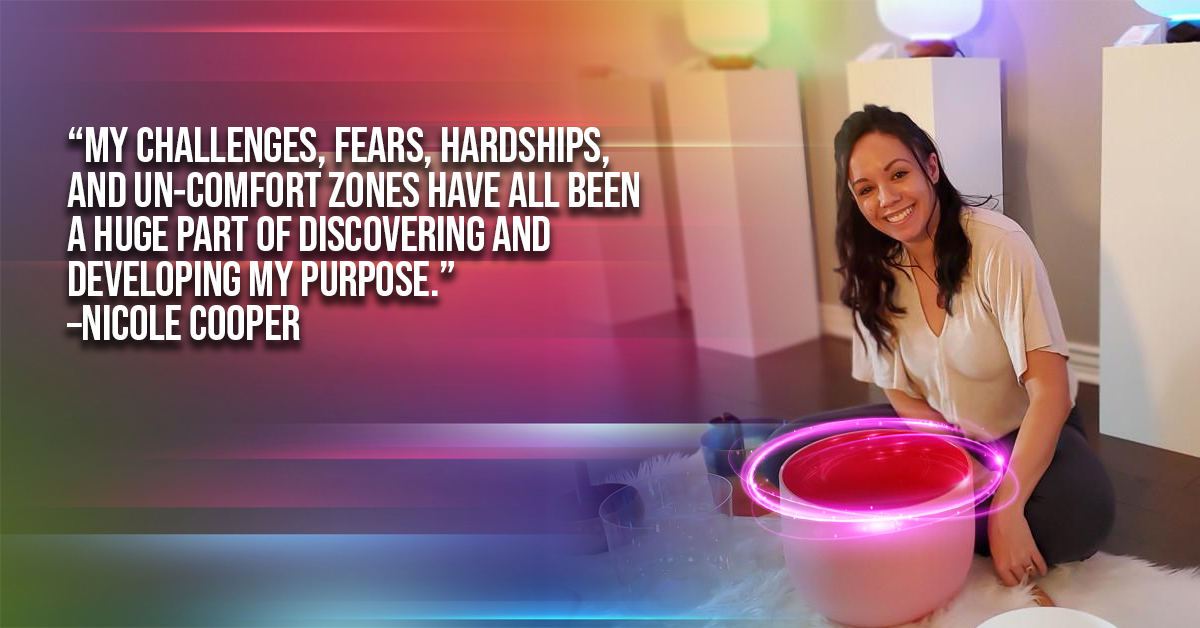 "There is no greater gift you can give or receive than to honor your calling. It's why you were born. And how you become most truly alive." - Oprah Winfrey
The way that I have learned, and continue to practice, living on purpose is by doing what is in alignment with my core values and beliefs. This has always come from a passionate place within myself and trusting that space. It's a true place of awareness deep within. You may think that you have to find your purpose, but from my experience, your path finds you when you start focusing inward and trusting the process. My challenges, fears, hardships, and un-comfort zones have all been a huge part of discovering and developing my purpose.
My path of purpose started during a time of healing. At 24 years old, I was recovering after multiple procedures for breast cancer and experienced my first sound bath at Anahata Yoga Studio. It was love at first vibration and helped get me through a challenging time, physically and emotionally. During this time I was completely disconnected and didn't care about my purpose (or much of anything). I was on autopilot. Sound baths guided me back inward and showed me the love, grace, courage, and compassion that I was seeking was always within me.
My path of purpose continued with me facing fear: The fear of leaving my job. I thought I was risking my "abundance" which I valued more than my true purpose and fulfillment. I stepped into my un-comfort zone of leaving my job with a consistent paycheck and signed up for Yoga Teacher Training at SOY (Spirit of Yoga) with Laura Mckenzie. After my training, I began teaching yoga classes across the valley. Even though I wasn't making the same money, I fully enjoyed the blessings that came from having a deeper understanding of what true abundance was. I worked from a place of true fulfillment.
In this present moment, my current stone is 'bee'-ing the founder of a space (or 'hive', as myself and the community refer to it) of Bee Humble Wellness. I am honored to be able to hold space for individuals during their time of healing with the gifts of reiki and sound. I also have the blessing of teaching students the gift of sound healing.
This path has had some challenges and humble beginnings. To work through those challenging times, I have taken all parts of my purpose from my path thus far and integrated it into my current business. A huge part of owning a business is understanding that it's not just about you and what you want. It's about putting yourself in other people's shoes, noticing what they desire, and responding to it from a compassionate place.
Another lesson that has crossed my path is balancing my business and personal life. When I push my personal fulfillment to the side, I can not hold the best space for my hive members. It is a constant practice for me to take a moment every day for self-care. I can not serve from an empty cup. When I show up to the hive empty, that is the energy that reflects back to me.
If there's something deep inside of you that has been speaking to you in connection to your purpose: Listen to it! Yes, it's going to be challenging, humbling, uncomfortable, and fearful. Guess what? That's what living is! Know that the universe will be holding your hand through these times, and guiding you down the path you've always wanted to be on.
A story that inspires you never goes: "I got everything I wanted by having it handed to me and staying in my comfort zone." Living on purpose is knowing it's an adventure and embracing the hardships that you went through and accomplished. Your purpose is always speaking to you. It's time to listen.