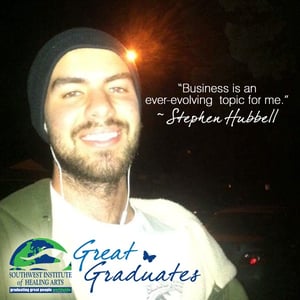 Stephen Hubbell says he was drawn to Southwest Institute of Healing Arts (SWIHA) due to his curiosity in exploring the healing arts, and he was on a spiritual adventure! He elaborated by saying, "My adventure's purpose was to find a way to bring my spiritual relationship more fluently into the physical world in an applicable way to help and heal people, as well as myself. I was most interested in the Polarity Therapy program at SWIHA when I first found out what Polarity Therapy was." He went on to graduate from the 750-hour Massage Therapy program, in which he was certified in Massage Therapy, as well as in Polarity Therapy. "SWIHA has been a huge part of my transformation."
As far as massage goes, Stephen continues to stay focused on studying and applying for his massage license in the state of California. He plans on combining massage, polarity, and astrology together to form the perfect business trine. In the meantime, he really enjoys giving his friends short massage sessions to help them feel better. He is currently doing astrology readings for both individual and couples sessions. "I enjoy working with clients on a longer term basis. For example, it's awesome to work with someone for three months at a time so that I can really help people free up their minds and their lives for more enjoyment, love, pleasure, etc." To supplement his energy work, he is currently working at Camp Cedar Glen, which has awesome programs like archery and rock climbing, and there he helps maintain the grounds and campsites and enjoys being immersed in nature!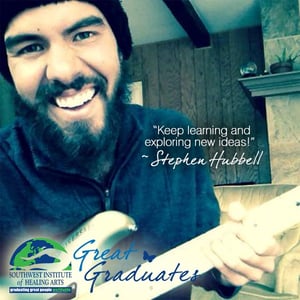 The inspiration to start building a career of his own started before Stephen entered SWIHA. He knew his career would be about finding genuine healing for himself and for the world. "I believed that the best way to do that would be through energy work. I am still progressing through my spiritual expansion and finding more ways to help people heal which allows them to witness miracles in their lives. Business is an ever-evolving topic for me."
Stephen currently offers Polarity Therapy and plans on offering massage therapy once he is licensed. His main specialty currently is in doing astrology readings for people, for a wide variety of types of sessions such as personal or couple's readings. "I enjoy working with clients more long term such as for three months at a time so that I can really help people free up their minds and their lives for more enjoyment, love, pleasure, etc."
When Stephen was at SWIHA, there was a session he gave a client during the Polarity Clinic that really revolutionized his idea of healing. "I was planning to go to school for chiropractic, which I've attempted to do twice now, yet have dropped out both times. The client was saying that he thought he needed to see a chiropractor because his back hurt. When I had finished working with him, he was healed of that ailment and no longer felt that he needed to see a chiropractor. This really upleveled my confidence and trust in my ability to not need to become a doctor in order to help people in a deeply, tangible way."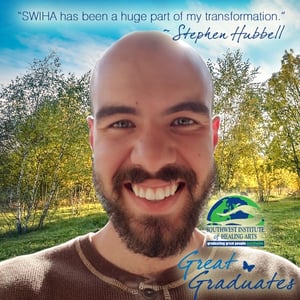 Two quotes stand out from Stephen's time studying at SWIHA and he wanted to share them to help inspire others.
"Learn how to be an instrument of the Spirit, not the ego."
"All energy is intelligent and knows what it is doing."
Stephen's message for SWIHA students and graduates looking to follow in his footsteps:
"Let the highest possible outcome occur/I am here for the highest possible outcome."
"Keep learning and exploring new ideas! The journey doesn't stop at SWIHA; it continues indefinitely until the Atonement with God/Source. Emanating from your own Source is the whole goal. I believe SWIHA facilitates this and we need to commit to it in order to be it."


Stay in touch with Stephen! Stephen-Hubbell.com | Facebook