Over ten years ago, Juan Te Daily remembers hearing about Life Coaching on one of her favorite TV shows and how coaches help their clients navigate through life's many challenges. She grew up in her own challenges of South Central, Los Angeles, watching friends and family deal with drug addictions and financial trouble. However, she remained motivated to stay on a more responsible and healthy path. Seeing her older brother strung out lying in the streets saddened her, and Juan Te attributes much of her empathetic nature to these memories. So when she heard there was a profession of supporting people in a way that enriches their lives, she thought she'd look into it. She found Southwest Institute of Healing Arts (SWIHA) online and even wrote down the information on life coaching. It was more than ten years later that she happened to come across that piece of paper, and after many challenges with work and scheduling, she found herself in the Transformational Life Coaching program at SWIHA.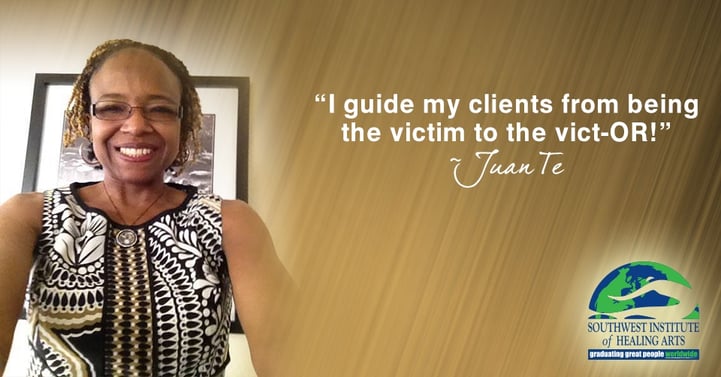 Going through the program taught Juan Te so many things that she could apply to herself and to others. Deciding who she was here to help proved to be more of a challenge, too. She knew she needed to focus her coaching on areas in which she was passionate and excelled. For this reason, her initial thought was to focus on finances and weight loss. They seemed like natural choices because she succeeded at both. Juan Te shared this beautiful insight:
I have lost and refuse to ever again find, the seventy pounds I shed over eleven years ago!
Like many others I tried to lose the weight for so many years. I was finally successful-- only after I wrapped my head around MY truth, which is that weight loss is mental.
She also feels that she has been called to empower women as they transition through the divorce process. "It wasn't natural to think I excelled at divorce, and it certainly wasn't something I was proud of. The decision was made for me when as I was asked to be the Life Coach at Second Saturdays. I COULD be considered an expert, as I have been divorced more than once and I learned that we all will survive (Lol!). I realized I definitely had valuable experience to offer these women." This woman is proactive and really reaches out in her community: she was called to be a life coach at Second Saturday Divorce Workshops in Gilbert, AZ!
While in the life coaching program, Juan Te created her business name, The Courage To Shift. "I successfully guide clients in developing a realistic action plan in order to move forward from victim to vict-OR!" She is most passionate working with clients in need of a fresh start in areas such as finance, weight-loss, and personal empowerment, because she walked in these shoes before in her own life and. Currently, Juan Te is sharing office space in Chandler and her website is called The Courage To Shift (read personal testimonials). She's writing and posting blogs, and will be even releasing a book Renewal of the Mind later this year!
Juan Te's message for other life coaching students or established holistic entrepreneurs:
Really believe you can accomplish your goal. Align yourself with a support system that can assist you with challenges as they come up. Don't be afraid to ask questions: no question is a dumb question, especially if it's something you need to know in order to move forward in your life or business.