Many of you know me as the Copywriter and Editor at Southwest Institute of Healing Arts, and part of my job is coordinating/writing our blogs which post on Mondays and Fridays. It is my responsibility to find graduates who are using their SWIHA education and holistic gifts out in the world in incredible ways. January was National Life Coaching Month, and we honored a life coach a day by showcasing them in a blog. Within a few weeks of each other, both KC Miller (SWIHA founder) and Richard Seaman (head of the Life Coaching department) mentioned an Elaine Glass. I followed my usual protocol of a "hello-and-congratulations" email stating that she was a #GreatGraduate who we'd love to feature on the SWIHA Blog page, if she'd be willing to fill out the attached questionnaire. She graciously accepted my proposal to work with me and requested to meet in person for an informal interview to go over the questions. At the time I didn't think anything about it, yet as I reflect back, I remember us both saying we were glad we met in person. I enjoy putting a face with a name, and it allows me to write with a more dynamic and connected tone when I can see the energy and raw emotion of a person as they talk about their process to SWIHA, their educational journey, and the love for their work. I'll never forget the day I met Elaine Glass.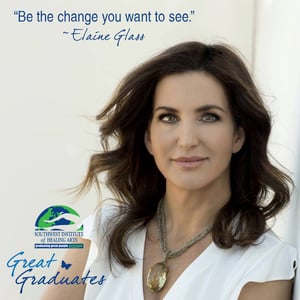 Elaine is like a breath of cool, fresh air when you're wrapped in your favorite blanket, on your favorite couch, on a porch overlooking a great view. With her warm smile and knowing eyes, there is a quality element to her presence that keeps your attention and focus—as if any distraction that could cause you to miss out on her insight would be detrimental your well-being. Dressed in a rich, indigo colored shirt and black slacks, she greeted me with kindness and a handshake which later turned into one of those goodbye-hugs that make you feel like you've known each other all your lives. I remember we giggled at our outfits, because I also had on a bluish-purple shirt and black pants: we both had somehow synchronistically dressed in 7th chakra colors; the crown chakra is the seat of cosmic consciousness which connects us to Divine intelligence. I knew at that moment something powerful was about to happen; I just didn't know what exactly.
Our interview began with the story of how she found SWIHA and our Transformational Life Coaching program. Elaine reflected, "It began when I had the realization that there was a rumbling inside me after thirty years in a dental hygiene career, and I knew I needed to be challenged and grow more. I wanted a change, and I found myself asking the question, 'What is going on within me, in order to approach work differently?' I was open to seeing the signs of what I needed to do to shift my life, and I believe that's what brought me to SWIHA."
Elaine attended one of the Celebrate Your Life events when Deepak Chopra was in attendance, and KC was one of the breakout speakers she chose to hear. She remembered being moved to tears when KC gifted everyone 100 hours towards a program of their choice, so much so, she went up to her afterwards to say thank you. "I promised KC I wouldn't waste it. I called the school immediately and asked an Admissions Coach for guidance on what program to choose. I was drawn to Life Coaching—I knew what it was, yet I hadn't researched it extensively. I loved Richard Seaman and he was part of the program, so I went for it."
As she went through the Transformational Life Coaching program, Elaine realized that when we are searching for "the answers" to our issues or life's challenges, we're really just looking for a way to mend the past or our hurt. "Have you ever found yourself looking for more awareness? You're just looking to heal. For me, I needed to heal my own self-judgment. The way I was able to begin flourishing as a coach, was when I began practicing self-compassion. I say, 'Be the change you want to be.' It's challenging though, dependent on how we were domesticated. It often catches up with us and then bites us in the 'you-know-what'."
We both laughed, however for me, on the inside, I was a little stunned at how close to home her words were hitting me. I was taking mental notes and thinking,
"Wow, this is exactly what I'm going through right now. I definitely need more
self-compassion and less self-judgment. Could my life flourish like hers
if I made these kinds of changes? I wonder how she did that?"
As I hung on to every word while trying to stay present in the moment for her, I had to keep fighting the tears that were stubbornly trying to seep into my eyes. For months I had been struggling with my own self-worth, or lack there-of. Situations kept coming up that made me question the quality of my contributions at home, in the workplace, in my relationships, and most of all—with myself. As if reading my thoughts, Elaine began to talk about the importance of knowing your value, especially when you're building a business as a holistic entrepreneur. The people in your life will only respect you and your work as much as you do. The key questions are:
What do you choose to do if your self-worth shifts upward, yet the respect from those around you does not?

Will you shift into your greatness (that was always there), or do you maintain the gear you're in?
The energy shifted to a bit more seriousness when Elaine began describing what it was like when she was a hygienist, when she listened to people's stories of dis-ease and heartache for those thirty years. Her observation:
"Life is full of sickness and dysfunction, and there is an incredible need for people to feel safe and be heard.
My greatest want for others is to get them quiet, so I guide them into the silence.
The truth lies in that silence. It's where all the magic is.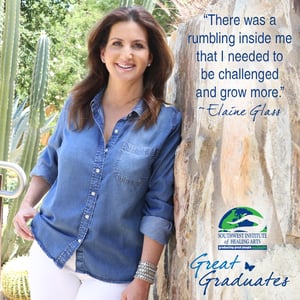 I do this work so I can help people discover their truth. My superpower is to hold a safe, non-judgmental place for my clients to express themselves. When they feel safe, they can have a transformational experience through a realization that they've never had before."
As I'm listening to Elaine talk, I was also seeing the ebb and flow of emotions that changed the contours of her face as she metaphorically stood and spoke her truth: it was so incredibly inspiring for me, as the listener and observer, and I was honored to be sitting across from this woman, witnessing her capacity for compassion. This showed an authenticity and a realness about her that I know her clients must also see and feel. I could tell that her own experiences had taught her many of these things, which is how she is able to share space, laughter, support, and love so easily with her clients and inner circle, and perhaps with even a random interviewer.
If you were to book with Elaine, you may be like her other clients, who are often in the middle of a life transition, such as retirement, divorce, or emerging from a health struggle. She also does business coaching around career strategy, like starting, changing, or growing your business. Part of what makes her a great business coach is the effort and experience she has put in to her own business. She continues her training by attending workshops and conferences, such as the "Grow Your Business" gathering in Maui with Mastin Kipps and "Speaking Training" with Sean Stevenson. She also was asked by Rhonda Brittan to speak on "Investing in Your Self and Going Beyond the Fear". Elaine continues to market herself by meeting people at conferences like these and keeping relevant with those in the coaching industry. She remains active on social media, writes blogs, and stays in connection with people. This was the point in which we both agreed that meeting in person is the best way to stay in touch. She recommends Zoom, which is a video conferencing platform for coaching sessions, webinars, and on-screen meetings. "However, nothing is better than one-on-one meetings. I've been to networking communities where I always end up meeting those who are in need. A lot of generosity also got me to where I am now. When you give, it will come back- it can take time, but it always does." Elaine also mentioned Joe Polish, part of the Genius Network which is a high level marketing networking group. "His annual is in October, which is the next event I am attending. I have made it a point to surround myself with mentors. I know I can effectively help someone, so mindset matters and for me; it's a daily practice."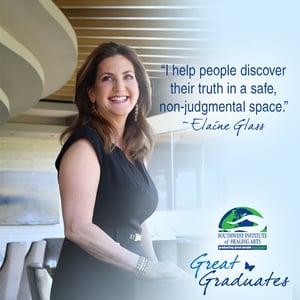 A very unique life coaching opportunity Elaine offers is "A Day For You", which is an overnight stay at The Sanctuary in Paradise Valley where you come to get quiet. It begins at 9 am and goes to 4:30 pm; includes coaching sessions, walking the grounds, time at the Spa, focus on nutrition, sleeping overnight, and then a 9 to noon reflection time with her the next day. People come from all over the world to gain insight on themselves, their lives, or their entrepreneurial endeavors, in order to make positive life changes and propel their lives forward.
It is really important to most life coaches to know that their clients feel safe in the space we create for them. Establishing a trusting rapport is crucial for both parties, and I can only imagine what Elaine is capable of in that structured setting. Towards the end of our time together, I opened up and told her just a couple things I had been mulling over for the last few months. Her feedback made me feel comfortable, safe, heard, and supported. In those two to three minutes, I was able to see myself in a completely new way, which altered my future for the better. I walked away with a new way of looking at myself and my life. Elaine said she would check in with me here and there, to see how I was doing. She has kept her word. Diligently, I will find an email in my inbox with a genuine interest in me and how things are going. What a classy lady. She restored my faith in humanity.
I will leave you with this from Elaine:
When you say, 'I am valuable', you will attract the clients [and relationships] who also think, 'I am valuable.'
Believe in yourself! Fear can take hold, and the doubts come in and block us from achieving true success.
My mantra today: I believe in myself because I am valuable.