After twenty-five years of helping people to discover their gifts through life coaching and other holistic practices, I've heard an awful lot of stories about how some friends and families of our graduates weren't exactly thrilled hearing them announce they were becoming a Healing Arts Practitioner of any kind. And yet, most who have made the "leap of faith" say they wouldn't go back for anything!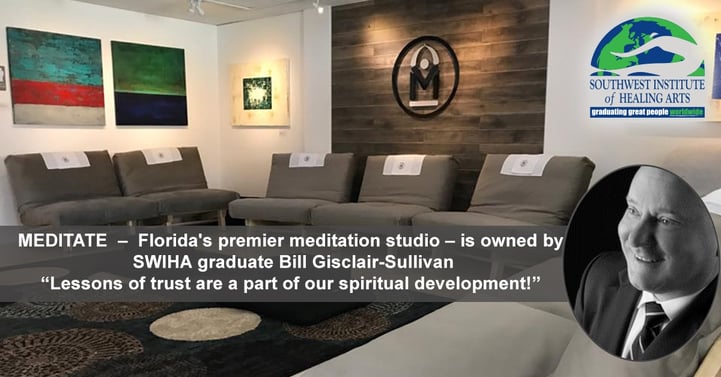 Bill Gisclair-Sullivan, owner of Meditate, South Florida's premier meditation studio, certainly knows what I'm talking about. At age 50, his parents and friends told him he was crazy to leave what they consider a great job—even though Bill adamantly disliked what he was doing—to go back to school and pursue a dream that no one around him understood or could even imagine. He heard things like:
"Who would pay someone to help them mediate?"

"Why would someone want to go to a facility to just sit quietly and do nothing?"

"Would anyone really risk their retirement savings to start a new unproven business concept?"

"What the heck are you thinking? Are you out of your mind?"
As is true with many entrepreneurs, Bill's reaction was, "I'll show you!" Yet, even with such outward confidence, there is a certain amount of internal wounding that goes on when our ideas and dreams are discounted and criticized. Even Elizabeth Gilbert, the bestselling author of Eat, Pray, Love, knows how Bill and many other hopeful entrepreneurs feel in these moments: vulnerable and discouraged!
In her most recent book, Big Magic: Creative Living Beyond Fear, Elizabeth Gilbert shared a vulnerable moment when one of her so-called-friends doubted her ability to make a living as a writer. With candor, Elizabeth Gilbert confesses, "Putting my work into the world meant I had to learn how to take criticism… [although] I slowly realized that I didn't have to take it from everybody. I learned, over time, how to seek out the type of people who would actually serve me in my writing career. I came up with four questions to help me decide who got to read my work when it was in its most vulnerable stages."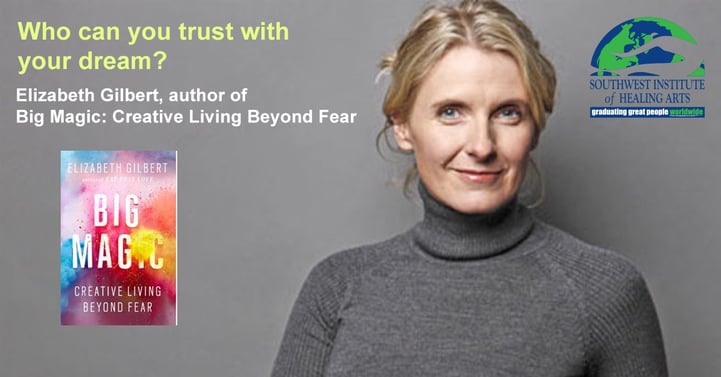 There are the four questions Elizabeth Gilbert asks herself to determine if she can trust someone with her ideas:
Do I trust this person's taste and judgment?

Does this person understand what I'm trying to create here?

Does this person genuinely want me to succeed?

Is this person capable of delivering the truth to me in a sensitive and compassionate manner?



Had Bill known of these questions, would he have done anything differently? "Maybe," the Transformational Life Coaching Practitioner ponders. "Looking back and considering Elizabeth Gilbert's four questions, I realize that the lessons of trust are a part of our spiritual development," shares the now successful entrepreneur of a "drop-in" meditation studio.
"Do I trust this person's taste and judgment?" "For me," Bill affirms confidently, "it's not about whether I trust their taste; rather do I trust their judgement? What I have found is other people's judgment is based on their 'success/failure' Their past will not be mine, unless I allow their fears to become my fears. On the other hand, if I ask someone who has success in a similar arena as what I am going into, I am much more likely to trust their judgement. If I were rewriting this question, I would ask: 'Does this person have a past success record that allows me to trust them?' As a coach and entrepreneur, I look for mentors to have 'been there, done that,' rather than those who just espouse theory."
"Does this person understand what I'm trying to create here?" "Now this is a great question," affirms Bill. "When I shared my dream with my parents and friends, they had no idea what I was talking about! In retrospect, I really like the wisdom of Elizabeth Gilbert… don't share with everyone and learn how to take criticism! Yet, when I shared my dream with my life partner, he didn't really need all the details; he just believed in me, and that was enough!"
As a sobriety coach, meditation practitioner, and ordained minister, Bill reflected further:"Everyone needs someone to believe in them and what they are trying to create! While it's fine to share with friends and family, I have built a successful practice because I offer my services to those who are looking for support in what I know how to do: meditate, create, and live wholeheartedly."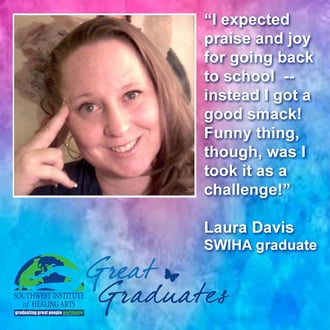 When SWIHA graduate Laura Davis told her grandmother she was going to massage school, she got slap-tapped on the arm and heard the surprising words, "I raised you better!" Laura confesses she was stunned and very confused by her grandmother's reaction.
For Laura, Elizabeth Gilbert's third question is powerful: "Does this person genuinely want me to succeed?" Remembering this experience with her grandmother, Laura continues, "She slapped me, if I recall, on my arm, and it was stunning because in all my years, she had only spanked me one other time."
Did Laura's grandmother not want her to succeed? It dawned on Laura that the women who raised her—her grandmother—was from another era that still held an outdated notion about the kinds of services offered my someone who practiced massage. "In my mind, that was never a thing," reflected Laura as she raised her eyebrow and shrugged her shoulders. She remembers exclaiming,"What? Oh. Oh! NO! It's not what you are thinking Grandma!"
Like Bill, Laura took her experience as a challenge: "I thought with her being a teacher, she'd rejoice at the fact that I'd found my calling and was going back to school! I expected praise and joy— instead I got a good smack! Funny thing, though, was I took it as a challenge! I did go forward with my career, though it was the most challenging part of my life!"
Continuing to reflect and honor the memory of her grandmother, Laura reported that she took the suggestions of her massage instructor. "Let your hands do the talking," her teacher said. "Start by massaging a hand in demonstration of your skills." With fond memories, Laura shared, "My dear grandmother allowed me to massage her hands, feet, and legs over the course of my career before she passed. I was able to help her overcome what she once judged. My heart is full knowing that because I was able to get past being offended, I was able to be an instrument in the peace and healing of my grandmother's transition."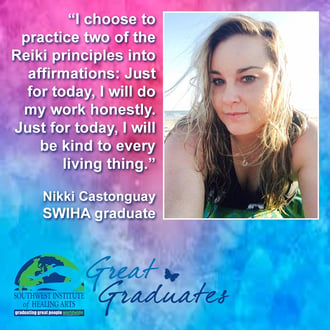 Nikki Castonguay, now a graduate of the massage, yoga teacher training, and Reiki programs at SWIHA, reported how shocked she was that she did not get a positive reaction when, at age 30, she decided to go back to school for something she finally has passionate for and was excited about. She candidly shared that the first words out of her mother's mouth were, "Stay away from that Reiki stuff!" This was especially odd since Nikki knew that her mother really didn't even know anything about what she was judging.
Nikki can relate to Elizabeth Gilbert's fourth question: "Is this person capable of delivering the truth to me in a sensitive and compassionate manner?"
Still feeling the sting, Nikki reflects, "At the time, my mother's words were too hurtful. I was unable to respond. Now, as a Reiki Master, I believe I would be able to explain both the physical and emotional benefits of Reiki and how Reiki and Massage have forever changed my life."
Upon further reflection, Nikki shared from a true place of vulnerability: "I can't say exactly how my mother looks at the world. I know she has experienced great hurt and loss. I did not feel motivated by her comments; it was more hurtful and discouraging at the time."
Healing came for Nikki from a Big Magic question. Softly, she shared, "I have spoken to my mother briefly about Reiki since my first conversation with her. I did not tell her I practiced Reiki, however, because I knew she would only criticize it. I tried to explain to her that it was similar to something she may understand called 'laying on of hands.' She wasn't ready to hear it yet! I don't plan to bring it up to her again. Rather, I just embrace the Reiki principles that I have learned."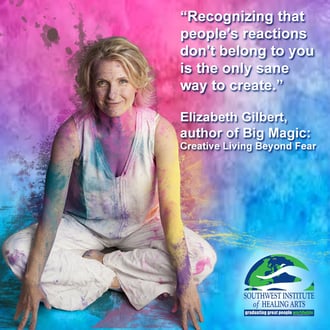 From a place of spiritual maturity, Nikki offered some final commentary: "If she asks if I practice Reiki, I will not lie; I'll just expect to be told I am wrong. However, I choose to turn two of the Reiki principles into affirmations: 'Just for today, I will do my work honestly. Just for today, I will be kind to every living thing.'"
Elizabeth Gilbert ultimately speaks directly to insensitive people in our lives and what they say about the magic we are working to create: "Recognizing that people's reactions don't belong to you is the only sane way to create." As you seek to create an expression of your life purpose, don't forget to ask Elizabeth Gilbert's four important questions before you share with friends and family. It may also serve you to consider this final powerful question from Elizabeth Gilbert, as well:
"So this, I believe, is the central question upon which all creative living hinges: Do you have the courage to bring forth the treasures that are hidden within you?"