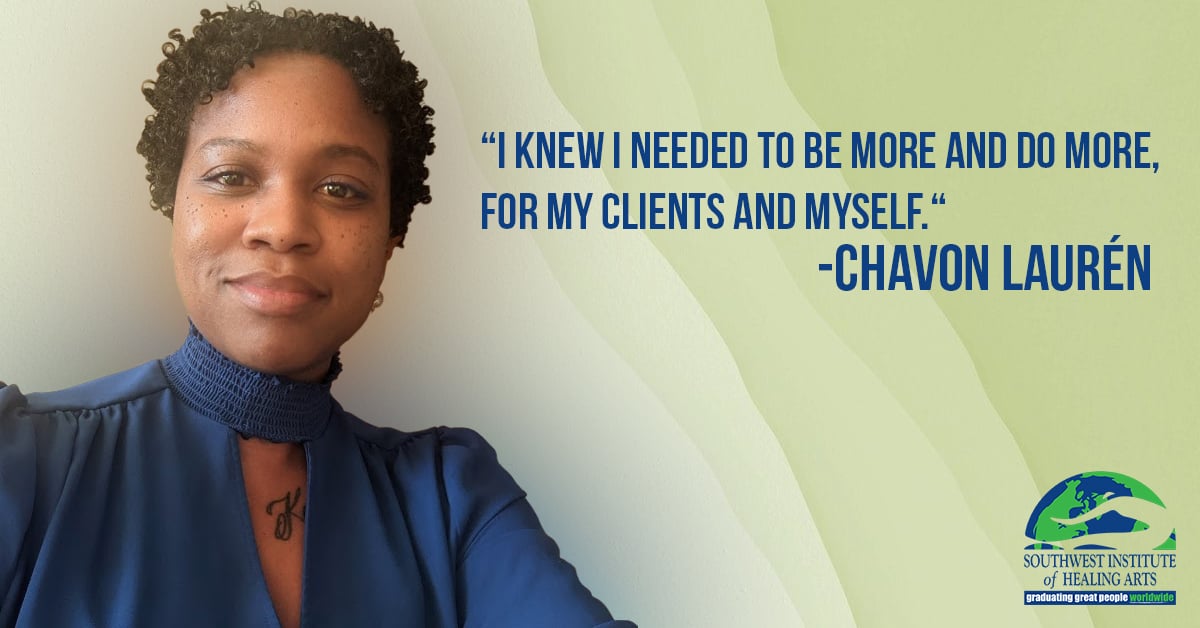 "I love being a Life Coach because I love helping people! Since I was a kid, people have always come up to me and just started pouring their hearts out," Chavon Laurén of Unapologetically Me, tells us, "Over time, I accepted this as a gift and now I feel like I've come full circle."
Before becoming a Life Coach, Chavon served in the military and worked a Personal Trainer. During training sessions, she came to realize that her clients wanted to talk about more than just exercise.
"I never stopped them because it was clear they needed to speak these thoughts out of their system as a form of stress relief, rather than try to move it out through physical fitness," she explains, "I had an 'ah-ha' moment. I knew I needed to be more and do more, for my clients and myself."
That is when Chavon began searching for another skill to supplement her work as a Personal Trainer, and found the Integrative Healing Arts Program at Southwest Institute of Healing Arts.
"I chose SWIHA to continue my education because I felt like the school was speaking to me directly through the website. Everything I read, every video I watched, especially KC Miller's, made me feel like I belonged here," recalls Chavon, "Everything resonated on a personal level."
She describes that in particular she was struck with the SWIHA sentiment of: "There are no extra people in the world.", as well as the interesting curriculum.
"I mean, 'Toe Reading?' I was sold on curiosity alone!" Chavon declares.
With the gifts she harnessed at SWIHA, Chavon began her Life Coaching business, Unapologetically Me! She creates a safe virtual space where transitioning veterans and single parents reclaim individuality and personal power. She encourages her clients to follow their passion and purpose while integrating physical, mental, emotional, and spiritual self-care practices for their greater overall health and well-being.
She tells us: "I am a versatile coach. Like water, I take the shape required to fit each client need for maximum benefit. I find the majority of my clients need empowerment and a gentle approach, but there are some who need a kick in the butt every now and then. It's knowing on my part of when to dig in or be gentle."

"Many of them just need a listening ear because they have held so much inside for so long," emphasizes Chavon, "They felt like they couldn't speak up before. Allowing people to release and get things off their chest is what I do best."
The Wheel of Balance is a go-to tool that Chavon utilizes with her clients. She finds that, in many cases, it's the beginning of creating balance and harmony in a life out of alignment, as well as an excellent thing for a client to revisit and look at their progress.
Chavon also has a very unique intake method for her clients: "I decided to use Toe Reading as an intake tool because it opens up questions for clients who may not be able to identify what exactly is going on within themselves. It helps me prepare for sessions and ask questions based on the path walked to help guide the session."
Staying true to her roots, she states that physical activity is still her favorite tool to share, stating: "Sometimes you just want to hit something! So we shadow box, lift weights, use bodyweight, or just stretch the stress out. It feels good to move. COVID has many people sitting around which isn't healthy at all. Since I am qualified, I use all the skills I have to help my clients in the ways they need it most: mind-body-spirit."
"I never would have imagined I'd become a Life Coach! If someone would have told me that 10 years ago, I would have laughed in their face," she predicts, "Truth is, I love hearing the stories of others and pointing out how strong they are when they feel defeated. The stories inspire me!"
"Most importantly, I love being a Life Coach because this is who I am," declares Chavon, "I am not stepping outside of myself to do something that isn't natural. I know my purpose in life and I live to inspire positive action, connection, and change!"