For Kris Vaughan, a career as an herbalist was born out of a mother's worst nightmare: the illness of her youngest daughter, who had developed severe stomach issues at the age of seven, yet who could find no answers or relief from her pediatrician.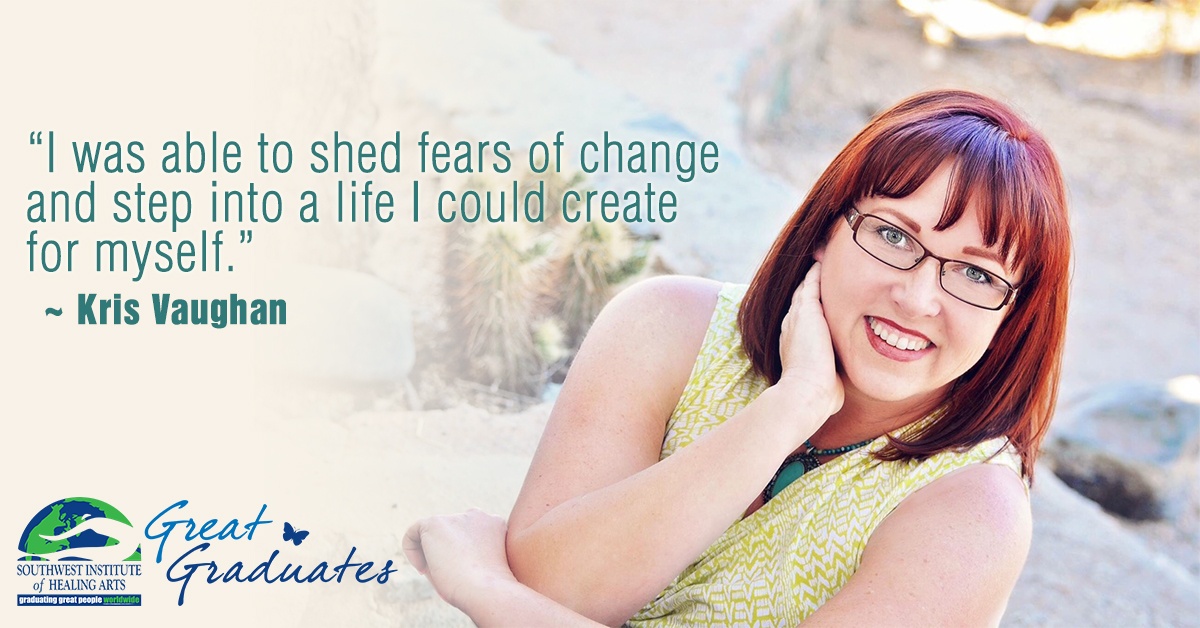 "We spent nine months putting her through every invasive test imaginable, only to be handed antacids and told, 'Sorry, we don't know what's wrong,'" Kris recounts. A friend recommended some natural herbal remedies for the girl, and although Kris found herself questioning their validity, her daughter was miraculously pain-free within three days of taking them—and has remained so ever since. "It made me realize that I was missing something huge," Kris says. "I needed to do some research as to why these herbs worked, and that research brought me to SWIHA and the Western Herbalism program."
Transitioning into a natural-product based lifestyle wasn't necessarily easy, Kris explains: "My whole worldview changed as a resolute of my time in the Herbalism program. At first, I felt like a fish out of water in class. Many other students already had some herbal experience, and I was a complete and total beginner. I looked at a lot of what I was learning as 'woo woo' at first, yet slowly I began to see why the energetic and spiritual aspect of herbalism was as important as the chemical and clinical aspect in terms of apply this to healing the person— mind, body, and spirit."
In making these critical shifts, Kris saw a dramatic change in the health and wellbeing of both herself and her family. "I began to discover this fire inside of me to share what I was learning with others and to create a life for myself of herbalism," she explains. "I couldn't just be something I studied; it needed to be who I am."
Upon completing her studies at SWIHA, Kris moved to Oregon, where she started work with Wise Woman Herbals®, an herbal product manufacturer, as their Marketing Manager. She has since returned to Arizona in order to begin her clinical practice, specializing in chronic, complicated illnesses, autoimmune conditions, and digestive issues. Through her own continued education about the application of herbs for health conditions and support of the human body, Kris was also able to open her own herbalism school, the Herbal Wisdom Institute, in Prescott Valley, Arizona. She also teaches herbalism classes at Yavapai College in Prescott with the goal of growing a strong herbal community in Northern Arizona.
Kris is further using her expertise to co-create the SW Herb Fest, an herbal conference being held in Prescott, Arizona, on May 19, 2018. This full-day event features ten speakers who will offer their herbal knowledge and passion to the community, with topics including healing venomous bites and stings through the use of desert plants, identifying and using southwestern botanicals on "plant walks," uncovering the power of herbal medicine to balance hormones, and much more!
"I look at life differently than I did before," Kris reflects with gratitude. "The greatest lesson I learned while at SWIHA was to let go of all of my pre-conceived notions of who I am and who I thought the world wanted me to be. It was during my time there that I began to finally discover who I was deep inside and embrace my weird, unique, quirky passions. I was able to begin to shed fears of change and step into a life I could create for myself. I get to spend every day helping people in my community to learn natural, sustainable ways of caring for themselves, and I have the privilege of introducing my community to the traditions of herbal medicine. It is the best life!"